Queen's Students at the Platinum Jubilee Celebrations
International Public Policy student and class rep Jamie-Lukas Campbell was one of a group of Queen's students who attended the Platinum Jubilee Celebrations in London.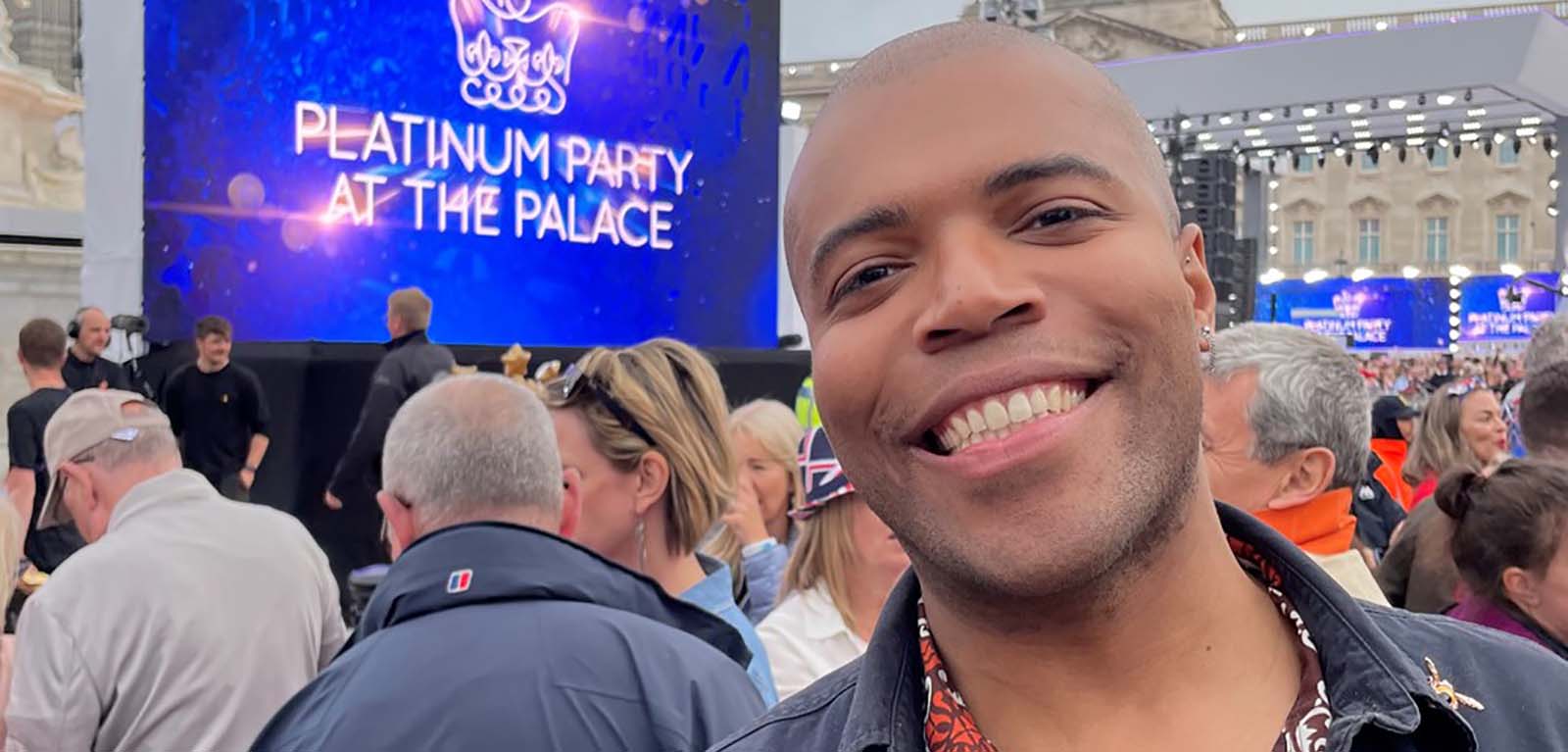 Queen's Students' Spectacular View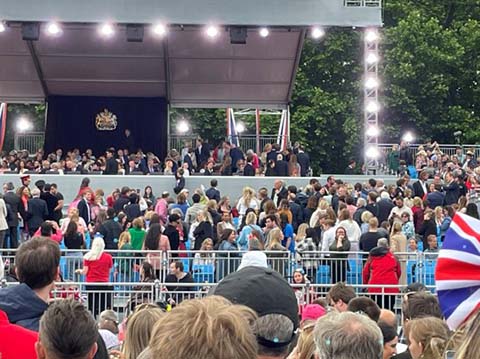 The Royal Box
QUB students stood to the right of the centre-stage just a few hundred feet in front of the royal box.
The Queen's Jubilee Platinum Party Concert was an outstanding experience I'll not soon forget. More than 17,000 people, including senior ministers, members of the royal family, and international supporters, came out to mark the occasion that featured respected music sensations and popular UK icons.
The Prince of Wales and the Duke of Cambridge delivered special remarks, expressing their gratitude to the Queen and renewed calls for public commitments to sustainability.
The Best Bits
My personal highlights of the night include Ms Banks' collaboration with Duran Duran, Alicia Keys' iconic "New York," Andrea Bocelli's moving performance, Rod Stewart's "Sweet Caroline," and Diana Ross's closing performance.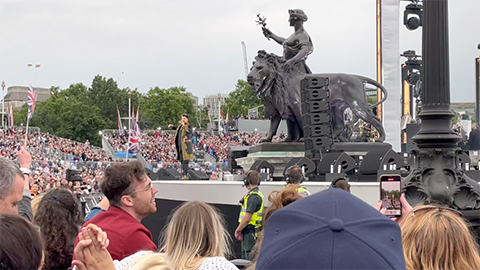 Adam Lambert
The BBC's production designers went above and beyond with their incredible light show and a first-of-its-kind drone performance atop Buckingham Palace.
Pre-Show Sing-Along and Warm-up
The pre-show hosts energised the crowd and kicked-off a rock-star studded concert.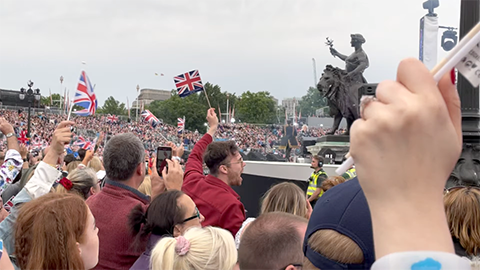 The crowd get hyped
Broadway and film classic, 'The Lion King'
Hamilton, The Lion King, and Phantom of the Opera brought Broadway to the Platinum Party!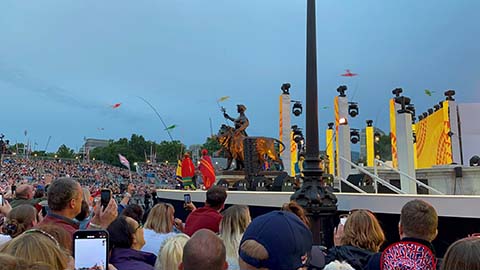 The Lion King
Rod Stewart blew the crowd away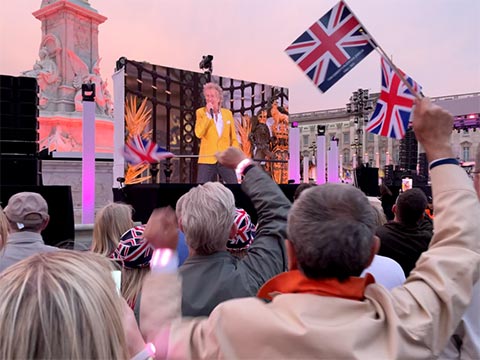 Rod Stewart really got the crowd going
Outstanding Production Design and Drone Performance
Throughout the night, the production designers surprised the audience with a drone performance. The drones created an incredible lightshow; acknowledging the Queen's corgis, infamous pocketbook, the UK Standard, a cuppa tea, and more – the drone performance was a memorable symbolic reflection of the monarch.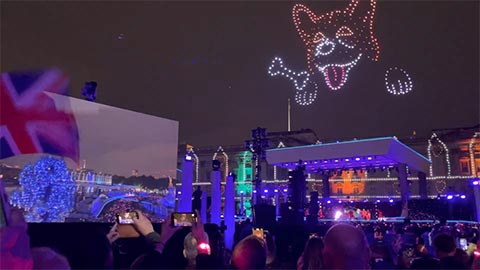 Corgi made up of drone lights
Exceptional drone show!
Sigala and Ella Eyre continued their performance with an incredible drone show taking place in the background directly above Buckingham Palace, earning cheers from the crowd.
Alicia Keys Moved the Crowd
Accompanied by an incredible production design that featured lights, projections, and the speaker system, Alicia Keys wowed the audience.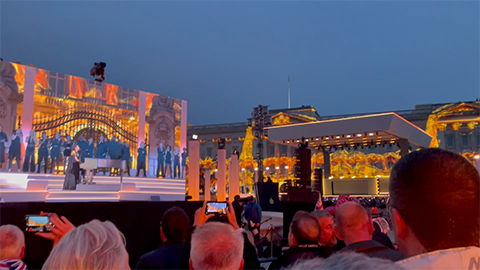 Alicia Keys
Star of the Night
Diana Ross performs 'Thank You' and her other popular tracks.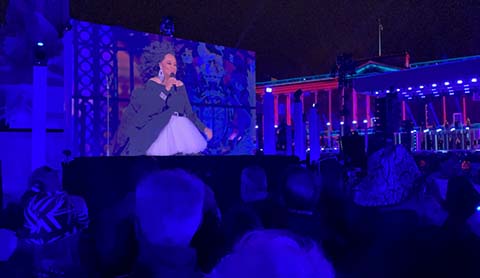 All in all it was a fantastic show! I am grateful to have had an opportunity to attend the event as a Queen's student– it was truly a concert for Queen's fit for a queen!
Find out more
History, Anthropology, Philosophy and Politics
Queen's marks The Platinum Jubilee
Jamie-Lukas Campbell

International Public Policy MSc | Postgraduate | USA

I am an International Public Policy MSc student in the School of History, Anthropology, Philosophy, and Politics. An international student originally from New York City, I'm passionate about global affairs, politics, and Coronation Street, and currently serving as Postgraduate Officer in the Queen's Students' Union.