Queen's receives international recognition as a gold standard cycle friendly employer
Queen's is celebrating international recognition, as the first organisation to achieve GOLD standard in Cycling UK's Cycle Friendly Employer accreditation, which rewards companies in the UK who make their workplaces awe-inspiring through cycling.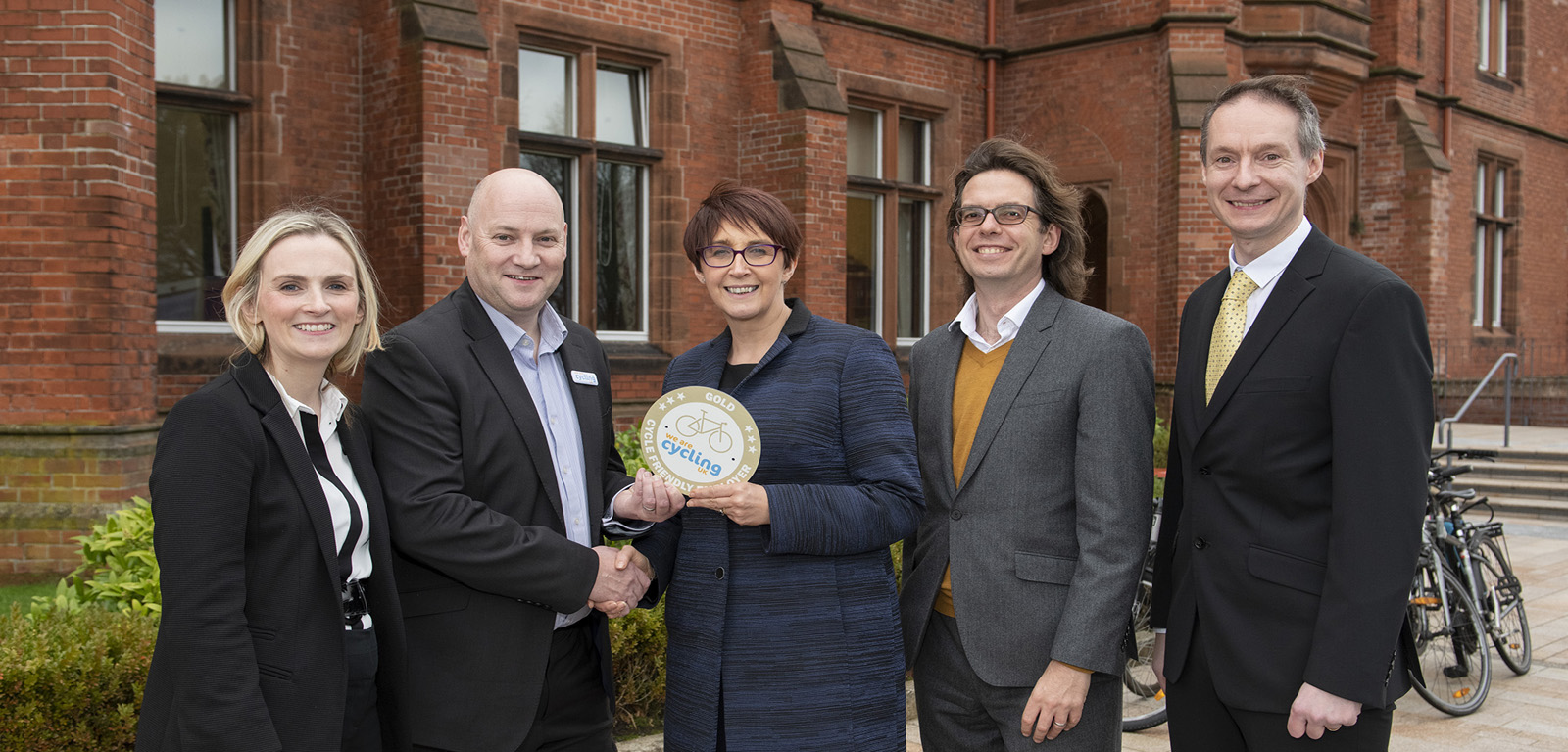 The Cycle Friendly Employer accreditation (CFE-UK) was developed within the EU project 'Bike2Work', with Cycling UK the recognised provider for the UK. CFE-UK is the only international standard for workplace cycling, working in partnership with countries across Europe. Site auditing and advisory work is also provided by Sustrans for organisations in Northern Ireland.
Recognised for their success at a Bronze, Silver or Gold standard, organisations must meet a range of measures to demonstrate their cycle-friendliness, including communications, training and incentives for staff as well as physical facilities such as secure cycle parking, showers and changing rooms.
Queen's University demonstrated a very active commitment to improving conditions for cycling, across all sites within the University. As a large employer and one of Belfast's largest journey generators, Queen's clearly recognises its contribution to protecting and enhancing its surroundings and wider city environment, as cycling can reduce congestion and improve air quality.
Wendy Galbraith, Interim Registrar and Chief Operating Officer of Queen's said: "I am very pleased that Queen's University Belfast is the first organisation to be awarded a Gold standard in Cycling UK's Cycle Friendly Employer accreditation. The University has put significant efforts into creating a more cycle-friendly environment for our staff and students over the past number of years and we are delighted to have been recognised in this way."
Matt Mallinder, Director of Influence and Engagement for Cycling UK, said: "We are delighted to officially accredit Queen's University as a Gold standard Cycle Friendly Employer. We've been very impressed with the University's facilities and the cycle-friendly culture that has been created, as well as their ongoing commitment to improve their surroundings, increase sustainable travel throughout the organisation and make the University cycle-friendly for all staff and students. As the first fully accredited CFE-UK organisation in the country, Queen's University's approach to removing barriers to cycling is a positive example that other organisations can learn from."
Gordon Clarke, Sustrans Northern Ireland Director said: "Northern Ireland has piloted this Cycle Friendly Employer scheme which we hope will become a much sought-after accolade for all workplaces throughout the UK. It is appropriate that a prestigious seat of learning like Queen's University Belfast should be the first recipient and has set the bar high for other employers to aspire to."
Commuting by bike has many proven benefits for both employees and their employers. Cycling as a form of exercise is excellent for improving fitness, lowering blood pressure and reducing stress; studies have also shown that physical activity can reduce staff absenteeism. Organisations that make commuting by bike easier for their staff are more likely to attract and retain the best talent, plus reduce costs as bicycle parking is much more cost effective to provide than car park spaces.
Cycle Friendly Employer accreditation is a simple process for companies. The higher the cycle-friendly standards met, the higher level a company can achieve from the range of Bronze, Silver or Gold.
Sustrans is also promoting the scheme as part of a €4.4m EU-funded project, working with European partners, to reduce car traffic and promote sustainable transport, such as cycling in east Belfast. The project, mainly funded through Inter-reg North West Europe and local partners, can support employers who wish to implement cycle-friendly facilities.
You can find out more about Cycling UK's Cycle Friendly Employer accreditation by visiting www.cyclinguk.org/CycleFriendlyEmployer.
Media
For media enquiries please contact Queen's University Communications Office on (028) 9097 3091 or comms.office@qub.ac.uk