University Preparation Courses
About INTO at Queen's
INTO and Queen's University Belfast work in partnership to prepare you for your degree at the University.

With experienced teachers and modern teaching facilities, we'll make sure you have an outstanding academic experience. From your first day with INTO Queen's, you'll be a full member of the University, studying in the heart of the campus.
CONNECT
Foundation Pathway Webinars – INTO Queen's
These webinars will focus on exploring various INTO Queen's pathway programmes which are leading students to progress to their intended degrees Queen's University Belfast. Both sessions will talk about Northern Ireland as a study destination, Queen's University Belfast - one of the UK's leading universities, Foundation and International Year One Programmes at INTO Queen's, Available Scholarships and Your Future Study Experience.
24 November: 10.30am to 12.00pm GMT: Register for webinar
8 December: 08.30am to 10.30am GMT: Register for webinar
---
Your Study Centre
The INTO Centre is on the University campus and has everything you need from modern classrooms to our friendly support team
That's not forgetting our teachers who have many years' experience of helping international students like you to improve their English, adapt to studying in the UK and go on to be successful at university and beyond.
More about the Centre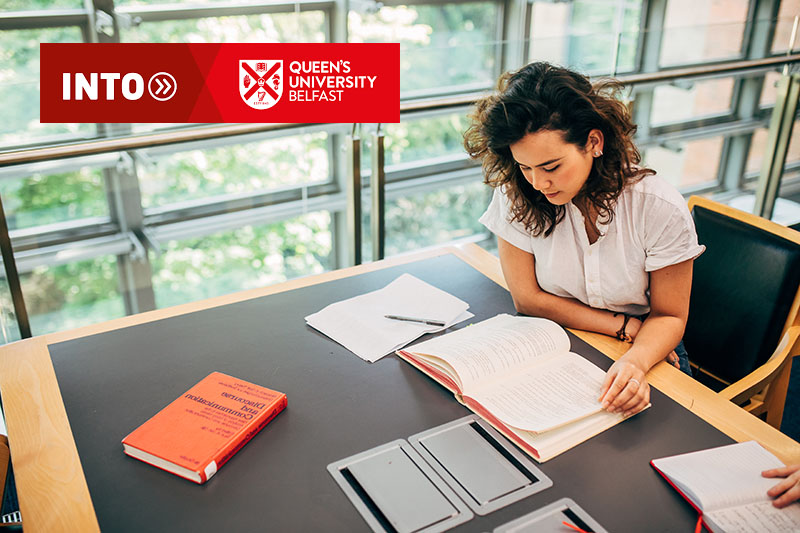 SUPPORT WHEN YOU NEED US
Whenever you want to talk to someone you can go the Centre's welcome desk where you will find friendly staff dedicated to your welfare
This may be the first time you are studying overseas, but we have welcomed thousands of students, so will be able to help you no matter what the problem.
Here to help you succeed
What our students say
The purpose of INTO at Queen's is to improve the employability of students and help them achieve their goals; and that's exactly what it's doing.
Read some of our student testimonials below.
"My Foundation really prepared me for my degree at university. Not only did it provide me with the academic knowledge, it enabled me to learn and understand the local accent so I can express myself a lot better. I've made a lot of international friends and the teaching staff are really friendly and helpful."

Udeme, Nigeria - International Foundation Degree
"INTO provides students with a great environment to adapt to the UK education system and the International Year One programme allows students to go straight to year two at Queen's."

Tang Chun Yin, Hong Kong - International Year One

"Lecturers at INTO use university-style teaching methods to ensure we are mentally prepared for university. They keep in mind we are international students and take the time to ensure knowledge is not lost in translation."

Guleena, Pakistan - International Year One
INTO are really professional, and studying with them definitely broadened my view of the world. I plan to help grow the wine industry in Hong Kong and my plan is to expand my business globally."

Jia Hairuo, China - Graduate Diploma