Queen's partners with Children and Young People Zone to provide iPads to families in Shankill area
Over 40 families in the Greater Shankill have been given iPads as part of a scheme designed to bridge the technology gap among primary school children in the area and support home learning.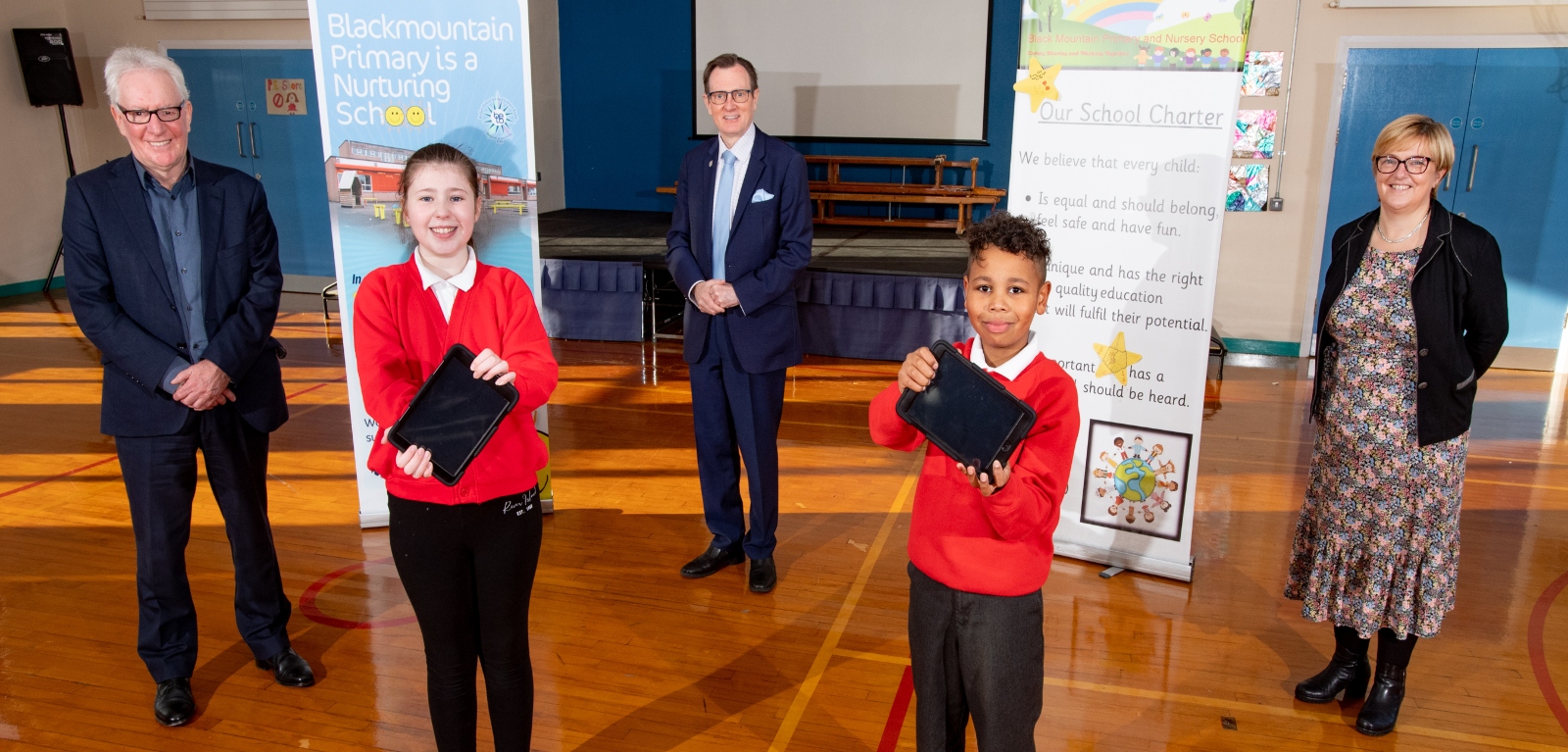 Since the start of the new school year, iPads have been distributed to 42 families in the Greater Shankill area. Funded by a generous gift from Santander to the Queen's University Belfast Foundation, and the Public Engagement Department at Queen's, the scheme is coordinated by the Greater Shankill Children and Young People's Zone.
Queen's University Belfast has been supporting the work of the Greater Shankill Children and Young People's Action Zone since 2014. The Zone was established with a mission to support every child and young person in the Greater Shankill on the journey to realising their potential, and, in doing so, transforming a generation.
An audit carried out earlier in the year by the Shankill Principals' Forum found a deficit of more than 100 devices in homes across the Greater Shankill area. Staff at the Greater Shankill Children and Young People's Action Zone undertook to source devices to address this shortfall, supported by the donation from Queen's University.
Professor Ian Greer, Vice-Chancellor of Queen's University Belfast, said, "We are very pleased to be supporting this important scheme. Queen's University has a long relationship with the Greater Shankill Children & Young People Zone and providing these iPads is a tangible way of supporting children and young people in their education. Our work and our research at Queen's is having a positive impact across the world, but we remain deeply committed to ensuring it is felt locally."
Sarahjane Waite, Co-ordinator at Greater Shankill Partnership, said, "These are unique times and the disruption caused by the COVID-19 pandemic has been felt acutely by our children and young people.
The iPads are part of wider efforts to support children in the Shankill area, especially those who will have been particularly negatively impacted by schools closing due to the pandemic. We are grateful to Queen's for its generous funding, ongoing support and valued partnership."
Jill Black, Principal of Blackmountain Primary School said, "Our pupils, parents and staff have shown much resilience in recent months. However, it has been difficult, particularly for those families who do not have the technology required to support home learning. This is a most pertinent scheme and one which we know will greatly benefit children in blended learning."
Jackie Redpath, CEO of Greater Shankill Partnership, thanked Queen's and said: "This is another example of the strong partnership between the University and the Children & Young People Zone on the Shankill."
The Greater Shankill Children and Young People Zone is named within the University's Social Charter, which is the University's commitment to "giving back" to society through invoking and supporting a wide range of socially responsible activities with external stakeholders from the business, community and civic sectors.