Pioneering Research Programmes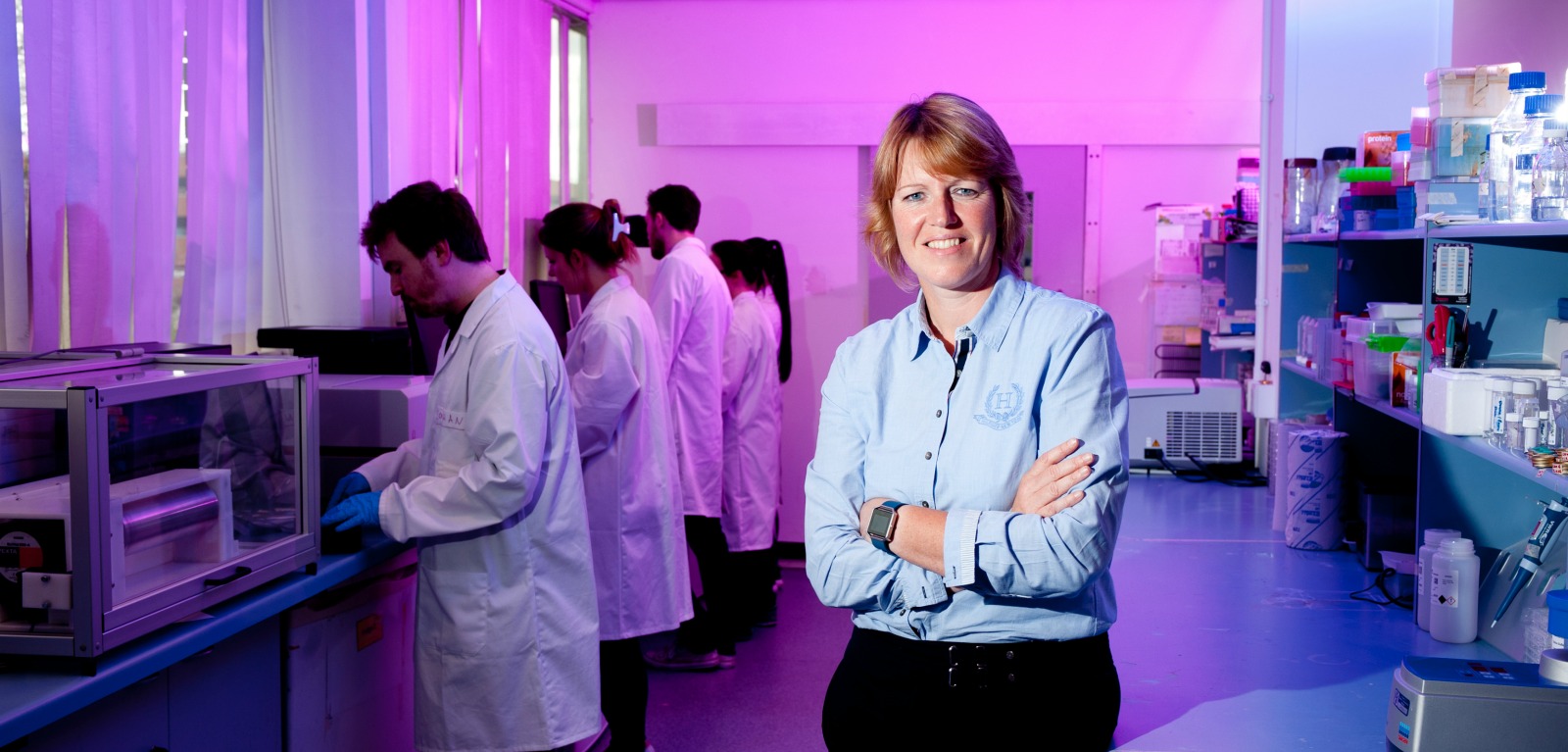 THE NANOMEDICINE INNOVATOR WHO ALWAYS HAS THE PATIENT IN MIND
Professor Helen McCarthy's view is straightforward – 'There's no point in designing the most fantastic medicine in the world if you can't deliver it to patients.' She has followed that belief for the past 16 years.
She says, 'My journey has been inspired
by two outstanding academics, Professor David Hirst and Professor Tracy Robson, who were my mentors when I was a postdoctoral scientist. They ignited my passion for alternative therapeutics, particularly in the cancer field, so when they moved to Queen's in 2004 I moved with them.'
She took up a post at the School of Pharmacy as a Research Fellow on a cancer gene therapy project. 'I really enjoyed the whole philosophy in Pharmacy – trying to make medicines that actually work. It's very translational.'
She has been a Reader since 2013
She leads a research group on experimental therapeutics, focusing on the development of non-viral delivery systems for nanomedicine, and is a key member of the Pharmacy-led Pioneer Research Programme (PRP) directed by Professor Ryan Donnelly.
'My research is about designing delivery systems for difficult-to-treat therapeutics – DNA, RNA, microRNA. What made me go down that route of trying to mimic viruses in a non-viral sense was something called the Promising Researchers Scheme at the School. It was just £5,000 but it enabled me to go off to Washington State University where I was introduced to the whole new world of nanomedicine and then I came back and developed my research group.
'I believe strongly that you need to work with others who don't have the same skill set as you. For example, I worked closely with Professor Nicholas Dunne when he was in the School of Mechanical and Aerospace Engineering on an injectable treatment for serious bone fractures and bone metastases.
'Ryan and I have also worked together for years on therapeutic cancer vaccines. Basically he designs microneedle systems that cross the skin and I incorporate my biological therapeutics, my nanoparticles, and then we evaluate the response. Together we've patented this technology.
'Within the PRP, part of my role is to mentor the younger generation coming on and to research third generation nucleic acid therapeutics.
As new polymer delivery systems evolve, I incorporate my nanoparticles and we evaluate the effectiveness of the therapy.
'The whole purpose is always with the patient in mind. Even if we're doing some basic research, we need to think – how can this translate to the patient? That's the focus of everything.'
With funding from Cancer Research UK
Helen has also designed and patented a peptide delivery sequence. 'Back in the early days I was very much into delivering a gene for nitric oxide – and it's a fantastic anti-cancer molecule – but it's not going to have any effect because we can't deliver it to patients. So that's why I designed these systems.'
Helen is also lending her expertise to another PRP – the Centre for Advanced and Interdisciplinary Radiation Research. 'I lead the biological evaluation strand. Frequently patients are given drugs and we're not quite sure how they're going to respond to them. We want to be able to model how tumours will respond to a chemotherapy combination or types of radiotherapy so that patients
will ultimately receive the type of treatment that's ideal for them.
'The generation of such translational technologies always has the patient
as the end point so I hope there'll be
the momentum and investment to go further. Some really exciting results have come through already and we won't stop until we've made an impact with these nanomedicines.'
---
Read more from our experts in Materials and Advanced Technologies for Heathcare