Researchers from Queen's, in collaboration with Wrightbus have developed best-in-class low and zero emissions technologies playing a key role in decarbonising UK and international public transport.
Research Challenge
HOW TO ACHIEVE NET-ZERO BY 2040?
Air quality is a major public health concern, particularly in built up urban areas.
The UK Government's "Road to Zero" strategy laid out its ambition for all new cars and vans to be effectively zero emission by 2040, as well as schemes to encourage low emission public transport. Buses play a vital role in reducing emissions; one double-decker bus can potentially replace 75 cars. In inner cities, the stop/start conditions and slower speeds mean that older diesel vehicles in particular can emit significant levels of local pollutants.
Hybrid electric vehicle architectures are key in this transition to ultra-low and ultimately zero emissions solutions.
Our Approach
DEVELOPING THE NEXT GENERATION OF HYBRID BUSES
Building on over 20 years of work, researchers at Queen's have developed advanced hybrid powertrain modelling technology which is integral to thousands of low emission hybrid vehicles currently in service around the world.

Queen's has a distinguished track record in engine simulation. The focus has broadened from modelling conventional internal combustion engines in the mid-1990s to modelling the complete powertrain system in recent years.

Powertrain simulation is complicated by the large number of rapid variations in parameters over a typical drive cycle. Much research effort has been invested at Queen's over the last 20 years to construct accurate models with a strong physical basis. This has been underpinned through state-of-the-art engine test cells to characterise performance over complete drive cycles, which has established confidence in models through a research culture of rigorous experimental validation.
"This modelling architecture has been integral to the development of our flagship hybrid electric vehicles, the StreetLite and StreetDeck Next Generation Hybrid buses, supporting the design of the overall system configuration, component sizing, as well as the "on vehicle" control system."

- Director of Engineering for Wrightbus 
What impact did it make?
CONTINUED INNOVATIONS IN CLEAN TRANSPORT, LOCALLY AND GLOBALLY
Powertrain modelling and lifecycle modelling research at Queen's has played an integral role in the recent £66,000,000 investment by Northern Ireland's public transport provider, Translink, for 100 low emission battery electric and hydrogen vehicles, and pioneering research by the Queen's University Bamford Technology Centre continues to lead the way along the road to zero.

In collaboration with Wrightbus, Queen's University developed state-of-the-art system modelling approaches for hybrid vehicles on the development of the New Bus for London powertrain. The success of the London Bus project led directly to the £3,200,000 Innovate UK funded project "Next Generation Hybrid Bus" (NextGenHEV). This project led to further innovations in powertrain system modelling, with the evolution of flexible systems modelling architectures which enabled rapid evaluation of candidate hybrid vehicle systems and components.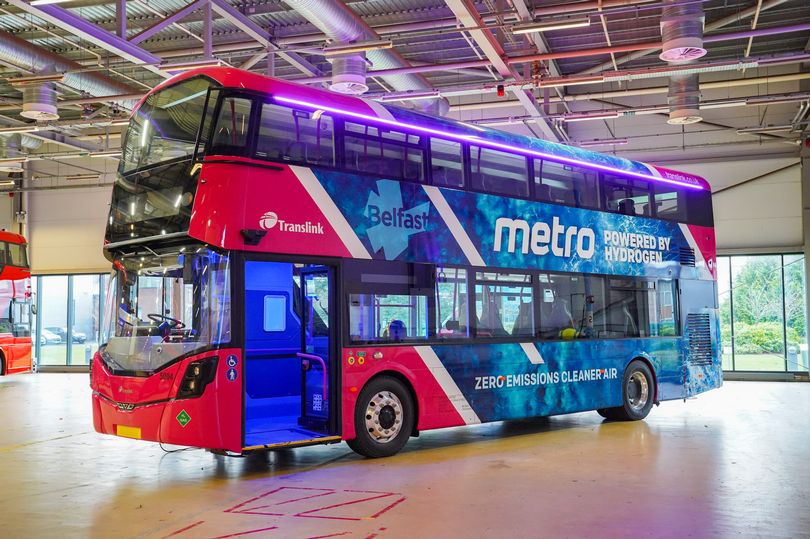 The driveline development ultimately led to both the single deck (StreetLite) and double deck (StreetDeck) variants being certified to low carbon emission bus status by the Low Carbon Vehicle Partnership.
Beyond the UK, the hybrid powertrain system & design approaches developed during the Next Generation Hybrid Bus project have opened up new opportunities to export this technology internationally. Queen's has used this lifecycle modelling work, alongside in-service fleet monitoring, to support a number of tender processes, including in Santiago Chile and Canberra Australia.
Our impact
Impact related to the UN Sustainable Development Goals
Learn more about Queen's University's commitment to nurturing a culture of sustainability and achieving the Sustainable Development Goals (SDGs) through research and education.