Annual QUB Centre for Public History Conference- Telling stories: History, narrative and fiction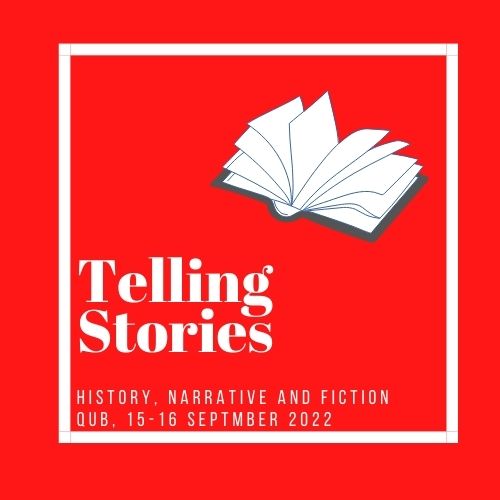 The boundaries between history, story and fiction can sometimes be thin, and the role of imagination and creativity in historical research and writing is receiving greater recognition. Alessandro Portelli extolled the value of subjectivity when he remarked that the value of oral history lies 'not in its adherence to facts but in its divergence from them, where imagination, symbolism and desire break in'. More recently the work of Saidiya Hartmann, in her words: 'troubles the line between history and imagination'. Historians working with memories, life histories and personal testimonies are also attuned to the narrative shapes both in their sources and increasingly in their own work, sometimes reworking the traditional form of academic writing to fit their subjects, as for example in the work of Sarah Knott and Matt Houlbrook. The 'Writing Radically' article series for History Workshop Online explored different approaches to narrative, storytelling and the writing of history, with some suggesting that radical approaches to history writing could probe the gaps in the archival record and bring underrepresented voices and experiences to the fore. Equally the work of novelists such as Mazza Mengiste, Javier Cercas and Valeria Luiselli plays with the forms of fiction, history and the archive. Just as much as academic historians construct narratives in their work, novelists and creative writers have ways of probing historical truth. Approaching history in a creative way therefore not only offers new ways of engaging the public with history but new ways of 'doing' history.
This conference aims to explore the interfaces between history and fiction and between academic and creative approaches to history, by bringing together historians, writers and other creative practitioners to discuss these issues, exchange ideas and explore the potential for creative conversations and collaborations. The theme of the conference is broadly defined and possible strands for papers/panels could include:
History and historical fiction
Blending personal and family memoir with history writing
Creative approaches to gaps and silences or experiences that are marginalised (esp. in terms of race and gender) in the historical record
Using creative approaches to present history to a wider public
Using fiction as a historical source in research and teaching
Creative teaching methods
Dramatic and creative forms such as theatre, verbatim theatre, film and documentary, digital storytelling and video games.
Proposals which take a more creative approach to the traditional academic paper format are also welcome.
Confirmed speakers
Keynote talks by Prof. Matt Houlbrook and Prof Sonja Boon
Panel discussions with Lucy Caldwell, Prof. Glenn Patterson, Laura McKenna and Nuala O'Connor
Proposals are invited for 20 minute papers relating to the conference theme, broadly defined. Please send abstracts (max 250 words) and a brief bio to publichistory@qub.ac.uk by 28 February. Accepted speakers will be notified by the end of March.
Bursaries: A limited number of bursaries of £300, covering travel and accommodation, are available for postgraduate/ECR scholars (within three years of PhD) who are delivering a paper. Anyone seeking to avail of this should indicate when emailing their abstract. Priority will be given to those who have no other source of funding.
Media