Committee
| | |
| --- | --- |
| | Professor Olwen Purdue (Director) is a social historian of nineteenth and early twentieth-century Ireland with a particular focus on social class, urban poverty and welfare. She also works on public history in divided societies. Her latest monograph, Workhouse Child: Poverty, Child Welfare and the Poor Law in industrial Belfast, 1880-1918, is due out with Liverpool University Press in 2023, and an edited collection (with Leonie Hannan) on Difficult Public Histories in Ireland is due out with Routledge in 2024. Olwen was formerly international editor for The Public Historian and is currently series editor for Liverpool University Press' Nineteenth-Century Ireland series. She sits on the Council of the Royal Historical Society and the Board of Directors of the Irish Museums Association and is a member of the advisory board for the Ulster Museum. |
| | Professor Sean O'Connell (Asst Director) works on Irish and British social history. He is a founder of QUOTE Hub (Queen's University collective of oral historians) and editor of Oral History. He has published extensively on the history of history of working-class experiences of consumer credit and debt, including Mail Order Retailing in Britain: a Business and Social History (2005), Credit and Community: Working Class Debt since 1880 (2009 ) and The Politics of Consumer Credit in the UK, 1938-1992 (2018) and is currently working on the history of joyriding. Most recently, Sean completed a research report, commissioned by the Northern Ireland Department of Health examining the history of mother and baby homes and Magdalene laundries in Northern Ireland (published Jan 2021) |
| | Dr Maurice Casey is a Research Fellow at QUB working on the AHRC-funded project 'Queer Northern Ireland: Sexuality before liberation'. Previously, he curated two major exhibitions as the Irish Department of Foreign Affairs Historian in Residence at EPIC The Irish Emigration Museum from 2020 to 2022. Maurice has broad public history experience across print and broadcast media, including contributions to series commissioned by TG4, Audible and the BBC. He is particularly interested in the opportunities for historical storytelling provided by trade audience history books and video games. |
| | Dr Niamh Cullen specialises in the social history of twentieth-century Western Europe, and especially of post-1945 Italy. Her research draws on the history of the emotions, gender and sexuality, popular culture and personal testimony. In 2015 she organised an exhibition, "Love, Italian Style', drawing on popular depictions of romance in 1950s and 1960s Italian film and magazines, in the Italian Cultural Institute, Dublin. Niamh is currently developing a new project on the history of motherhood and infant feeding in twentieth-century Europe. She has written for the Dublin Review of Books and for History Today and her work has featured in The Local (Italy). |
| | Dr Leonie Hannan is a social and cultural historian working on intellectual life in the long eighteenth century, with a focus on themes of gender, material culture and domestic space. Her second monograph for Manchester University Press: A Culture of Curiosity: Scientific Enquiry in the Eighteenth-Century Home is forthcoming alongside an edited volume for Routledge (with Olwen Purdue) on Dealing with Difficult Pasts: the Public History of Ireland. Leonie has worked extensively in museums and heritage and built collaborative working relationships between researchers, teachers, curators, museum collections and heritage sites. She is currently on the Advisory Boards for the Mellon Centre for Migration Studies and the Northern Irish Museums Council. She is a Fellow of the Royal Historical Society and sits on the Executive Board of the international research group Scientiae: Disciplines of Knowing. She is the Director of the Centre for Eighteenth-Century Studies and Co-Lead of the Science and Culture Research Group at Queen's University. Leonie is also part of the 100 Hours research group which experiments with methodologies for material culture research. |
| | Dr Nik Ribianszky specialises in 18th and 19th century U.S. and African American history, women and gender history, and race relations with particular focus on the experiences of enslaved and free people of color in the South. Her book Generations of Freedom: Gender, Movement, and Violence in Natchez, 1779-1865 (UGA Press, 2021) tells the stories of free Black people who collectively inhabited an uncertain world of qualified freedom in a slave society. There is also a companion website to her book which showcases this population and gives additional resources about them. Ribianszky also works with Enslaved: Peoples of the Historic Slave Trade, a project housed at Matrix: The Center for Digital Humanities & Social Sciences at Michigan State University, in partnership with the MSU Department of History and scholars at multiple institutions and is a partner in their National Endowment for the Humanities grant, "Expanding Enslaved Hub: Peoples of the Historical Slave Trade." Her database on free people of color in Natchez, Mississippi will be linked on Enslaved's platform and make her research available to other scholars of enslaved and free people of color and link this project with data from different geographical regions, an endeavor that gives scholars, the public, and the descendant community access to relevant demographic information. Her next project centers on people of African descent in Ireland from 1600 to 1865. |
Research Fellows
| | |
| --- | --- |
| | Dr Briony Widdis is an ESCR Postdoctoral Fellow whose research concerns the legacies of empire and colonialism in Northern Ireland, and the role of museums in these debates. She uses public anthropology and social history to explore how contemporary identities connect with colonial collections. Briony's interdisciplinary approach engages with both academic and museum research, including collaborating with living communities, and with historical perspectives represented within collections and archives. Her current ESRC-funded Postdoctoral Fellowship, 'Museums, Empire and Northern Irish Identity', aims to improve understanding of how colonial collections relate to contemporary social issues impacted by the museum sector. These include community identities, the representation of diverse groups, the role of museums in divided societies. |
| | Dr Hiroki Shin is a Vice-Chancellor's Illuminate Fellow at Queen's University Belfast and a research associate at the Research and Public History Department, Science Museum, London. He is interested in the social and cultural history of energy, transport and the environment from the nineteenth century to the present. In his work, he considers the impact of modern energy-intensive societies on culture, everyday life and the natural environment. His current project examines the role of cultural and heritage institutions – museums, science centres, archives and heritage sites – across the United Kingdom, Europe, America and Asia in response to the climate crisis. The project aims to foster an understanding and mobilisation of the cultural sector's expertise and capacity to shape the public's understanding of energy technology to address society's need for a cultural adaptation to climate change. |
| | Olivia Dee is an oral historian of gender, women and reproductive rights. She is now a Leverhulme Early Career Fellow at the School of History, Anthropology, Philosophy and Politics at Queens University Belfast. She has produced research on oral history, mother and baby institutions, abortion, and the legal reform of reproductive rights in the UK. Her fellowship examines Northern Irish women's experiences of unmarried pregnancy, including gestation, labour, motherhood, mother and baby homes, postnatal care, abortion, adoption, and miscarriage. This project will utilise oral history to analyse women's experiences of unmarried pregnancy itself, as well as the long-lasting effects of the stigma and trauma that often followed. |
| | Maurice J Casey is a Research Fellow at HAPP, working on the AHRC-funded project Queer Northern Ireland: Sexuality before Liberation. Maurice's research at QUB focuses on histories of sexuality in early 20th century Ulster. He also has a research expertise in the history of international communism, in addition to wide-ranging experience in public history. His two exhibitions, Out in the World: Ireland's LGBTQ+ Diaspora and Revolutionary Routes: Ireland and the Black Atlantic, opened at EPIC The Irish Emigration Museum in Dublin in 2021 and 2022 respectively. Additionally, Maurice has contributed as a researcher and interviewee for historical podcasts, radio and TV. His current book project is a narrative history of an unusual hotel in interwar Moscow, the Hotel Lux. |
Visiting Research Fellows
Stuart Aveyard is a historian of Northern Ireland and Senior Lecturer in Modern British History at Manchester Metropolitan University. His first book, No Solution: the Labour government and the Northern Ireland conflict, 1974-79, was based on his doctoral thesis at Queen's University Belfast. He is working on a study of political culture in the Northern Ireland conflict that pays particular attention to how protagonists drew upon historical analogies and appropriated other contemporary conflicts to articulate their identity or justify their actions. Most recently, he has been developing an interest in the use of digital techniques to analyse and represent the past.
Thomas Cauvin is Associate Professor of Public History at the University of Luxembourg and the Head of the Public History Department at the Luxembourg Centre for Contemporary and Digital History – C2DH. He is a FNR-ATTRACT Fellow and leads the Public History as the New Citizen Science of the Past (PHACS) project. Cauvin has been the President of the International Federation for Public History from 2018 to 2021. He received his PhD at the European University Institute (Florence, Italy, 2012) and worked for several years in the United States at the University of Louisiana at Lafayette (2013-2017) and Colorado State University (2017-2020). He is the author of Public History. A Textbook of Practice (Routledge, 2022, second edition) and several articles and book chapters on public history.
Pamela Linden Aveyard is a historian of migration and Irish/British Jewry. She completed her PhD thesis, entitled 'Jewish identity and community in Belfast, 1920-48', at Queen's University Belfast in 2016. Pamela has worked across the museum and heritage sector, most recently holding the post of Second World War and Holocaust Partnership Programme Officer at Imperial War Museums. She has a particular interest in forced migration and intersecting identities and is currently undertaking research on refugee networks and Belfast Jewish naturalisation. Her public history experience includes a previous role with Imperial War Museum's First World War Centenary Partnership and work with Ulster Historical Foundation, Tandem Design, Belfast City Council, Causeway Coast and Glens Borough Council and the McClay Library Special Collections and Archives.
Violeta Tsenova is an interdisciplinary researcher with expertise in cultural heritage, design, public history, and film. She is currently a postdoctoral researcher for the FNR-funded project Public History as the New Citizen Science of the Past (PHACS). Her current research focuses on contributing to theoretical and practical debates on the concept of shared authority through the lens of feminism(s) and design. She is also carrying out research with the House of European History, Brussels, to implement participatory practices which will support the museum in reaching its mission goal of connecting and representing shared experiences and their diverse interpretations. As part of her research, Violeta structures collaboration between academia and

industry, conducts visitor observations, facilitates workshops on participatory history making with an international student cohort, and is designing an installation to showcase diversified historical narratives within the museum.

Violeta obtained her PhD from Newcastle University, UK (2022) with a thesis titled Designing with Genius Loci. Her PhD explored the many intersections between Human Computer Interaction and heritage interpretation with the aim of achieving and designing for critical polyvocality. She holds an MSc in International Heritage Visualisation from the Glasgow School of Art, UK (2017), and a joint-honours bachelor's degree, awarded as MA in Digital Media and Information Studies/ Film and TV Studies from the University of Glasgow, UK (2015)

Violeta's research interests lie in: critical heritage, participatory design, interaction design, social justice, feminist theory, agonism, and creative practice.
Partner Members
Katy Allen works in community heritage. She has a BA Hons degree in History from Newcastle University and an MA in Public History from Queen's University, Belfast. After graduating, she worked to deliver heritage-led regeneration in North Belfast as the Community Archive Co-Ordinator on the National Lottery Heritage Fund's 'Great Place' project. Katy moved into the Arts sector in June 2022 when she joined EastSide Arts as their Community Engagement Officer.
Dr. Sarah Baccianti is Research Manager at National Museums NI. In her role she manages the implementation and development of National Museums NI's Research Policy and Research Plan and reviews and monitors all research and academic partnerships. Before moving to the museum/heritage sector, Sarah lectured in Old English and Old Norse literature at the University of Oxford, Université de Lausanne, University College Cork and

Queen's University Belfast. She obtained her doctorate at the University of Oxford where she researched the narrative structure of chronicles and historiae written in Old Norse, Old English, and Anglo-Latin. Her latest project – which was funded by the British Academy, and that she continues to research in her spare time – focuses on the reception and transmission of scientific and medical knowledge in medieval Denmark and Iceland.
Gemma Reid is a freelance heritage practitioner working as part of a collective called quarto. quarto creatively engage people in exploring identity and memory in place. They are committed to engaging with Northern Ireland in all its (often troubled) complexity. They are curious about the untold stories and quiet work for change going on in every community. Their practice centres listening, reflection, and encouragement. Their creativity, strong facilitation skills, deep thinking and years of practice help people to see themselves, each other and their places in ways that value the past, understand the present, and anticipate the future with hope and confidence.
Members
Dominic Bryan is a Professor in Anthropology at Queen's University Belfast. From 2002-2014 he was Director of the Institute of Irish Studies and is a Fellow of the Senator George J Mitchell Institute for Global Peace, Security and Justice. Research interests include political rituals, symbols, commemoration, public space and identity in Northern Ireland. Dominic specialises in the contemporary history of Belfast and particularly the impact the peace process has had on the city. He works on issues of cultural identity such as flags, parades, bonfires and murals. He is author of Orange Parades: The Politics of Ritual Tradition and Control (Pluto 2000) and co-author of Civic Identity and Public Space: Belfast since 1780 (MUP 2019). In 2014 he was co-author of The Flag Dispute: Anatomy of a Protest and recently was co-author of Flags: Towards a New Understanding. Dominic is also the Chair of Diversity Challenges and co-Chair of the Commission on Flags Identity, Culture and Tradition
Dr Elaine Farrell is a historian of nineteenth- and early-twentieth-century Irish social history, with a specialism in gender history (particularly women's history) and crime and punishment. She has been involved in a number of public history projects, including museum exhibitions 'Research in Translation' (University of Leicester) and 'Mad or Bad' (Armagh County Museum). Working with Leanne McCormick (Ulster University), she is currently preparing an exhibition based on their AHRC-funded project '"Bad Bridget": Criminal and Deviant Irish Women in North America, 1838-1918'. She has contributed to a number of television programmes for BBC, Channel 4, RTÉ, and TG4.
Dr Derek Johnston teaches on the broadcast media, with a particular focus on genre studies and on the history of broadcasting. His research to date has tended to look at genres and their development as aspects of cultural change, as expressions of the historical shifts and continuities in popular culture. This focus has been on science fiction on British television, particularly in the period of the BBC monopoly from 1936-1955, and on the seasonal horror story. More broadly, he is interested in the uses of historical narratives, both factual and fictional and including history-made-fantastical, and the ways that they are used and form a part of personal and public history and so influence understanding and conceptualisation of history and its relation to the present.
Keith Lilley is Professor of Historical Geography in the School of Natural & Built Environment at Queen's University Belfast. His particular research interests lie in the history of cartography, urban morphology, and landscape history, and in using maps and mappings to explore past landscapes and geographies as well as visualise how the past connects with the present. He has more than ten years' experience of directing spatial humanities research projects, all using digital 'geospatial technologies' (e.g. GIS) to engage wider public audiences. He is director of an AHRC-funded public engagement centre, "Living Legacies 1914-18: From Past Conflict to Shared Future", which connects academic and community researchers through WW1 heritage projects - including 'citizen history' and community mapping projects. He is also Chair of the Historic Towns Trust, a UK charity that oversees the production of the British Historic Towns Atlas programme.
Fearghal McGarry is professor of modern Irish history at Queen's University Belfast. He is interested in the theory and practice of public history, particularly in relation to commemoration and other forms of historical memory. Editor (with Jennie Carlsten) of Film, History and Memory (Palgrave Macmillan, 2015), he led two AHRC research projects exploring the relationship between history and film. He acted as historical consultant on several projects marking the centenary of the Easter Rising, including the GPO Witness History interpretive centre. His current AHRC-funded project, A Global History of the Irish Revolution, will involve collaborations with public history partners to mark the centenary of partition and independence. He is also working with the Ulster Museum to redevelop its Troubles gallery.
Current and Recent PhD Students
Dr Jack Crangle completed his PhD at Queen's University Belfast in 2019. His research examined the experience and reception of migrant communities in twentieth century Northern Ireland. His first article, entitled 'Left to Fend for Themselves': Immigration, Race Relations and the State in Twentieth Century Northern Ireland', was published in Immigrants and Minorities in 2018. He has delivered his research to numerous public audiences, including a session at the Imagine! Belfast festival and an event commemorating Belfast's Italian community. During his PhD he worked with ArtsEkta in Belfast and the Oregon Jewish Museum and Center for Holocaust Education in the USA.
Savannah Dodd is a PhD candidate in anthropology. Her research aims to understand the processes of constructing photography archives in Northern Ireland, focusing particularly on the employment of ethical regimes when decisions are made in the archival process. Furthermore, by investigating the meaning of truth in photography and in archives, the evidentiary quality of photographs, the affective force of photographs, and the relationships between photographs, archives, and memory, her PhD research will look at the impact of photography archives on how Northern Irish society creates narratives about its history. She is the founder and Director of the Photography Ethics Centre, which seeks to raise awareness of photography ethics through educational training programmes.
Dr Pete Hodson completed his PhD in History at Queen's University Belfast in 2019. His thesis adopted a comparative approach to examine the economic, social and cultural legacies of deindustrialisation in the Belfast shipbuilding and Durham coal industries. He is an oral historian with a particular interest in deindustrial narratives and the politics of urban regeneration, and published on these themes in a recent contribution to History Workshop Journal. His public history experience includes work with BBC Northern Ireland, The Conversation, QUOTE (Queen's University Oral History, Technology and Ethics), Titanic Foundation and the National Museum of Industrial History, USA.
Dr Sam Manning is a postdoctoral researcher on the AHRC funded European Cinema Audiences project. He was previously an AHRC research fellow at QUB researching the fifty-year history of Queen's Film Theatre. This project's outputs included a commemorative publication and a touring exhibition. He was recently published articles in Cultural and Social History and Media History. His forthcoming book, titled 'Cinemas and Cinema-Going in the United Kingdom: Decades of Decline 1945-65', will be published in the Royal Historical Society's New Historical Perspectives series. His public history experience includes work with BBC Northern Ireland, the McClay Library Special Collections and Archives, and QUOTE. He is currently chairperson of the Oral History Network of Ireland. He completed his PhD at Queen's University Belfast in 2017.
Dr Emma McAllister completed her PhD thesis entitled 'Beyond Materiality: Religion and Ritual in Museums and Heritage Sites' at Queen's University Belfast in 2022. Her thesis examines the complexities of displaying religion in exhibitions in Ireland, the UK and the Netherlands. She is the current Membership Secretary for the Religion, Collections & Heritage Group. Since completing her PhD, Emma has been a Research Assistant in the Art History and Cultural Policy Department in University College Dublin on a project called 'Building Capacity for the Cultural Industries: Towards a Shared Island Approach'. She is also Heritage Hub Co-ordinator at Queen's University Belfast working with academics and heritage professionals across Northern Ireland. Emma has taught undergraduate history and postgraduate arts management and achieved the Associate Fellow of the Higher Education Academy (AFHEA) award in September 2021. She holds an MA degree in Cultural Heritage and Museum Studies from Ulster University and a BA (Hons) degree in Modern History from Queen's University Belfast.
Dr Rhianne Morgan completed her PhD at Queen's University Belfast in 2022. She is an oral historian with a particular interest interested in memory, heritage and identity in post-1980s Britain. Her PhD thesis examines how childhood memory, class and sectarianism have impacted upon the memory of Templemore Baths in East Belfast and compares this with the narrative being presented in the current regeneration project at the Baths. Rhianne has spoken to public audiences on her master's research, which explored the collective memory of the 1984-5 miners' strike in Aberdare and regularly delivers oral history training to public audiences. She is currently working as Heritage Project Co-ordinator for Corrymeela
Matthew Stanton is a PhD History candidate studying Early-Modern British History. His thesis is titled 'Charisma and Controversy: Benjamin Keach (1640-1704) and the Debate about Congregational Song.' His research focus is Benjamin Keach (1640-1704) concerning his works in the hymn-controversy of the late seventeenth-century. There is a lack of scholarship focused on the development of this controversy, particularly regarding the previous singing disputes found in baptistic congregations. By identifying this as a gap in scholarship, he is looking into the origins of Baptist song. He also considers Keach's hymns by surveying their content and effect later felt by key eighteenth-century English hymn-writers such as Isaac Watts (1674-1748). He is the creator of the Benjamin Keach Journal, an online database.
Katie Tate is a PhD candidate working on the social history of twentieth-century Northern Ireland, with a particular interest in the lives of elite women. Her thesis explores public roles of the five women who were wives to the governors of Northern Ireland in the half century between 1922 -1972. Uncovering their contributions to Northern Irish society between 1922-1972, her thesis explores both the collective and individual experiences of these women. As their stories are currently absent from the historiography, and from the narratives of Hillsborough Castle where these women lived and worked for fifty years and which is now managed as a heritage site by Historic Royal Palaces, Katie's thesis questions how these women might be rewritten into the history of Northern Ireland through the medium of public history.
Emma Taylor is a History PhD candidate in QUB, and recipient of the John Beecher Memorial Prize for best overall academic performance in the History MA. Her research project is titled 'Vanished Veterans: The multifaceted reasons for minimal historical representation and public commemoration of disguised female American Civil War memorialization. This includes battlefield, monuments, films, noverls, and podcasts. Concurrently, it analyses their position within Civil War historiography. When contrasted, their historiographical absence, and/or negative representation, highlights a significant discriminatory trend within the discipline of history. That is, the exclusionary practice of selecting who/what is deserving of a place in academic and public knowledge.
Dr Lucy Wray was awarded her PhD in history in 2022. Her project entitled, 'The Photographer and the City: the work of A.R. Hogg in recording social conditions in early twentieth-century Belfast' works in collaboration with National Museum Northern Ireland. As well as photographic history, her research interests include poverty and welfare, civic space and culture and class. She currently works as a Postdoctoral Research Associate at Ulster University managing the Madill Archive Project.
Dr Lauren Young completed her PhD at Queen's University Belfast in 2022. Her thesis was an oral history project focusing on the history and lived experience of Type One Diabetes, using Northern Ireland as a case study for interviews. The thesis explored the changing doctor-patient relationship throughout the second half of the twentieth century in light of advancing treatment and changing care within the specialist clinic. Further, it examined how themes in memory studies might impact a diabetic patients' experience and memory of their lives with a chronic illness over time. Other interests include all aspects of the social history of medicine, as well as how public history can be used to explore themes within the history of medicine.
Project Partners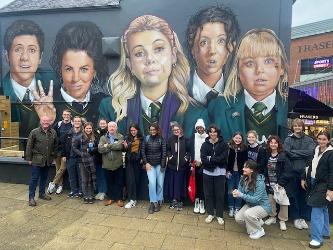 Project Partner
Mellon Centre for Migration Studies
The Mellon Centre for Migration Studies is a dedicated resource and research Centre with specialist expertise in the universal phenomenon of human migration. Our understanding of migration is holistic and encompasses immigration, internal migration and emigration. With regard to the latter we are focussed upon the peoples of the island of Ireland and their distribution across the globe. The Centre is located at the Ulster-American Folk Park, outside Omagh, County Tyrone, which is part of the National Museums NI. The Centre houses a specialist reference library in partnership with Libraries NI. The collection extends to over 18,000 items. Our main digital resource is the Irish Emigration Database which is operated in conjunction with Queen's University Belfast at dippam.ac.uk.
Read more
Read less
---