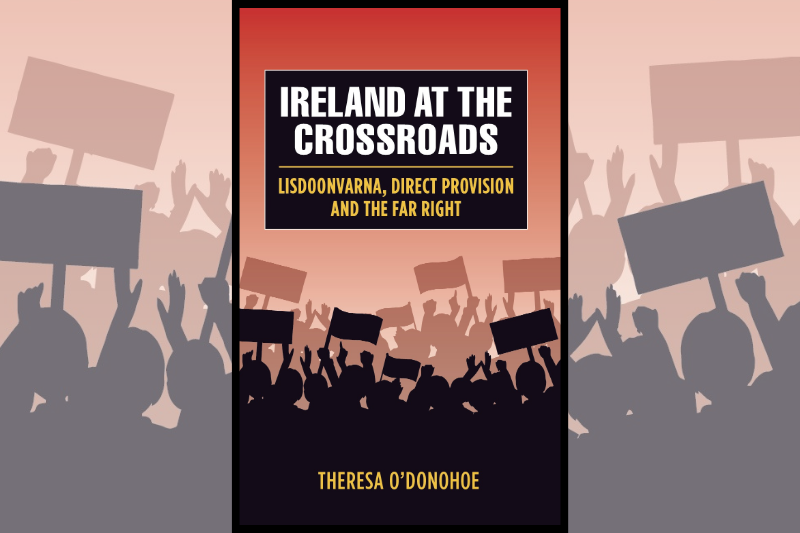 Queen's University Belfast & Online
---
Ireland at the Crossroads is required reading for anyone wondering how the land of 100,000 welcomes got to here, and what to do about it.
Theresa O'Donohoe is a qualified mediator and sustainable community development facilitator. She has lived in Lisdoonvarna since 2015. She played a lead role in facilitating the community response to the opening of a Direct Provision centre in Lisdoonvarna and was personally targeted by the far right for her stance. This book is her story, setting the record straight.
Location: Canada Room and Online
'Breaking News: Confusion, anger, and division set in as news leaked that a Direct Provision centre for 115 asylum seekers was being opened in Lisdoonvarna in February 2018. Stories of robbery and rape, along with videos of riots and destruction, were fuelling racism and hatred. Wires were crossed, anger was rising and feelings were mixed as the community responded to the news.
The far right spotted an opportunity and moved in to stoke up fears and tensions, while ordinary people tried to balance their desire to help asylum seekers with their concerns about the lack of consultation from the government and worries about inadequate supports.
The pattern has been repeated around the country, including Oughterard, Moville, Roosky, East Wall, Ballymun and elsewhere. In Ireland at the Crossroads: Lisdoonvarna, Direct Provision and the Far Right, local community activist Theresa O'Donohoe traces the ways in which the far right co-opted legitimate concerns about a lack of consultation and the housing crisis, twisting narratives to feed their own agendas and fuel racism. She explores the links between those leading the Direct Provision protests and other far-right issues, such as Covid denial, freedom and 'patriotism', and how, if not confronted, fascism will grow in this country.'
Attend this event online via Microsoft Teams:
https://teams.microsoft.com/l/meetup-join/19%3ameeting_ZDIxYWUxM2QtMWU3Yi00MjhjLTk1NmItMGY1OTA0YmQ2ZTZj%40thread.v2/0?context=%7b%22Tid%22%3a%22eaab77ea-b4a5-49e3-a1e8-d6dd23a1f286%22%2c%22Oid%22%3a%2262b6df7f-0a78-4909-826f-57b96557e6ff%22%7d