Candidates for the South Belfast seat AE22 are invited to present their green policies and ambitions for South Belfast to electors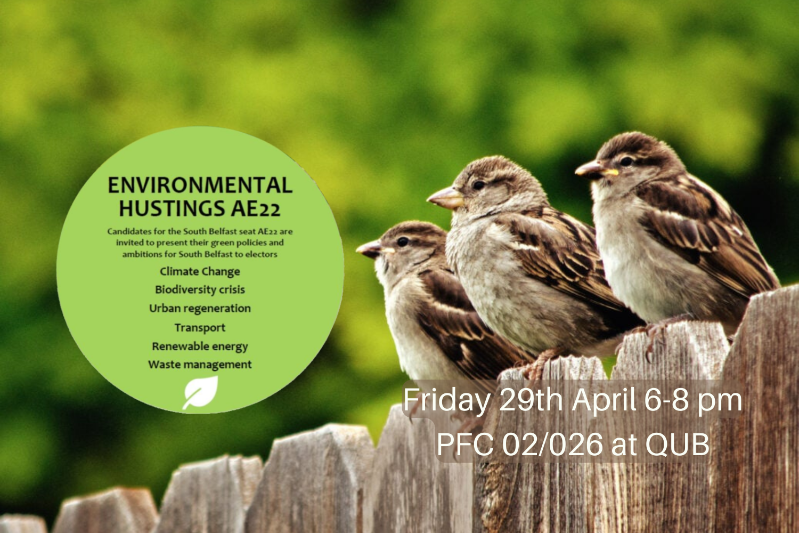 PFC 02.026 Queen's University Belfast College Park East Belfast BT7 1PS
---
SaveOurLagan is a community group dedicated to the protection and enhancement of the river Lagan, its valley, trees, wildlife, and habitats. We've campaigned recently with other groups for the establishment of an independent EPA in N. Ireland & the urgent reform of the planning system in light of the biodiversity crisis.
With the support of QUB's Centre for Sustainability, Equality and Climate Action (SECA), we have organised a hustings focusing specifically on environmental policies in South Belfast for the next legislature.
This public event will take place on Friday 29th April 6-8 pm in PFC 02.026 or you can watch on Facebook.
As the election campaign unfolds, 'traditional' issues can squeeze out in-depth discussion of the greatest challenges this generation faces: climate change and the twin crises of biodiversity and habitat loss. The coming years will be crucial in shaping Northern Ireland's response to the climate emergency. There is much to be done and huge expectations from citizens to see concrete action.
This event is an opportunity to hear candidates' proposals on how to meet these challenges followed by a Q&A.
_______________________
On 10th March, members from community environmental groups got together for the event "'You can't get there from here' The importance of environmental reform in NI: stories of citizens fighting for trees, bees and biodiversity." Watch the recording here.