Queen's PVC honoured by NI food and drink industry
Faculty Pro-Vice-Chancellor for Medicine, Health and Life Sciences, Professor Chris Elliott won 'Outstanding Contribution Award' at the 2017 Northern Ireland Food & Drinks Awards (NIFDA) last week.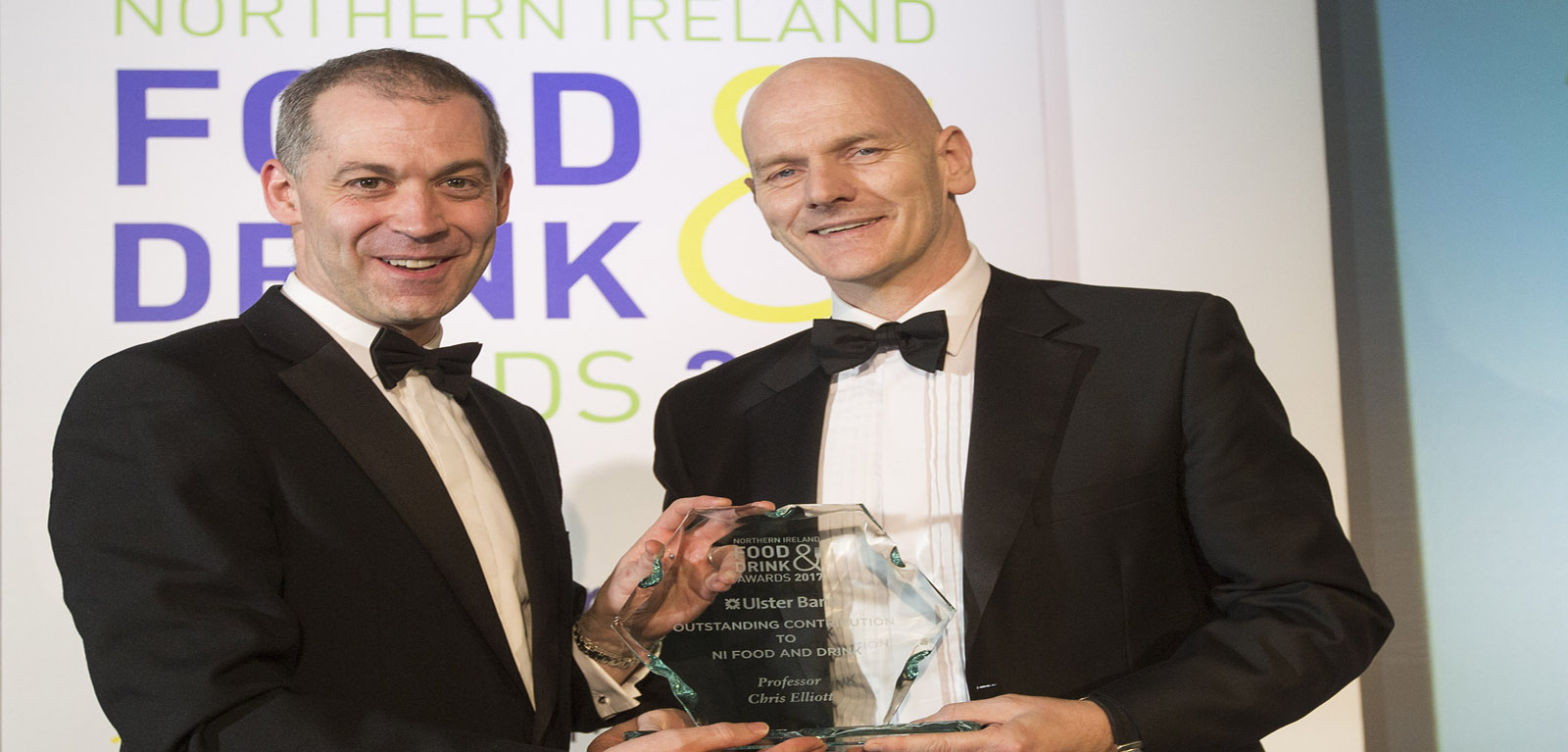 The bi-annual awards are considered the most important event in the local business and agriculture calendar with the excellence and innovation of the industry firmly in the spotlight.
The Northern Ireland agri-food industry has an annual turnover of £5billion with some 100,000 private-sector jobs spinning out from it.
Professor Elliott has a long pedigree as a leading expert on international food supply chains and the implications for food quality, authetitcity and safety. In 2013, he was commissioned by the UK government to lead the independent review of the horsemeat scandal. Chris also developed the world-leading Food Fortress concept which now helps supports the integrity of the NI food industry and promotes the safety and quality of our produce around the world.
He is the founder of the Institute for Global Food Security at Queen's and has published more than 350 papers in the field of detection and control of chemical contaminants in agri-food commodities as well as leading a range of international projects in developing safer food-supply systems. He has received a range of professional and industry awards including a Winston Churchill Fellowship, and is a Fellow of both the Royal Society of Chemistry and the Royal Society of Biology.
He sees his personal accomplishments, however, as serving a larger goal. "What we're trying to do at Queen's is produce the 'food leaders of the future'," he said. "If we can produce high-quality graduates for local food industries, they will innovate in a way that brings more credibility to the quality and safety of our food produced here. This will be an important part of the industry's future success."
Brexit will be one of the biggest challenges the local agri-food industry has ever faced - something that was much discussed at the 14th NIFDA ceremony last Friday night at the Crowne Plaza (formerly Ramada) hotel in Belfast. Chris and colleagues at Queen's will be working even more closely with the local food industry to develop strategies to safeguard the jobs of many thousands of workers and help generate innovative food products that will be sold on the international markets.
Professor Elliott commented: "I was delighted to receive this award from our local food industry. It's a very strong endorsement of the support our University provides to our largest private-sector employer in NI. While we are no doubt in challenging times, our partnership with industry will, I believe, deliver huge opportunities for growth going forward."