Queen's Researchers win prestigious International Communications Award
Drs Hien Quoc Ngo and Michalis Matthaiou (Centre for Wireless Innovation, ECIT, Queen's University Belfast) have received the 2017 IEEE Communications Society (ComSoc) Leonard G Abraham Prize.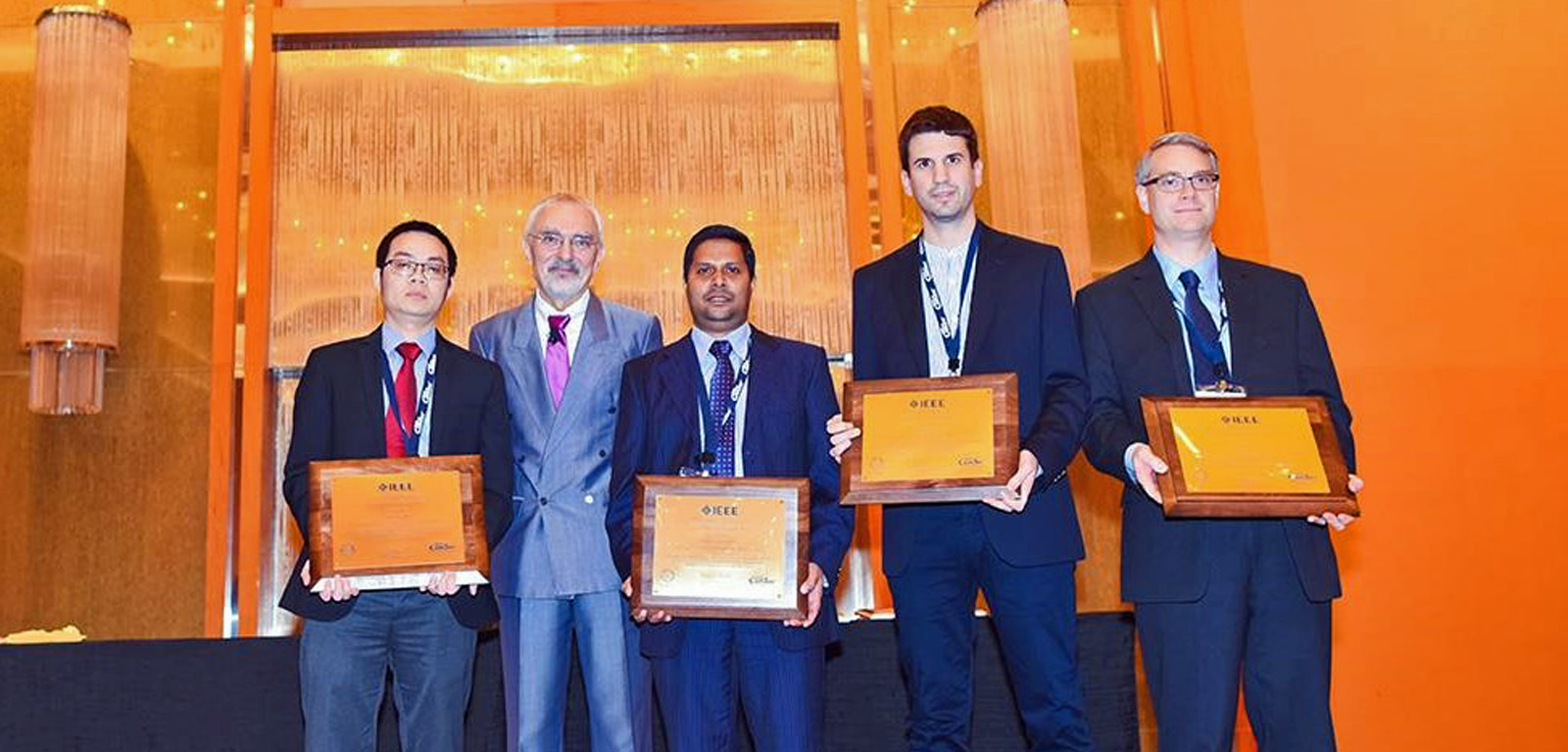 This prize – a prestigious award from IEEE, the world's largest association of technical professionals with more than 420,000 members in over 160 countries – is given annually to only one academic team with the best paper that appeared in the IEEE Journal on Selected Areas in Communications over the past three years.
IEEE ComSoc rewarded the paper ''Multipair Full-Duplex Relaying with Massive Arrays and Linear Processing'', published in 2014 by Drs Ngo and Matthaiou, and their team of academics, Professor Erik G Larsson (Linköping University, Sweden) and Dr Himal A Suraweera (University of Peradeniya, Sri Lanka). The paper has been cited over a hundred times in subsequent IEEE publications, the reference in academic research on communications technologies.
Dr Ngo says that this award and the worldwide recognition it brings will allow him to influence research in 5G on a global scale:
"The work I have been doing over the past few years and this acknowledgement from IEEE ComSoc supports our efforts at the Centre for Wireless Innovation to establish an international competence hub in massive MIMO, in order to enhance and speed up the development of 5G-enabling technologies."
Dr Ngo is an expert on massive MIMO, the underpinning technology concept for 5G, the next generation of mobile network technologies. He has already had an impact on disseminating essential knowledge to thousands of students and researchers with the seminal book Fundamentals of Massive MIMO he co-authored in 2016 with Professors Thomas L Marzetta, Erik G Larsson and Dr Hong Yang. Dr Ngo received another prestigious IEEE prize – the IEEE ComSoc Stephen O Rice Prize in Communications Theory – in 2015 for his research paper titled "Energy and Spectral Efficiency of Very Large Multiuser MIMO Systems". A prolific scientist, Dr Ngo's body of work has been cited globally almost 3,000 times in the past five years.
Dr Matthaiou is a wireless communications theorist with world-class expertise in signal processing, hardware-constrained communications and performance analysis of fading channels. He has already had a profound impact on the design of future ultra-high speed network technologies, like 5G (due to start in 2018, at least the global standardisation). His team has developed schemes, analytical techniques and algorithms to increase the data rate of cellular systems and reduce their increasing power consumption.