Staff Excellence Awards a big winner!
Congratulations to all of the winners in the Staff Excellence Awards!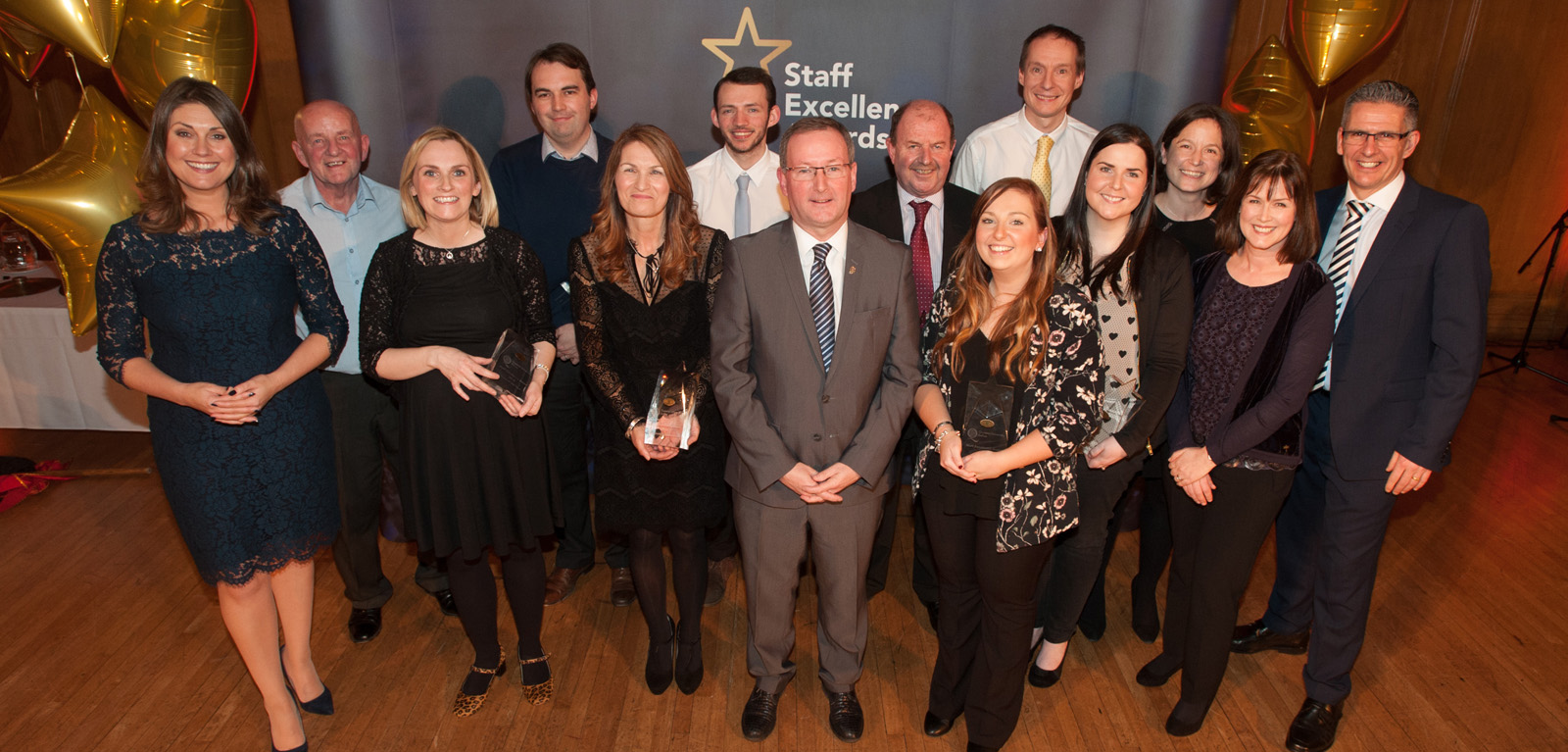 The winners were announced at a gala ceremony last week in the Whitla Hall, hosted by Sarah Travers and Mark Simpson. Winners across six categories were presented with beautiful Belfast Crystal trophies and cheques for £1,000.

The award categories were aligned with the University's Core Values and a nine-strong Judging Panel selected those entrants who most closely embodied the values.

The winners were: Chloe Dugan (Delivering Excellence category); Queen's University Environment Team (Team of the Year); Dr Luke Moffett (Achieving Ambition); Patricia Reilly (Outstanding Leadership); Lucia Kearney and Vivienne Courtney (Community Impact); and Professor Sir John McCanny (Lifetime Achievement).

A Buyer in the University's Procurement Office who acted up to a more senior level during a period of change and increased pressure, Chloe Dugan was described as a "positive role model who brings out the best in others".

The University's Environment Team, meanwhile, was lauded for its results in improving the sustainability of Queen's, including an increase in the number of students and staff walking or cycling to work, and enhanced biodiversity on campus.

In the Achieving Ambition category, Dr Luke Moffett beat off competition for his creative approach to teaching students in the School of Law, including the use of computer games and international mooting competitions.

School Manager at the School of Social Sciences, Education and Social Work, Patricia Reilly told the audience at last Friday's ceremony how Queen's had provided her with plenty of opportunities, allowing her to develop from a Grade 2 clerical support worker into her current role.

Lucia Kearney and Vivienne Courtney won an award for their efforts to increase volunteering among students, especially via the successful Homework Clubs, whereby over 200 students are now trained to support children with their schoolwork in areas of educational under-achievement.

Lifetime Achievement winner Professor Sir John McCanny was singled out for the international reach and impact of his research into cryptography, and for being the vision behind the NI Science Park, which now employs over 2,600 people in high-tech jobs.

Mrs Anne Hamilton was also honoured at the ceremony for being the longest-serving Queen's employee when she retired at the end of December 2016, with over 48 years clocked up. Entertainment was provided by the Belfast Ukelele Group, the Queen's Staff Choir and the Success Dragon and Lion Dance Association.
Read details of all the winners and runners-up.


Media