Launch of LGBT+ Staff Network an important milestone for inclusive university community
The official launch of the University's LGBT+ Staff Network, PRISM, took place on Tuesday 13 November in the Naughton Gallery and was attended by the Vice-Chancellor, senior leaders and staff from across the University.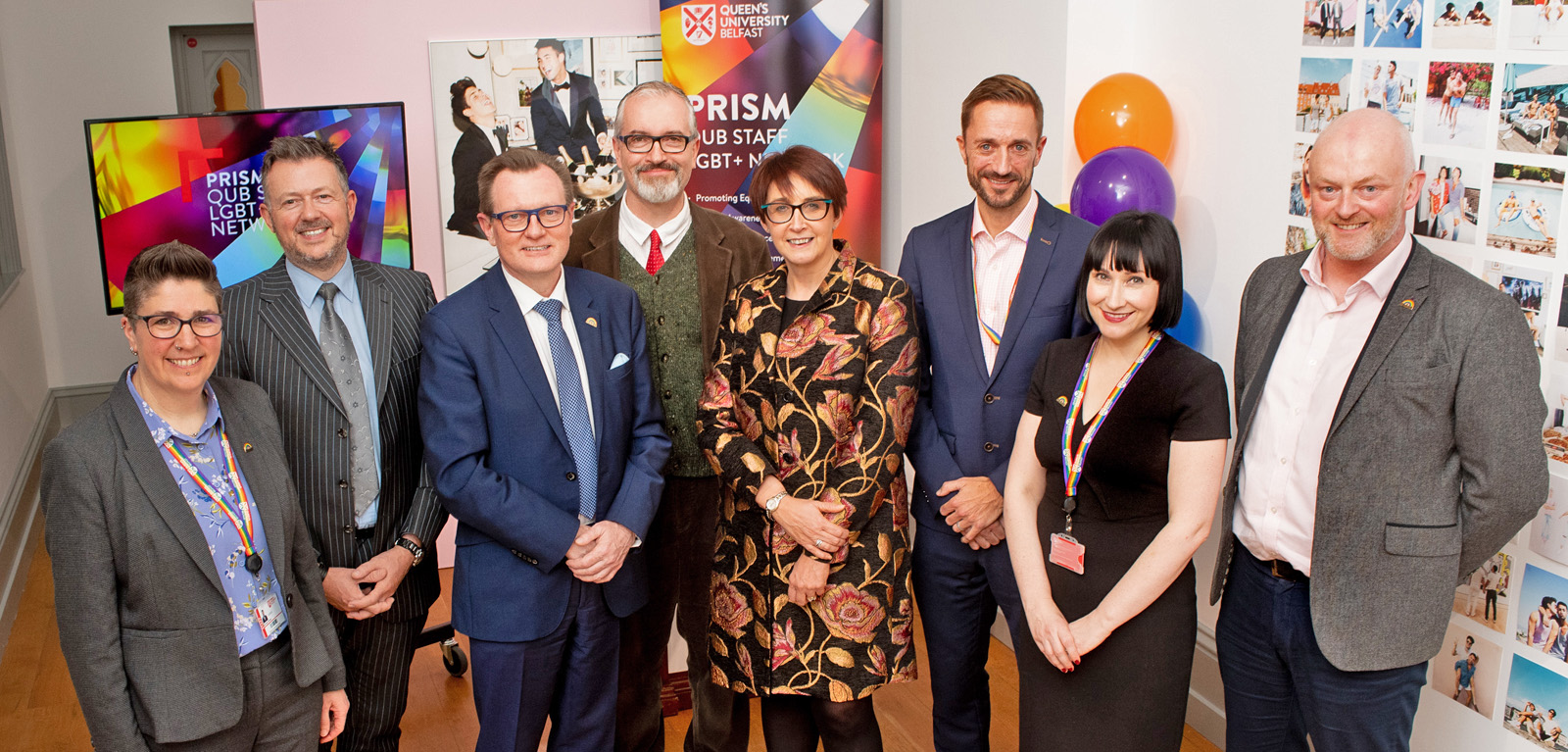 Set against the backdrop of the Naughton Gallery's current exhibition – the colourful and engaging Yummertime – the launch included speeches by the Vice-Chancellor of the University, Professor Ian Greer, Head of Diversity and Inclusion, Conor Curran, and PRISM Co-Chairs, Sally Bridge, Borrower Services Librarian, and Richard Robinson, Head of Accommodation.
The purpose of PRISM is to provide a safe, welcoming space for LGBT+ staff in Queen's to regularly meet during work hours, to discuss LGBT+ issues, work matters and to plan social events both on and off campus.
Reflecting on the significance of the launch event, Sally Bridge, Co-Chair of PRISM, commented:
"The PRISM launch was extremely well attended and it was wonderful to see staff and senior managers from right across the University show up to demonstrate their support and appreciation.

"As Co-Chair of PRISM, the support from senior management was particularly important. The support that senior leaders have shown, including through funding for the initiative and the VC's remarks and engagement at the launch event, demonstrates real commitment to ensuring that this is a safe environment for people to come to work as themselves and feel that they are fully supported by everyone in the Queen's community."
The event followed the University's recent success in the 2018 GNI Mag Awards, which celebrated and honoured individuals, businesses and groups who have made a positive contribution to the LGBTQ+ community in Northern Ireland. PRISM members represented the University at the gala event, which was held on Friday 9 November at the Crowne Plaza Hotel in Belfast, during which the University picked up the award for 'Inclusive Education'.
PRISM, which represents one of the ways in which the University demonstrates its commitment to equality, diversity, inclusion and respect for all staff, provides support for LGBT+ staff in the following ways:
Delivery of the University's Equality Scheme Action Plan, which demonstrates its commitment to promoting equal opportunities and good relations

Developing relationships with other LGBT+ friendly employers as part of the Working With Pride Network and the Stonewall Diversity Champions Programme

Helping coordinate and organise staff attendance at LGBT+ events associated with Belfast Pride each year

Identifying LGBT+ and Straight Allies as role models and points of contact for staff

Raising awareness of LGBT+ issues and supporting staff training and information sessions each year

Working alongside, supporting and advising management and staff on LGBT+ workplace issues

Working alongside community support organisations such as The Rainbow Project, HERE NI and SAIL NI
The Vice Chancellor said: "The launch of PRISM resonates with our Core Values and People and Culture Strategy, 'People First', so I was delighted to attend the event to reaffirm my full support for the work of this important staff network. PRISM demonstrates the positive and inclusive culture that we want to support at Queen's and reflects our commitment to equality, diversity and respect. I would like to take this opportunity to thank colleagues in the network for their commitment in being the driving force behind this important staff-led initiative and for creating significant positive change and meaningful impact in our workplace."
Conor Curran, Head of Diversity and Inclusion at Queen's, added:
"The very best organisations create a space and dedicate resources to enable staff to come together and transform workplace culture. The PRISM Network is a great example of the University's commitment to this and to promoting equality, respect for diversity, and greater inclusion and respect for all staff."
How to join the PRISM staff network
If you would like to register your interest in joining the Staff LGBT+ Network please email prism@qub.ac.uk, indicating in your email whether you would like to be invited to (a) forthcoming meetings of the Network and/or (b) events organised by the Network.
PRISM is keen to grow their membership and particularly encourages contact from any staff who identify as belonging to the LGBT+ community.
All emails will be treated in confidence.