Queen's named among NI's top companies for environmental leadership
Queen's has achieved Platinum status – the highest scoring level – in this year's Northern Ireland Environmental Benchmarking Survey.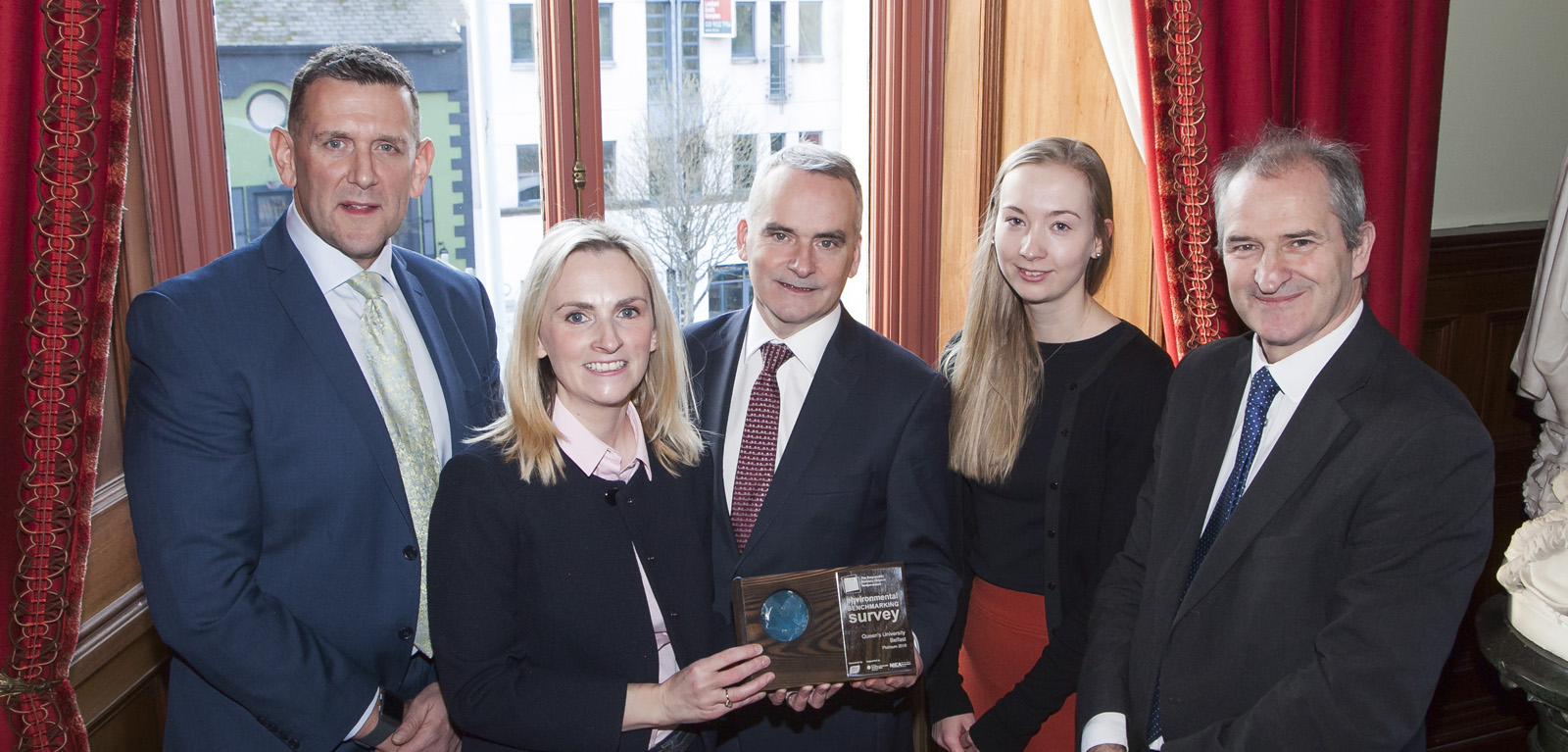 Northern Ireland's most sustainable organisations were revealed at the 2018 NI Environmental Benchmarking Survey at Belfast Harbour Offices on Thursday 22 November.
The Survey, which is run by Business in the Community, sponsored by Moy Park and supported by the Northern Ireland Environment Agency through the Department for Agriculture, Environment and Rural Affairs, recognises and rewards those organisations that are going above and beyond their legal requirements to minimise their environmental impacts and better manage their resources.
Damien Toner, Director of Estates at Queen's University Belfast, said: "It is wonderful to see the University once again recognised for our commitment to ongoing environmental actions and improvements. This proof of our green status was achieved through a collective effort from right across the University community in line with our vision to become a low carbon organisation providing a high quality and sustainable working and learning environment for students and staff. We are proud to be named as one of Northern Ireland's top companies for environmental leadership."
David Small, Chief Executive, Northern Ireland Environment Agency said: "The Survey is established as the leading tool in Northern Ireland to provide participants with proof of their green status. This is done through detailed analysis of their environmental management, improvement and impact. It is a powerful driver of environmental performance and we are delighted to support it once again this year."
Chair of Business in the Community's Environment Leadership Team and Chief Executive of Translink, Chris Conway, said: "This 20th year of the Survey has been one of the most successful to date. Eleven organisations have taken part every year since the Survey started in 1998, and 23 participants have taken part for the last 23 years. This year, we reviewed the Survey and introduced some changes from greater reflection of current issues to an increased focus on public reporting; from circular economy questions to revised performance improvement scoring. Congratulations to all of the companies stepping forward to publicly report on their environmental practices."
The trophies were made by David Keys Sustainable Woodworking and made from recycled shed wood and gin bottles.