QUEEN'S STAFF CELEBRATED IN 3RD ANNUAL STAFF EXCELLENCE AWARDS
Congratulations to all the winners in the Staff Excellence Awards 2018. The winners were announced at a gala ceremony on Friday 1 February in the Whitla Hall, hosted by comedian and actor Tim McGarry.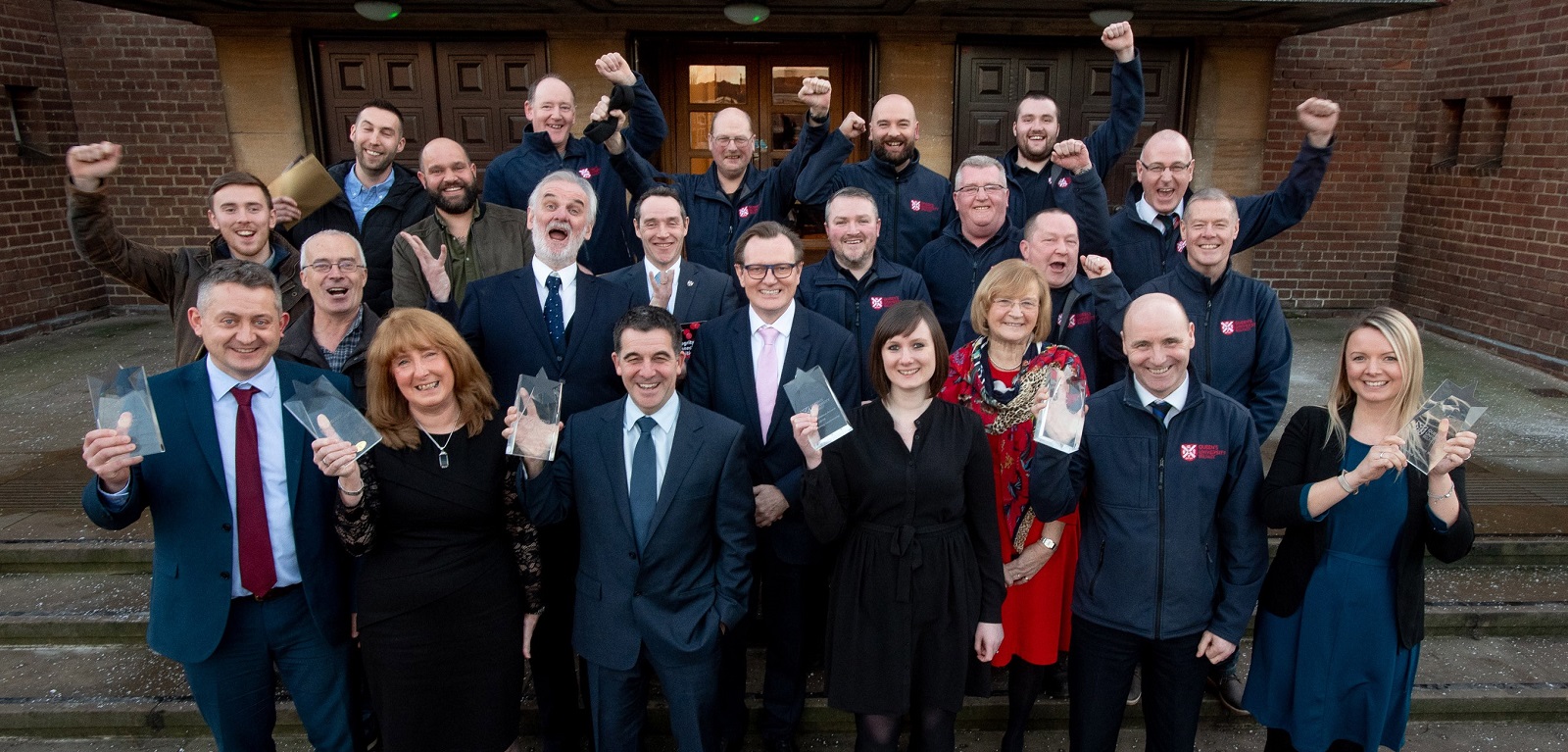 This is the third year of the Staff Excellence Awards, which were established to recognise and celebrate the achievements of staff across the University. 150 nominations were received from staff and students.
Addressing staff during the ceremony, President and Vice-Chancellor Professor Ian Greer said: "You all play a really critical part in the life of this University and your contribution is both highly valued and greatly appreciated – valued not just by me, but by the colleagues and students who nominated you for this year's Awards. Through their nominations they shared stories of your dedication, your ambition, your collegiality and collaboration – qualities that make Queen's a really great place to work."
Awards were presented in six categories, aligned to our Core Values.
The winners were:
Delivering Excellence: Dr Mark Russell, School of Natural and Built Environment
Team of the Year: Portering Team, Estates Directorate
Achieving Ambition: Katrijn Maguire, Queen's University Students' Union
Outstanding Leadership: Dr Kathryn McNeilly, School of Law
Community Engagement: Gardening Team, Estates Directorate
Lifetime Achievement: Christine Carrothers, Information Services
Marion Matchett, Senate Member and Chair of the Staff Excellence Awards Judging Panel, said: "This year, we received some 150 nominations representing all categories of staff. Many of these nominations came from our students who took the opportunity to recognise the work and also the support of their lecturers and tutors.
"In reading through the nominations what came across, time and time again, was the absolute commitment of staff to making Queen's the best that it can be, their overwhelming desire to work effectively for and with others, their respect for their work and their students, and their determination to make a difference, both now and in the future".
"This is driven by the views of staff and students."

- Marion Matchett, Senate Member and Chair of the @QUBelfast #StaffExcellenceAwards judging Panel.#LoveQUBStaff ⭐️ pic.twitter.com/1J1Lr0JkTg

— Queen's Staff (@QUBstaff) 1 February 2019