Two National Teaching Fellowships 2018 Awarded in Queen's
Dr Lezley-Anne Hanna from the School of Pharmacy and Professor Gerry Gormley from the School of Medicine, Dentistry and Biomedical Sciences have each been awarded a National Teaching Fellowship in 2018.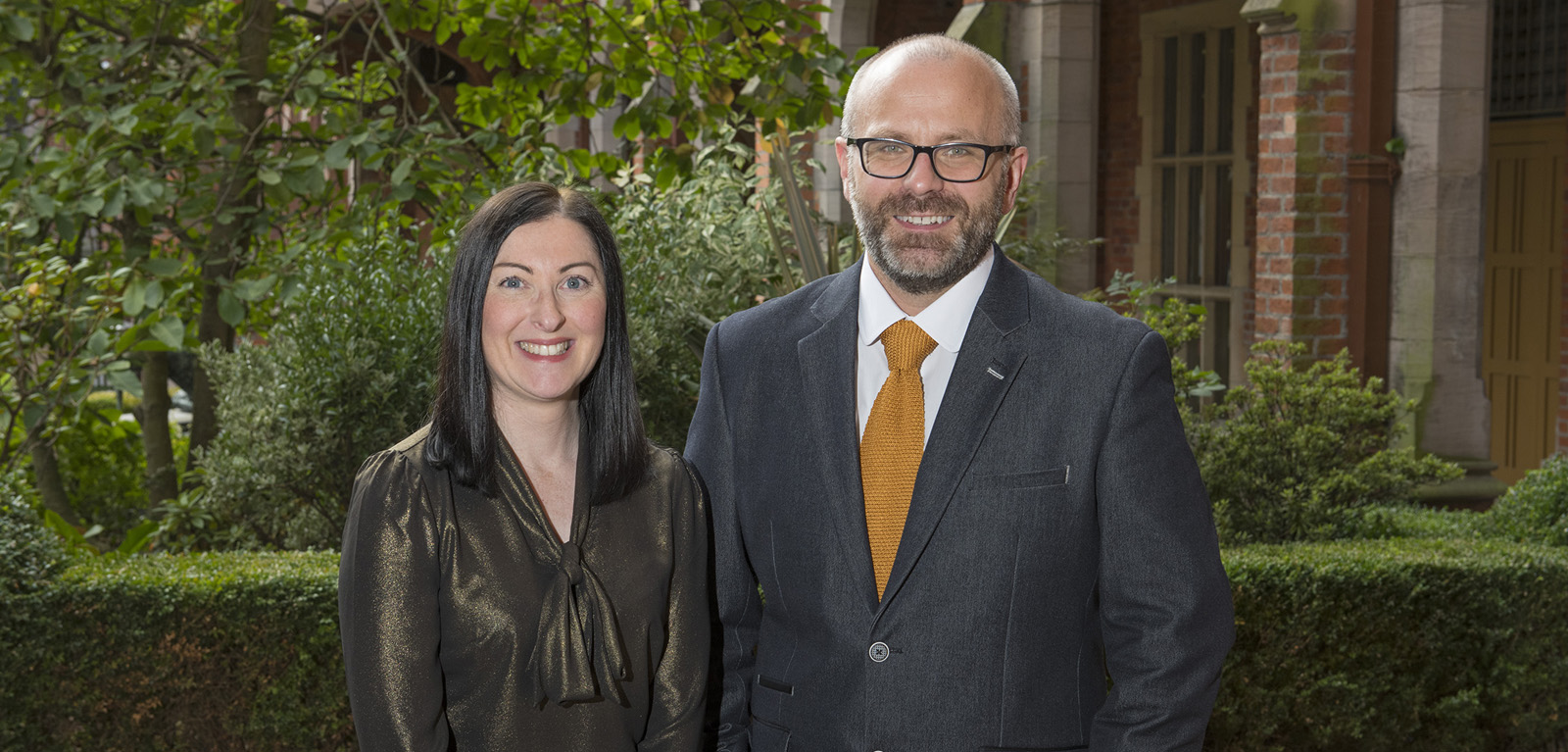 The Advance HE National Teaching Fellowship Scheme (NTFS) celebrates and recognises individuals who make an outstanding impact on student outcomes and the teaching profession in higher education. Fifty-four new National Teaching Fellows were announced in 2018 across the UK higher education sector.
Professor David Jones, Pro-Vice-Chancellor (Education and Students) said:
"[I am] delighted and proud that this year two of our outstanding teaching colleagues have received national recognition of their contribution to education and their ability to transform their students' learning experience. My congratulations to Lezley-Anne and Gerry on this wonderful achievement."
Professor Gormley is a clinical academic at Queen's. He balances his time between being a GP and working in the Centre for Medical Education. His teaching is underpinned by a simple philosophy – to provide students with a stimulating learning experience that allows them to achieve their full potential and take a sense of pride in what they do. For over 10 years, he led one of the main General Practice modules, striving for excellence in his teaching and having a positive impact on his students. He developed an ambitious hub for health profession educational research and scholarship. With colleagues across the Faculty of Medicine, Health and Life Sciences, they are developing a new simulation learning centre at Queen's. This new centre will aim to promote excellence in healthcare education through an interprofessional approach that drives safe, effective and collaborative patient care. He states:
"It is such an honour to receive this national award. But as ever, education is not an individual activity, it reflects the dedicated and professional colleagues that I have the privilege of working with. I believe that we attract some of the best students at Queen's and it's humbling to play a part in their professional development. Through our educational endeavors at Queen's, we make a huge impact on societies both locally and globally."
Dr Hanna, a Senior Fellow of the Higher Education Academy (now part of Advance HE) and Faculty Fellow of the Royal Pharmaceutical Society, teaches Pharmacy Practice through dynamic and contemporary learning approaches and reflection. She endeavours to inspire future pharmacists to be passionate about their profession, equipped with the necessary attributes to be safe and effective healthcare practitioners. Pedagogical research and innovative active-learning opportunities and digital resources, coupled with student, peer and external collaborations, enables her to provide a superior experience to learners. Through the production of diverse material for future and qualified pharmacists, including an award-winning app, Lezley-Anne positively impacts on patient care. She has also developed an initiative to support international students' personal and professional development at university for which she won a student-nominated Queen's University Teaching Award. Lezley-Anne states:
"I am absolutely delighted to have received a National Teaching Fellowship in recognition of my contribution to Pharmacy Education. I thank the students and many academics and members of the pharmacy profession with whom I have had the pleasure to work with over the years, including the staff at the Centre for Educational Development (CED) for their encouragement and advice during the application process. I intend to continue to support governance and development needs of the pharmacy profession and look forward to collaborating with colleagues in Queen's and other National Teaching Fellows to promote excellence in teaching."
This year's National Teaching Fellows have been invited to celebrate their achievement at the UK Teaching Excellence Awards Ceremony in Edinburgh in November, and they will also participate in a networking support event which aims to further the impact of National Teaching Fellows through collaboration with other winners and with Advance HE.
Further details about the Scheme are available in the Advance HE press release.