Queen's launches new 'Climate-friendly Holiday Shutdown' Campaign
Queen's has launched a new 'Climate-friendly Holiday Shutdown' campaign that recognises that the impact of small changes and actions by a large number of us working together as a staff community can make a big difference.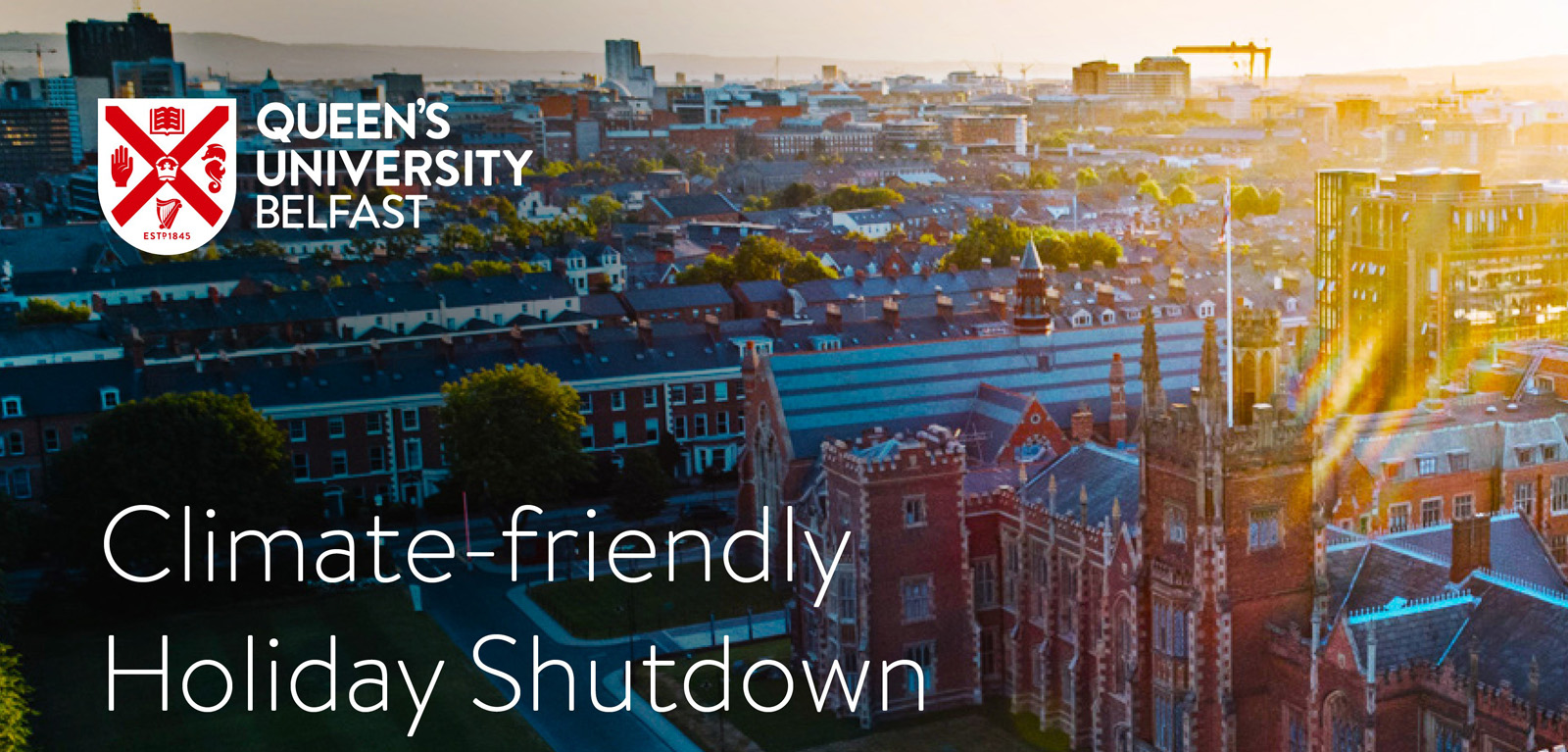 At Queen's, we believe that reducing emissions in response to the growing threat of global climate change, delivering environmental change through the impact of innovative research taking place here to solve some of the world's key energy and sustainability challenges and through educating students, staff and our society in all aspects of climate change are fundamental responsibilities. As is ensuring that our students leave Queen's with the skills and understanding of environmental and social sustainability required to thrive in tomorrow's workplaces and to support a sustainable future for us all.
These are core objectives to which we can all contribute, but the impact of small changes and actions by a large number of us at a local level can also make a big difference.
As part of a new campaign, we are transforming how we approach and measure energy use within the University over the holiday period by monitoring usage on a building basis – rather than in individual units. This reflects the reality that responding to the growing threat of global climate change and creating a sustainable future requires us to work together more collaboratively and to break down silos to achieve real change. This year will set the benchmark for the new approach and all colleagues are asked to take steps as individuals and together as a community ahead of the holiday closure.
Damien Toner, Director of Estates, said: "We know that staff at Queen's feel deeply about our responsibility to deliver environmental change – as evidenced by our early outperformance of our 2020 Carbon Management Plan target this year – and we are calling on all colleagues to do the right thing as we prepare to shutdown for the holiday period. Combatting climate change requires a collective response so it is important that we all work together as one team to help reduce environmental impact by preventing unnecessary energy use during the closure."
Over the next two weeks, staff are asked to:
Agree a climate-friendly shutdown plan during your Team Brief or other departmental meeting;
Make a checklist and know who is completing it. Also, make a note of what needs switching back on, and by who, in the New Year.
Reach out to other areas within your building to identify and agree a more collective approach to reducing any unnecessary impact on the environment over the holiday period – for example, by creating a small group of volunteers to do a final walk-through of the building to check shared spaces (including kitchen, bathroom and break-out areas) to ensure that unnecessary electrical items are switched off.
On Friday 20 December, please:
Switch off ALL non-essential appliances at the wall
Switch off ALL lights
Turn radiators down to "1"
Do not leave anything on standby
In office areas, remember to:
Turn off kitchen boilers, kettles, microwaves etc
Have you checked the Meeting Room? Turn off computers, coffee machines, etc
Turn off Photocopiers/Printers/Scanner
Unplug chargers for mobile devices
Unplug Fans and Heaters
Turn off and unplug water coolers
Close windows and blinds
Christmas Shutdown
In laboratory areas, remember to:
Switch off inessential equipment ovens, centrifuges, gas Chromatographs
Switch off fume cupboards where these are not needed for safety, ventilation or research
Check what equipment is actually being used for research or storage.