Mythbuster: You don't need Euros in Belfast!
From Brexit borders to NI politics, three students who came to Queen's from England reveal the most bizarre – and untrue - things they've been asked about student life in Belfast.
Meet our GB panel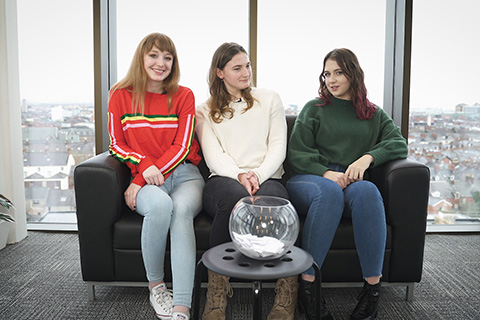 Our panel: (Left to right) Gabbie, Maisie and Alice
Gabbie Dancer is a Criminology student from London.
Maisie Wilkinson is a History and Politics undergraduate from Lancashire.
Alice Poole is an Architecture student from Cheltenham.
'Do you need Euros?'
Gabbie: "I actually had one of my friends come over to visit me for St Patrick's Day in the first year and he got on the flight and was convinced he was going abroad. He came over with a load of Euros. I was like, 'Why have you done that?' He said: 'Do you not use Euros here?' I said, 'NO, this is still part of the UK, we still use the same money!' We were getting ready for a night out and I was like, 'You are going to have to change it all back again! It's not useful here.' So, no you don't have to change your money to Euros!"
'Is there an LGBTQ community in Belfast?'
Gabbie: "There was that perception that Belfast is really conservative compared to the rest if the UK, but it's so outdated. Personally, being part of the community, I've never felt uncomfortable or marginalised by that. Especially by the uni. The uni is so hot on that, on making everyone feel included. Not just LGBTQ, but everyone."
'Why are my parents/grandparents worried about my safety?'
Alice: "My grandparents were worried, but after a week of me being here, I Facetimed my gran and I was like 'Look, I'm doing fine' and she went, 'Hmm, you don't look any different!'"
Gabbie: "When I first came over, my mum was really nervous, she was like, 'Is my daughter going to be safe?' But it's one of the safest cities, ever. I am in far more danger being in London than I am here. My parents grew up seeing Belfast on the news. I think it's also because there aren't any conflicts in recent years that have been in the UK. I think its because it is in living memory, but you don't feel it when you are here."
Maisie: "Belfast is full of history. It has changed a lot, it is still an interesting political situation over here, so that is quite interesting to look at as a History and Politics student."
Gabbie: "I found the same with my course. Everything that happened here, the criminal justice system is so different than anywhere in the world. It's such a different justice system than the rest of the UK."
'Is Belfast abroad?'
Alice: "Belfast is still in the UK. You barely need your passport to come, you just need ID."
Gabbie: "Most of my flights, they don't even check it. You don't go through passport control. I remember thinking the first time I came here, 'Where are all the checks?'"
Alice: "I held out my passport. They were like, 'I don't need to see your passport.'"
Discover more reasons to make Queen's your firm choice.
Watch our mythbusting video below:
Undergraduate Open Day Festival - Saturday 5 June 2021
Hear about courses and subjects, tour our beautiful campus virtually and find out everything you need to know about studying and life at Queen's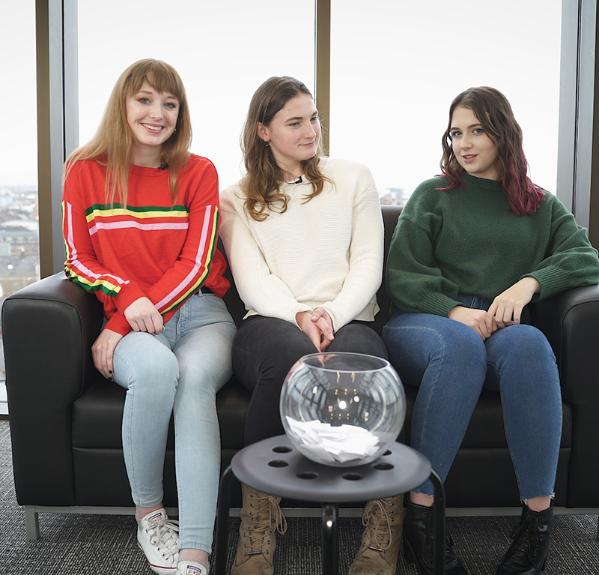 GB Students: Alice Poole, Gabbie Dancer and Maisie Wilkinson