Why choose Queen's?
As a Final Year Law Student pursuing a UK Transfer Degree Programme, Liang reveals what influenced him to finish his final year of law studies in Queen's University, Belfast.

Choosing a university in the UK is no easy task. You only get one shot and you'll be spending a period of 9 months to pursue and chase the dream of completing your degree. Naturally, everybody wants what's best for them.
The Education Fairs that were held in my local institution provided a chance for students and representatives from the universities to showcase the benefits of completing a degree in their institution. There were a lot of names there: Cardiff, Reading, Liverpool, Essex and more.
However, there was just something about Belfast that was sort of "love at first sight" for me.
Here are 5 reasons on what made choose Queen's as my final destination:
1) Queen's University has a low cost of living
Aside from your tuition fee, you're going to want to look at how much it costs to live in the city your University is in. As for Belfast, it's extremely affordable and convenient.
With the International Scholarship and Early Bird discounts, I was able to help some of my parents' financial burdens (and be responsible). The University does offer the opportunity for students to work on a part time basis, so in that way you can earn some extra cash. Also, do remember to get your Translink Card when you're in Queen's because you'll be entitled to super cool discounts!
Because come on, let's face it: I'm on a budget
Here's a fun fact: The Ulster Bank Student Living Index in 2017 revealed that Belfast students benefit from having one of the lowest rents out of 35 cities surveyed, with only an average of £324.96 per month!
2) It's really easy to get around Queen's
Queen's University is located near Belfast city centre and is within walking distance. Alternatively, the accommodation at the University itself makes it easy for students to access the McClay Library, do grocery shopping or even hop on the nearby public transport.
There are also discounts available for the public transport if you show your Translink card. Walking or cycling is also great way to explore what Belfast has to offer without creating a hole in your wallet.
3) Queen's University is well equipped with modern facilities
From the McClay Library to Queen's Accommodation, Queen's offers a setting of new facilities within a rich culture, history and tradition.
Seeing as Queen's has 14 subject areas ranked within the UK's Top 20 and 76% of its research classified in the top two categories of world leading and internationally excellent, it is safe to say that fellow law students can expect to be well equipped in conducting quality research (REF 2014).
4) Queen's University is a member of the Russell Group
The Russell Group consists of "24 leading UK universities which are committed to maintaining the very best research, an outstanding teaching and learning experience and unrivalled links with business and the public sector".
Queen's University is also ranked as one of the top public research universities in the UK. Considering that they are part of the Russell Group, I felt that I could learn a lot more through conducting public research in different areas of law.
More so, Queen's University also offer a set of international law modules for us to specialise in, which is great as I had a major interest in doing so.
5) Belfast is a city at heart, but nature is never far away
Queen's get extra points for being blessed with natural beauty of its surroundings. The North Coast and Cave Hill are just some of the key attractions that caught my attention. Being a nature lover, I knew that it would be a great place for me to unwind or write during my free time.
So, there are my 5 reasons why I decided to pursue my final year of Law at Queen's University. Belfast is a great place to not only study but to explore.
Check out our courses and 10 reasons to study at Queen's.
Hew Hoong Liang

LLB Law| 3rd year |Malaysia

Hi there! I am a 21 year old Malaysian pursuing my final year of law degree in Queen's University. Nature lover, part time geek and a passionate writer. My passion for writing started to developed into a skill when I served as writer and journalist of a legal tech startup back in Malaysia. Now, I am casual blogger looking to share my experiences and thoughts in Queen's through my writing. I hope my blog serves as a unique point of interest for Malaysian students like me who are studying at Queen's or thinking about coming here!

Fun fact: I am trilingual and I love to explore and get lost in different cultures and traditions.

‌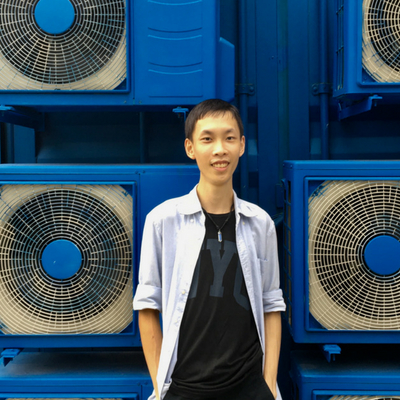 Hew Hoong Liang
LLB Law I 3rd Year