Holocaust Memorial in Belfast
Holocaust Memorial events are a great opportunity to be part of the community commemoration, learning from genocide to create a better future. Hear what American Student Sami learned from the events in Belfast.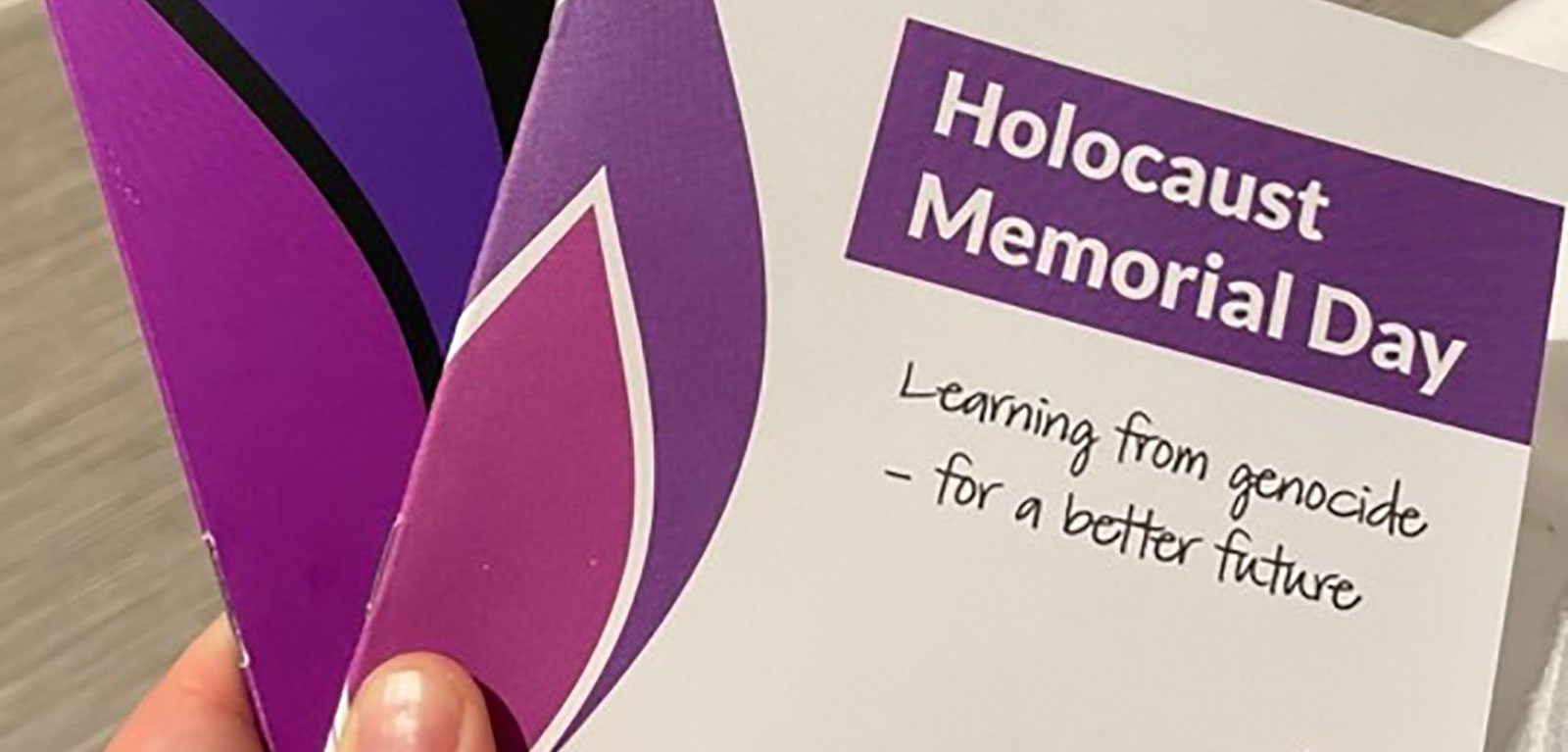 When I was growing up I attended Sunday school, and then later attended a Jewish Day School for secondary school. When I went to college, I served as president and engagement associate for Hillel, Jewish life on campus. Moving from a large Jewish population to one significantly smaller led me to wonder, how would I practice my religion?
I already wrote about Jewish life on campus through UJS and JSOC, which gives more information about the university level, however the wider community also comes together to do events.
Holocaust Memorial Day was Friday January 23, 2023 and leading up to this day of commemoration, several groups offered events.
Stephen Jaffe Talk
The speaker I went to see on Monday January 23 was Steven Jaffe, a native of Belfast who grew up within the Jewish community. The talk was held at Clonard Monastery, a Catholic Church and home to the Redemptorists religious order community.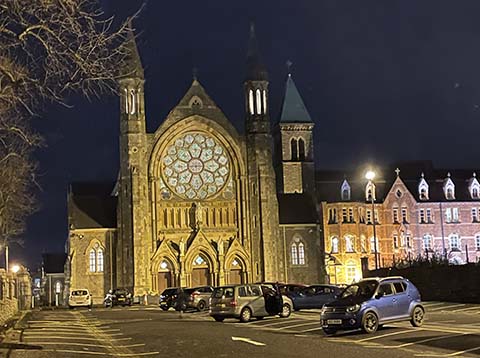 Clonard Monastery, Belfast
I love the fact that the monastery hosted the talk, as it shows the strong ties and acceptance of different religions throughout Belfast. As I mentioned earlier, I had attended Sunday School, and despite living within a range to many Jewish Schools, I lived in a small Jewish community. The community was so small that my synagogue did not have the population nor the funds to own their own building.
So, they'd rent space from other organisations. My Sunday school was held at a Quaker School, and I went to synagogue, and had my Bat Mitzvah, at a Unitarianism church. Going to different religious sites has taught me the importance of strong ties and acceptance of other religions and the power of people coming together.
The Jewish Heritage Project
Stephen Jaffe focused on the Jewish Heritage project, a project to reclaim stories of Jewish people within Northern Ireland. We talked about sites all around Belfast that had significance within the Jewish history of Northern Ireland. These sites include buildings and graves, and throughout the talk we learned about people, both Jewish and non-Jewish, and how they impacted the Jewish community.
I highly recommend checking out the Jewish Heritage Project to hear some stories of Jewish history within Northern Ireland.
This talk was very informative, not only about the history of Jewish people within Northern Ireland, but also showing the strong connections of the Jewish people within Northern Ireland and their ties with different religions
I left this talk the same way that I hope to leave any discussion: a lot of information, more questions than I ever thought I could collect in a short period of time, and resources to help me answer those questions!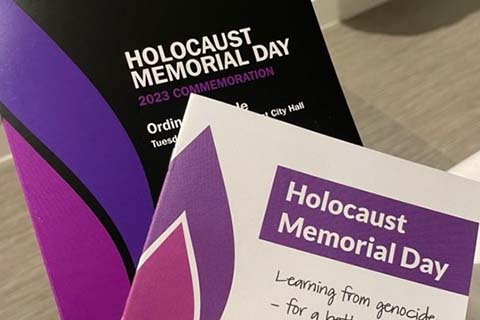 Holocaust Memorial Day literature
Holocaust Memorial Ceremony
On Tuesday I went to the Northern Ireland Holocaust Main Memorial Ceremony 2023, hosted at Belfast City Council. The theme of the 2023 commemoration was ordinary people. Ordinary people who lived through extraordinary circumstances.
The event began with a welcome before introducing the keynote speaker; Eve Kugler. Kugler was a child survivor of the Holocaust, coming to America after escaping Nazi Germany. She traveled through France and shared the story of her family, as all of them were split up during the Holocaust, and how her mom, dad, older and younger sisters were reunited after the war
Following Ms. Kugler's comments, we watched an interview with George Bloch, a 94-year-old man living in Northern Ireland. He believes that at the age of eleven, he won the lottery as he and his family took the last train out of Poland before Nazi Germany occupation.
Both Bloch's interview and Kugler's talk were moving, informative, and a reminder to never forget the events of the past.
Oftentimes when talking about the Holocaust, the first thing that someone thinks of is concentration camps. It is important to remember, and never forget, that throughout the Holocaust millions of people lost their lives and homes in a multitude of ways.
Never forget
The last speaker was Den Soath, a member of the Cambodian community who talked about genocide in Cambodia. Following the Holocaust and the idea to 'never forget,' embodies other genocides including Cambodia, Rwanda, Bosnia, and Darfur. It is important to remember the past, to ensure that it never happens again. It is important to bring light to other genocides that the international world may have glanced over so that we can all be aware of the atrocities that have occurred.
Through those two events, I learned about the impact of the Jewish people and religion throughout Northern Ireland. I also learned about religious ties that have been fostered throughout Northern Ireland between different religions and the strength of those ties.
As an international student, I felt that I was welcomed with open arms and I am so thankful that I had the opportunity to participate in these events.
Find out more
Northern Ireland Holocaust Memorial Ceremony 2023
Sami Koitz

Conflict Transformation & Social Justice | Postgraduate Student | Maryland USA

I've always been interested in the Middle East, specifically the Israeli-Palestinian conflict and non-profits that work towards building bridges between divided societies.

I am from Maryland, USA (about a nine-hour flight from Queens) and graduated in 2022 from Susquehanna University with a double major in Communication Studies & International Studies.

Outside of academics, I am a member of the equestrian team, Jewish Society, and wakeboarding club. I love meeting new people and I look forward to chatting with you.