Feeding nine billion debate
Nearly 200 guests attended the first in the Global Challenges Debate Series in the Great Hall on 20 September.
Food safety experts Professor Chris Elliott, founder of the Institute for Global Food Security at Queen's University Belfast and Michelle Grant, Executive Director of the World Food System Centre at the Swiss Federal Institute of Technology, discussed the challenges facing consumers and industry alike.
If the global population increases to 9 billion by 2050 as projected, we will need to produce more food over the next 50 years than we have in the last 500 years.
A growing demand on food production will place huge strains on the integrity of the supply system in terms of ensuring what is produced is safe, wholesome, authentic and values all those involved.
The potential for large increases in food fraud will demand a global response. Current estimates put the financial cost of this at over $52 billion each year and an even greater cost to the health and wellbeing of the global population.
If you couldn't attend, you can view the full debate in the video below and download the presentations here (PDF). 
From left to right: Professor Chris Elliott, Michelle Grant, Professor Nigel Scollan and Professor Richard English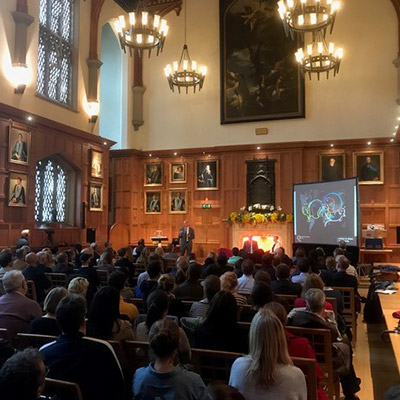 Nearly 200 were in attendance for the event, the first in our series of Global Challenges Debates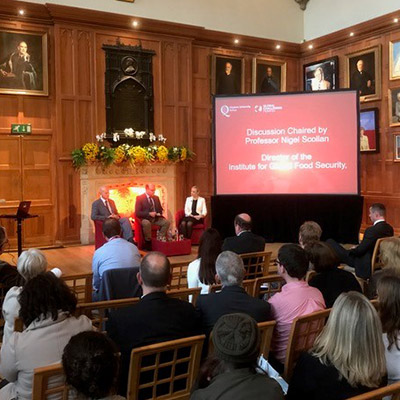 Professor Nigel Scollan chairs the discussion section of the event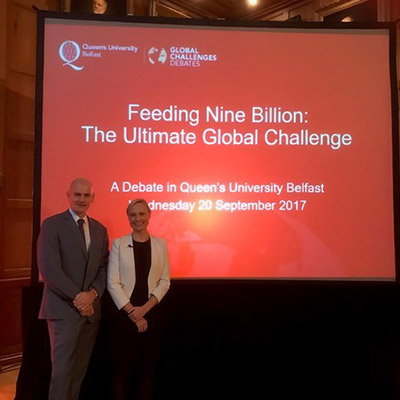 Professor Chris Elliott and Michelle Grant discussed the challenges facing consumers and industry alike