Future doctors spend 'A Day in the Life' of a skin cancer patient
Highly-realistic transfer tattoos allow medical students to 'walk in the shoes' of a patient.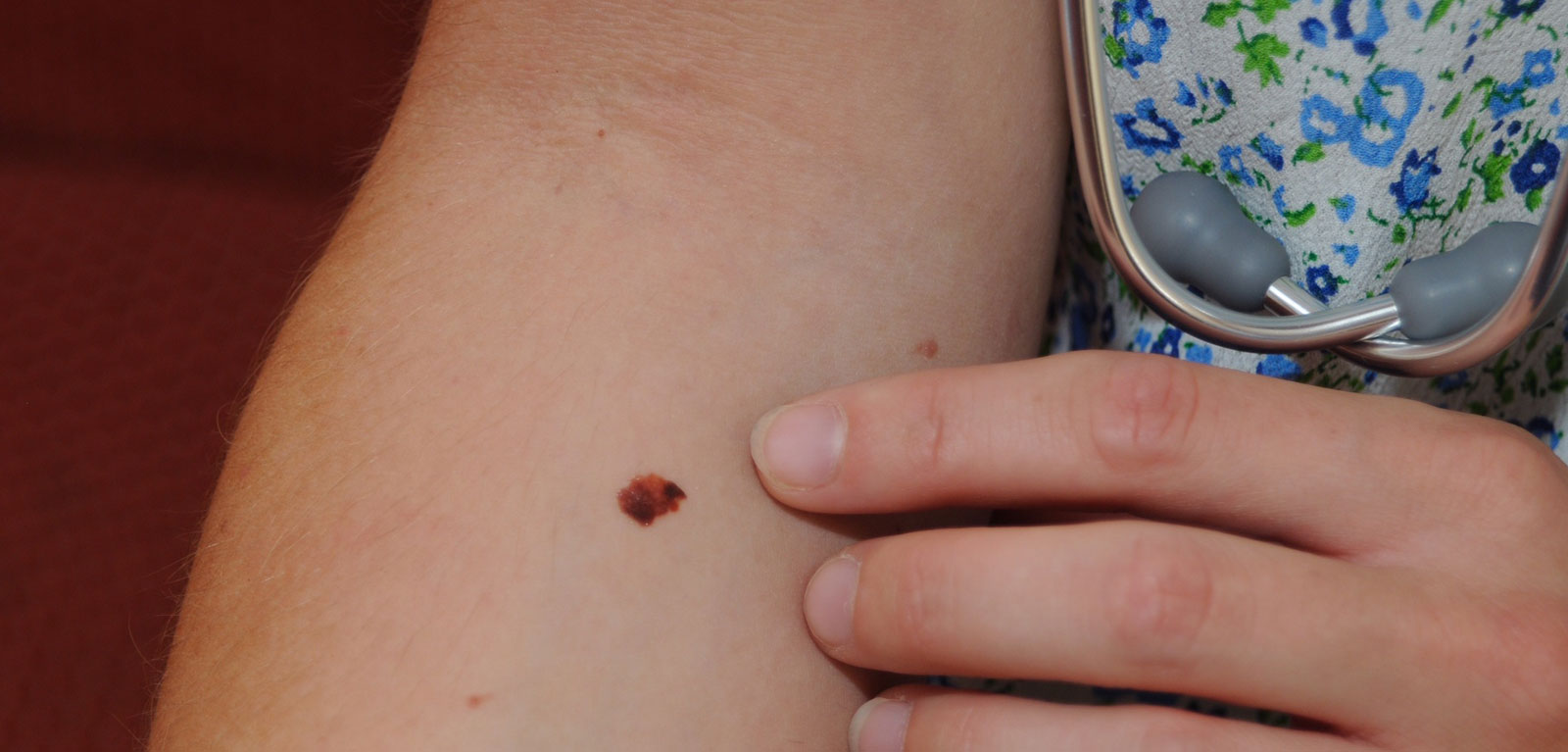 All too frequently doctors are faced with the challenge of breaking bad news to patients. A new research study by Queen's University Belfast suggests that techniques allowing medical students to 'walk in the shoes' of a patient may better prepare them as future doctors.
Increasingly simulation techniques are being used to allow medical students to experience first-hand some of the challenges that patients can encounter. Trainee doctors may be asked to wear 'ageing suits' that can recreate some of the physical and sensory challenges faced by many older patients. However, many illnesses such as cancer do not lend themselves to simulation technology. One type of cancer malignant melanoma, a type of skin cancer may be an exception.
The study, which is led by Queen's University in collaboration with researchers from the University of Huddersfield and University College Dublin, has been published in the British Journal of Dermatology. The research explored how tattoos might influence a medical student's personal understanding of a malignant melanoma diagnosis, enabling them to experience some of the challenges that patients living with skin cancer can face to develop greater empathy for their future patients. Students were encouraged to wear a highly realistic temporary tattoo of a malignant melanoma before listening to an audio account of a patient sharing their experience of what it was like to discover a melanoma.
Melanoma or skin cancer is the fifth most common cancer in the UK, claiming over 2,500 lives every year. Over 15,000 patients will be diagnosed with melanoma cancer every year, a diagnosis that can be daunting for patients and their loved ones.
Melanoma can take the form of a mole on the skin. Highly-realistic transfer tattoos have been developed that can be applied to skin to give the impression of a malignant melanoma, which are used in simulation technique training for doctors. The temporary tattoo is a visual stimulus which can introduce some of the emotional perspectives that patients can often experience.
Dr Gerry Gormley, lead researcher and senior lecturer at Queen's University explained: "The experience had a profound and positive impact on our students. Beyond the clinical diagnosis it encouraged them to consider the person behind the illness, enabling them to develop greater empathy which will stand them in good stead as future clinicians and healthcare providers.

"Experiential learning is important in training doctors to be fully prepared for future eventualities, an approach that could be rolled out wider to benefit doctors and patients alike."

A medical student who took part in the study said: "It has been a really valuable experience to put myself in the place of a patient. I feel that I can better relate to patients who have received such a diagnosis. It has improved my empathy towards patients and has given me a much greater respect for what they have to deal with."
The study found that the experiences triggered students to look inwardly and consider what it might be like to have a malignant melanoma diagnosis, gaining an important insight into the potential disruption melanoma can have on patients' lives.
The British Journal of Dermatology have said that "While nothing can simulate the emotional impact of receiving a cancer diagnosis, this is a novel tool to help doctors understand what it feels like to have a visible skin disorder, and how this can attract unwanted attention from strangers, leaving people feeling self-conscious. Any measures that allow for increased empathy in clinics can only be a good thing."
Media
Media inquiries to Suzanne Lagan, Communications Office at Queen's University Belfast on Tel: 028 9097 5292 or email suzanne.lagan@qub.ac.uk.