Queen's University Presents GP with Teaching Excellence Award
Queen's University presented Dr Gillian Millar from the Harland Medical Practice in Belfast with the Robin Harland Prize for Excellence in Teaching for Undergraduate Medical Education.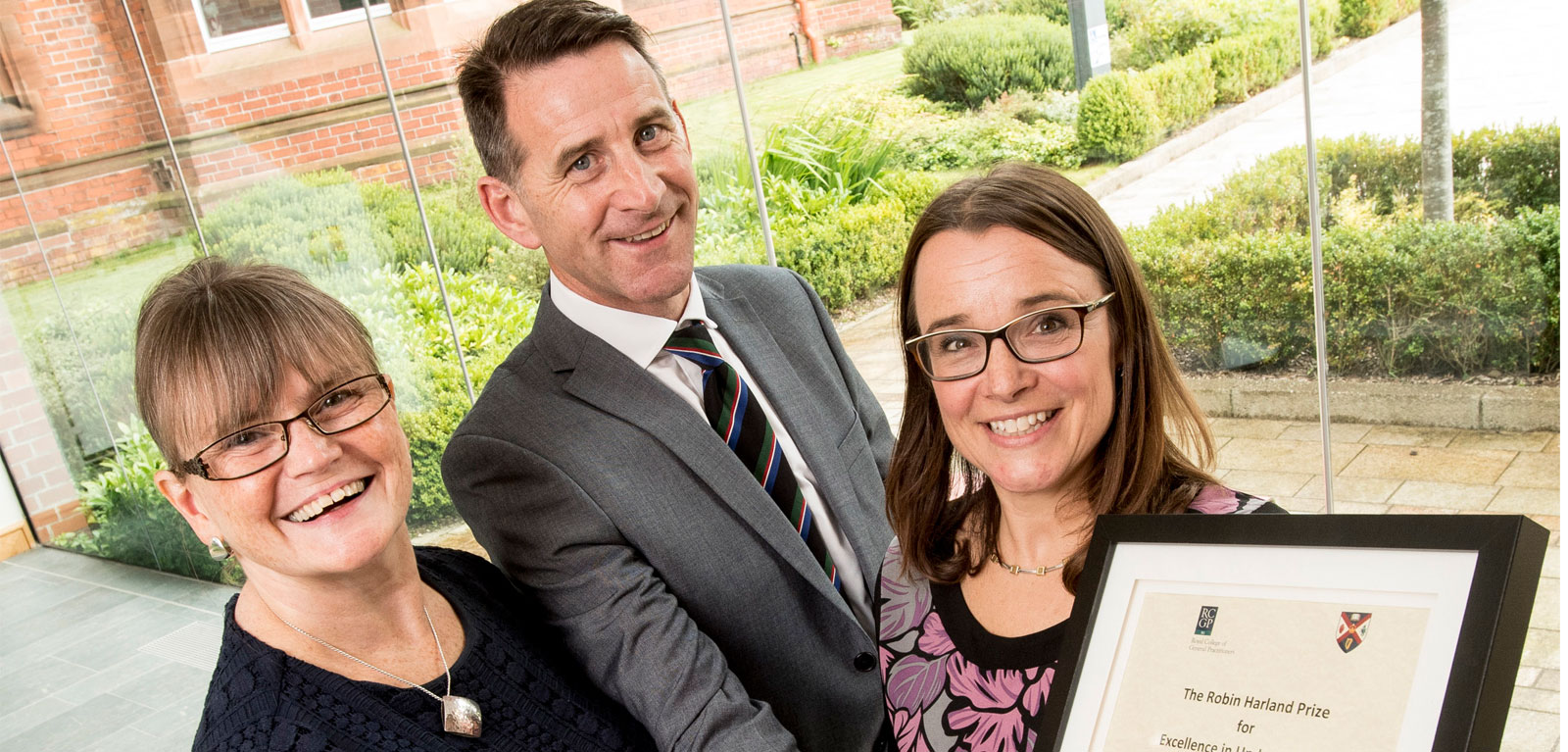 Each year, Queen's fourth year medical students nominate a GP surgery and GP Tutor for the Robin Harland Prize for Excellence in Teaching. Dr Robin Harland OBE contributed greatly to the University both in his role as Senior Medical Officer for over 20 years as well as a member of Senate. The award was set up in his memory in recognition of his contribution to the University following his death in 2012.
In the fourth or penultimate year of a medical degree, students spend three weeks in a GP surgery where students work alongside a GP Tutor to get a real insight into the profession. The placement is key in enabling students to develop an understanding of the demands and diverse range of skills required for the profession.
This year's winner of the Robin Harland Prize was nominated by student Timothy Patterson: "I'm delighted that the Harland Medical Practice won the award as the whole team was exceptional and offered me the best experience I could've hoped for. The placement offered me a real opportunity to put the practical and communication skills I had learned in the 'classroom' into practice in meeting with real patients."
"Dr Millar brought me on visits to nursing homes, palliative care patients in their own homes, pharmacists and a funeral home to ensure I got the full picture of life as a GP. The experience really helped to push me to become a better future doctor."
On receiving the award, Dr Millar said: "I'm truly honoured to be nominated for the award, let alone to win it. The placement at GP surgeries is such a vital part of training our future doctors and I am delighted to be part of this programme."
Dr Nigel Hart who is one of the coordinators for Queen's medical student placements at GP surgeries across Northern Ireland added: "The Robin Harland Prize for Prize for Excellence in Teaching recognises the great work that our GP tutors and their Practice teams do in training and preparing our future doctors. The GP placement provides students with a great opportunity to understand the breadth of skills and variety of demands that this job requires.
Starting in September 2017, all final year medical students at Queen's will get to spend an additional two weeks in the GP setting consolidating their skills by getting to consult with patients independently (but under supervision) to improve their diagnostic and patient management skills. This type of teaching is vital in supporting our medical students to have the best training to fully prepare them for their future profession."
Media
Media inquiries and interviews to Suzanne Lagan on suzanne.lagan@qub.ac.uk or 028 9097 5292.