Queen's University Showcases Impact of Higher Education
Investment in higher education is essential to the creation of a competitive knowledge economy, based on skills and innovation, which will underpin the growth and prosperity of Belfast and Northern Ireland.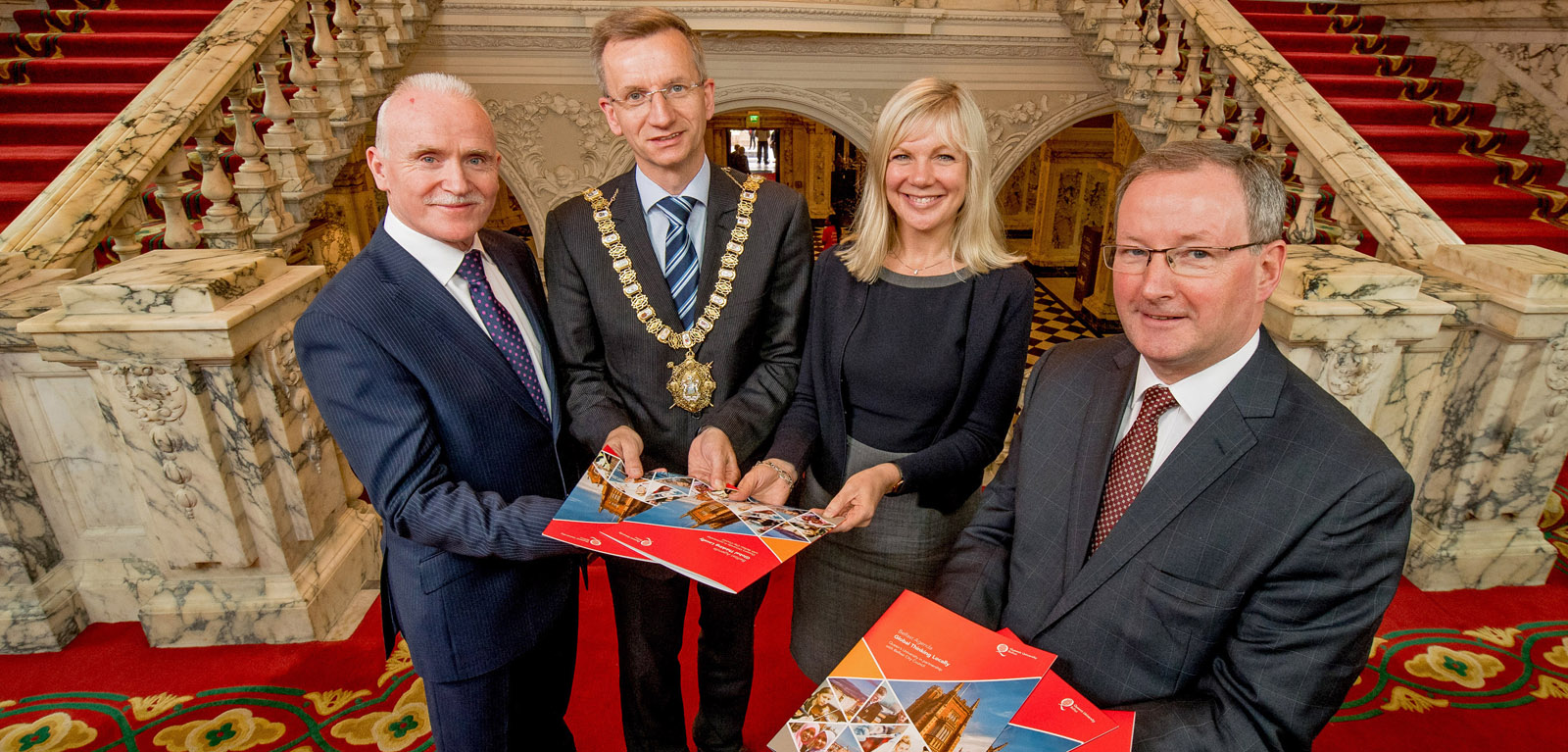 That was the message given by Queen's University at a Belfast City Hall showcase event to demonstrate the University's substantial impact on the city and the new partnership opportunities offered by the Belfast Agenda.
The event showcased the world-leading work of the University that takes place within the city and celebrated the partnership between Queen's and Belfast City Council.
Queen's Vice-Chancellor Professor Patrick Johnston said: "We are incredibly proud of the contribution Queen's has made to Belfast for over 170 years, but we are also proud of the role that we will play in Belfast's future. The opportunities for this city and Northern Ireland are limitless and now, more than ever, we must work together in partnership to deliver for our people and our place.
"Queen's is ready to embrace that challenge and will continue to work in constructive partnership with the Council to realise the ambitions and opportunities contained in the Belfast Agenda. We also fully support the Council's aspiration to secure a City Deal for Belfast which would have a transformational impact on the city and the region, delivering improved quality of life for all of our citizens."
Speaking at the event, Suzanne Wylie, Chief Executive of Belfast City Council, said: "The Belfast Agenda is our 20 year strategy for the city focusing on both economic growth and addressing issues like economic inactivity. We aim to grow the Belfast population by 70,000 people and create 50,000 new jobs during the next 20 years and Queen's, with the 6,500 employment-ready graduates it produces each year, will play a key role in achieving our goals."
The Lord Mayor, Alderman Brian Kingston, commended Queen's for its widening participation programme, opening up the University to all young people who traditionally may not have considered a University education.
He said: "The importance of Queen's to the city can't be overstated with its world leading research, technological innovation and the creation of some of our most successful indigenous businesses. This taken together with the key role its academics have played in peace-building and conflict resolution - here and internationally - and the benefits of its pioneering work on public health and food security, means that Queen's contribution to our city and the wider region is plain to see."


Media
Media inquiries to the Communications Office at Queen's University Belfast on Tel: 028 90 97 3087