Work of late Queen's Professor Frank Pantridge celebrated for transformational impact
An invention by the late Frank Pantridge, a past Professor from Queen's and cardiology consultant in Belfast, has been named as one of the UK's 100 best breakthroughs for its significant impact on people's everyday lives.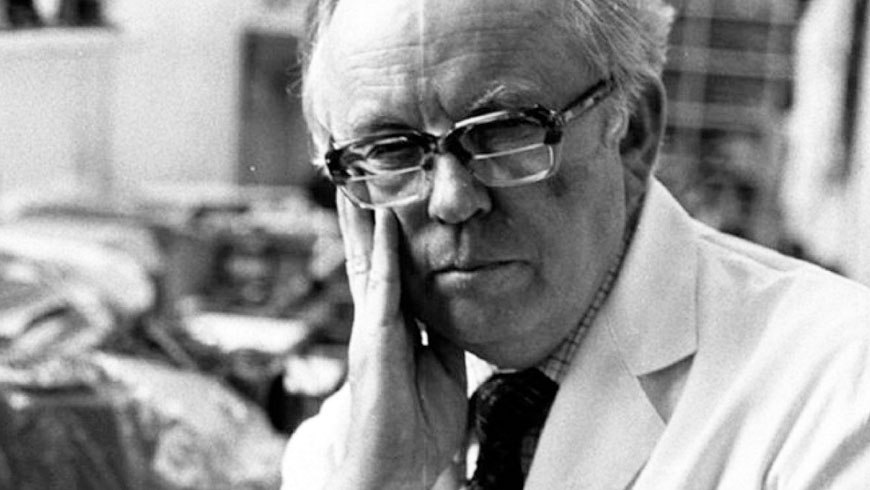 Professor Frank Pantridge CBE, who has been called the 'Father of Emergency Medicine',is honoured in the UK's Best Breakthroughs list for his pioneering work in emergency medicine.
His invention of the portable defibrillator, a device which hangs on the wall of public buildings across the world, is thought to have saved millions of lives.
Born near Hillsborough in County Down, Professor Pantridge's interest in cardiology may have been sparked by his own experience. After graduating from Queen's University Belfast's School of Medicine, Dentistry and Biomedical Sciences in 1939, Professor Pantridge was posted to the Far East as medical officer to an infantry battalion. He was captured during the fall of Singapore in 1942 and spent much of his time as a slave labourer on the Burma Railway. He survived the usually fatal cardiac beriberi - where protein deficiency damages the heart.
Pantridge worked as a lecturer in the pathology department at Queen's University before being granted a scholarship to the University of Michigan, where he studied under cardiologist Dr. F.N. Wilson. He returned to Northern Ireland in 1950, and was appointed as cardiac consultant to the Royal Victoria Hospital, Belfast and Professor at Queen's University, where he remained until his retirement in 1982.
In 1965, Professor Pantridge installed his first version of his portable defibrillator in a Belfast ambulance. It weighed 70 kg and operated from car batteries, but by 1968 he had designed an instrument weighing only 3 kg, incorporating a miniature capacitor manufactured for NASA.
The list of breakthroughs demonstrates how UK universities are at the forefront of some of the world's most important discoveries, innovations and social initiatives, including the creation of the internet, work tackling plastic pollution, ultrasound scans to check the health of unborn babies and the establishment of the Living Wage.
The list also highlights the less celebrated breakthroughs that transform lives, including a specially-designed bra to help women undergoing radiotherapy; a toilet that flushes human waste without the need for water; the development of a new scrum technique to make rugby safer; a sports initiative that aims to use football to resolve conflict in divided communities; - and even work to protect the quality of the chocolate we eat.
The list was compiled by Universities UK, the umbrella group for UK universities, as part of the MadeAtUni campaign to change public perceptions of universities and bring to life the difference they make to people, lives and communities across the UK.
It follows independent research undertaken by Britain Thinks which found that the public has little understanding of the benefits of universities beyond undergraduate teaching. The findings show that research is one of the key triggers to change opinion about universities but for many people, it is an abstract concept.
Vice-Chancellor of Queen's University Belfast, Professor Ian Greer, said: "It is fitting that the late Professor Pantridge's life saving invention is featured in the UK's Best Breakthrough list. Professor Pantridge was a Queen's University graduate, then lecturer and eventually a revered and admired Professor. Even after his death, his work continues to save lives. Professor Pantridge is rightly regarded as the Father of Emergency Medicine and his invention was a genuine, life-saving breakthrough."
Professor Greer added: "We are proud of the work of our academics, both past and present, and the difference they are making to people, lives and communities, right across the globe."
Professor Dame Janet Beer, President of Universities UK, said: "Universities really do transform lives. The technology we use every day, the medicines that save lives, the teachers who inspire – all come from UK universities and the important work being done by academics.
"The UK's Best Breakthroughs list is a testament to the difference that universities make to people's lives and we want everyone to join us in celebrating the work they do."
The UK's Best Breakthroughs list: 100+ Ways Universities Have Improved Everyday Life was put together in partnership with universities across the UK. As part of the MadeAtUni campaign, every university in the country was invited to nominate the one thing from their institution which they believe has had the biggest impact on people, lives or communities. Over 100 universities submitted a nomination. The entries cover health, technology, environment, family, community, and culture and sport.
You can find out more about the UK's Best Breakthroughs and the MadeAtUni campaign here MadeAtUni.org.uk
Media
Media inquiries to Communications Office, Queen's University Belfast T; +44 (0)28 9097 3091 E; comms.office@qub.ac.uk