£150k investment announced to improve mental health services for students
A £150,000 investment to help enhance mental health services for students living in Belfast has been announced by Belfast HSC Trust, Queen's University and Ulster University.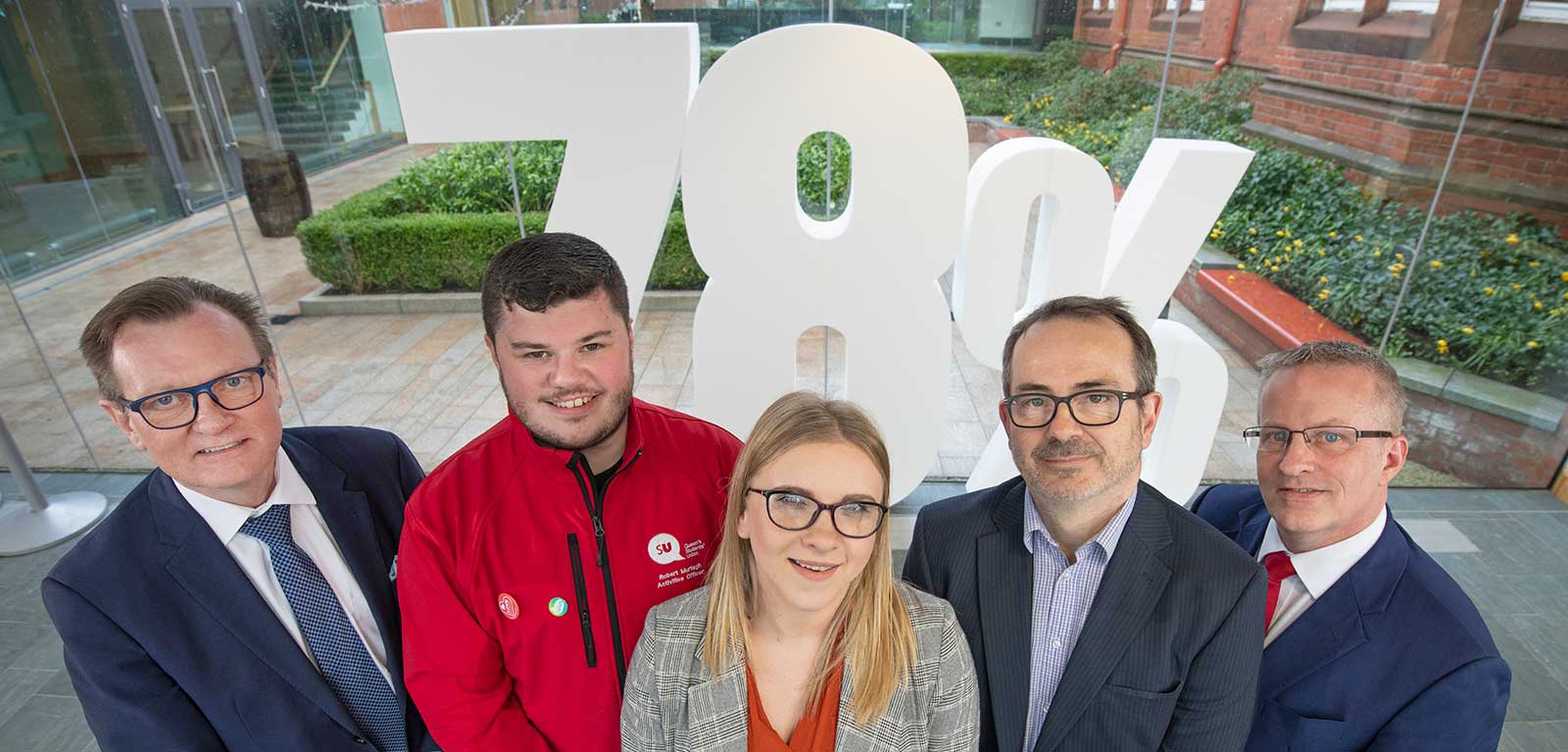 The innovative new pilot project, which was announced on University Mental Health Day, is the first of its kind in Northern Ireland.
It will improve the link between local NHS care provision and on-campus support available to Queen's University and Ulster University students, ensuring that vulnerable students do not slip through gaps in the health system.
Through the project, better working systems will be developed between the Belfast Trust mental health services and support and wellbeing services delivered in each of the two universities.
The Belfast Trust, Queen's University Belfast and Ulster University have each committed to investing £50,000 annually to develop and run the initiative, which will establish:
A co-produced student-friendly mental health service
The development of clinics on campus staffed by BHSCT Mental Health professionals as well as non-campus clinics – all organised around the structure of the academic year
Agreed referral, assessment and treatment pathways with student support services, GPs and Trust mental health services
Timely assessment and engagement in treatment
A joint planning of care forum between the student support services and the trust mental health services involving Ulster University, Queen's University Belfast, BHSCT, Student Unions, local GP representation and students with lived experience of mental ill health
Transition of students to Belfast with pre-existing mental disorders and arranging ongoing treatment for those who have completed their degrees
A recent NUS-USI survey, demonstrated that 78 per cent of students have experienced mental health issues. The majority of these students can be very well helped by the university student support and counselling services as well as their general practitioner.
This pilot service will provide help for the small but significant group of students who need more specialist mental health services. However, there are currently no specific mental health services for the university student population in Northern Ireland. Students are treated under the adult mental health service.
At present there are no local structures for joint planning of mental health services for students or for cooperative planning between university support services and the mental health services around the individual care of a student.
Martin Dillon, Chief Executive, Belfast Trust, said: "The new project will introduce a Trust mental health service that is co-designed to take into account the particular characteristics and needs of the student population in Belfast, as well as the need for term time appointments and good liaison with the student's 'home' mental health and GP services when needed. We are developing this project because of the unique circumstances around student mental health and the concentration of students in Belfast.
"This project will build upon the very successful 'Talking Therapy' hub model developed three years ago by the Belfast Trust and local GPs. The additional investment will enable the Belfast Trust mental health services to be more accessible and responsive to the unique needs of the student population by specific mental health staff, including sessions from a consultant psychiatrist.
"There will be regular meetings between the Belfast Trust Mental Health Team and university student support services to provide joined-up care for the student. The design of the service will be developed with the involvement of students and ex-students with who have experienced mental ill health. The university student support services are already excellent and this new initiative will provide for students who require more specialised mental health care and treatment."
Professor Ian Greer, President and Vice-Chancellor, Queen's University Belfast, said:
"At Queen's, we have excellent support mechanisms in place as the welfare of our students is our number one priority. However, we recognise the unique challenges that students face in accessing mental health support and firmly believe that a partnership approach is required to ensure that they are able to get the support and care that they need.

"Studying at university can involve a transient lifestyle, with many students who live at university during term time and at home during much of the rest of the year spending significant time from their mental health support, including their registered GP surgery.

"This can result in difficulty for students who are on waiting lists for specialist mental health care, who may be unable to attend an appointment due to exams or because it falls outside of term time. Appointment letters are also at risk of being missed when addresses change between home and university. This, again, can result in students being moved to the bottom of the list.

"We are therefore delighted to join the Belfast Trust and Ulster University at the forefront of addressing student mental health provision by investing in an integrated service that will address those specific challenges and deliver timely and seamless support. Further, we recognise that it is important to not only respond to problems when they arise but also to address the causes."
Professor Paddy Nixon, Vice-Chancellor and President, Ulster University, said:
"Mental health is a key priority for Ulster University. Our student mental health and wellbeing strategy aims to empower our students to 'Be Well and Do Well'. We are delighted to be working in partnership with the Belfast HSC Trust and Queen's University to provide students living in Belfast with the mental health support they need. This innovative pilot project will help to bridge the current gaps in mental health service provision and ensure students can avail of specialist support in a familiar environment on campus during term time.
At Ulster we take a whole university approach to student mental health and wellbeing, focusing on prevention and building resilience. We have seen a consistent increase in the number of students accessing our student support services year on year and our team there have worked incredibly hard to respond to this need, but we welcome the additional support and connections that we can build on within this project.
Our student led mental health initiative Mind Your Mood, designed and delivered by students, is helping to break down the stigma surrounding mental health and encouraging students to seek the support they need. This new mental health service will complement our current student support provision and ensure our students can thrive at Ulster University."
Professor Ian Greer
Professor Ian Greer
Media
Media inquiries to Communications Office at Queen's University Belfast on Tel: +44 (0)28 9097 3091 or email comms.office@qub.ac.uk.