Elizabeth celebrates graduating with PhD from Queen's University Belfast
Former stay-at-home mum of three, Elizabeth Martin will today (Saturday 29 June) graduate with a PhD from the School of Social Sciences, Education and Social Work at Queen's University Belfast.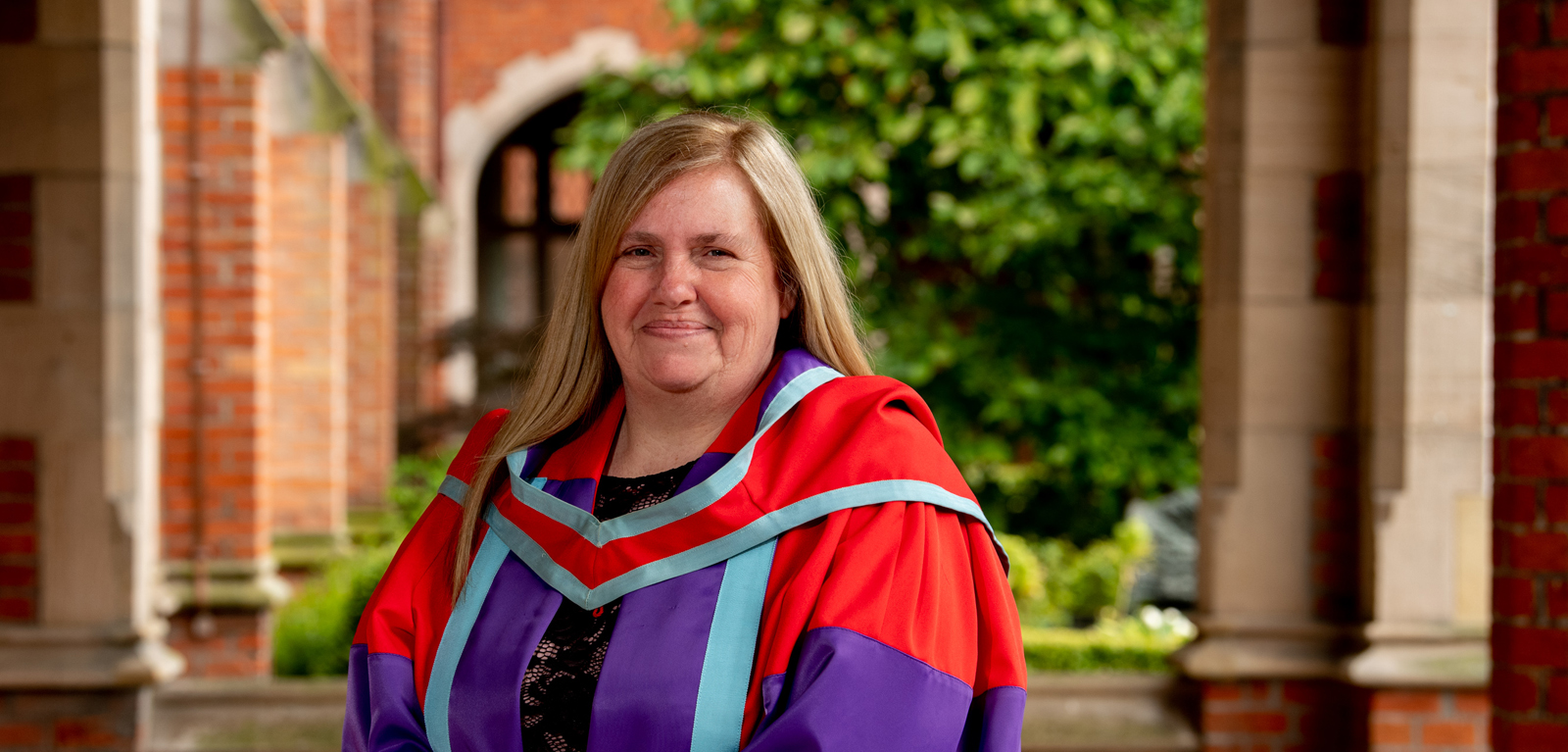 Whilst raising her young family, Elizabeth who is 54 and from East Belfast, had undertaken a number of courses at Belfast Metropolitan College.
In 2008, she started a course which she thought sounded interesting, unaware that it was an access to university course. It was only when her classmates started applying to university and she was encouraged by her tutor, that Elizabeth decided to apply to university too.
"I kind of ended up at university by accident. I wasn't sure I would get in and was really on the fence about applying. However, my tutor, Annette Comeford, encouraged me to apply and I was delighted to get into Queen's University to study for my undergrad in Social Policy and Sociology," Elizabeth said.
Elizabeth graduated from her undergraduate degree with a First Class Honours, going on to complete her Master's in Sociology and was then accepted for her PhD at the University.
Speaking about her experience, Elizabeth said: "I felt privileged to be a student at Queen's. I really enjoyed working on my PhD. Being able to immerse myself in research, and working on something that could really make a difference was an amazing experience. I also had great support from my brilliant supervisory team, Dr John Devaney and Dr Gemma Carney, and additional support from the ARK Ageing team."
"I am so excited about graduating, all of my favourite people are going to be there. I will be so proud to walk across that stage in front of them and formally become Dr Martin. It still makes me smile so much when someone calls me that - I am just a wee woman who was determined to make the most of an opportunity I never dreamt I would have."
Elizabeth's former tutor, Annette Comeford, will be in attendance at her graduation ceremony. "Annette really pushed me to apply to Queen's when I was doubting myself. It will be very special to have her there at my ceremony," Elizabeth added.
Currently working with Women's Aid, Elizabeth will take up a post teaching access courses in Belfast Metropolitan College in September 2019.
Media
For media inquiries, please contact the Communications Office, 028 9097 3091 comms.office@qub.ac.uk