Pharmacy students enjoy winter graduation success after a summer's volunteering in Africa
Mark McGlinn and Niamh Quinn are today (Wednesday 11 December) celebrating graduation success, receiving a Master's degree from the School of Pharmacy.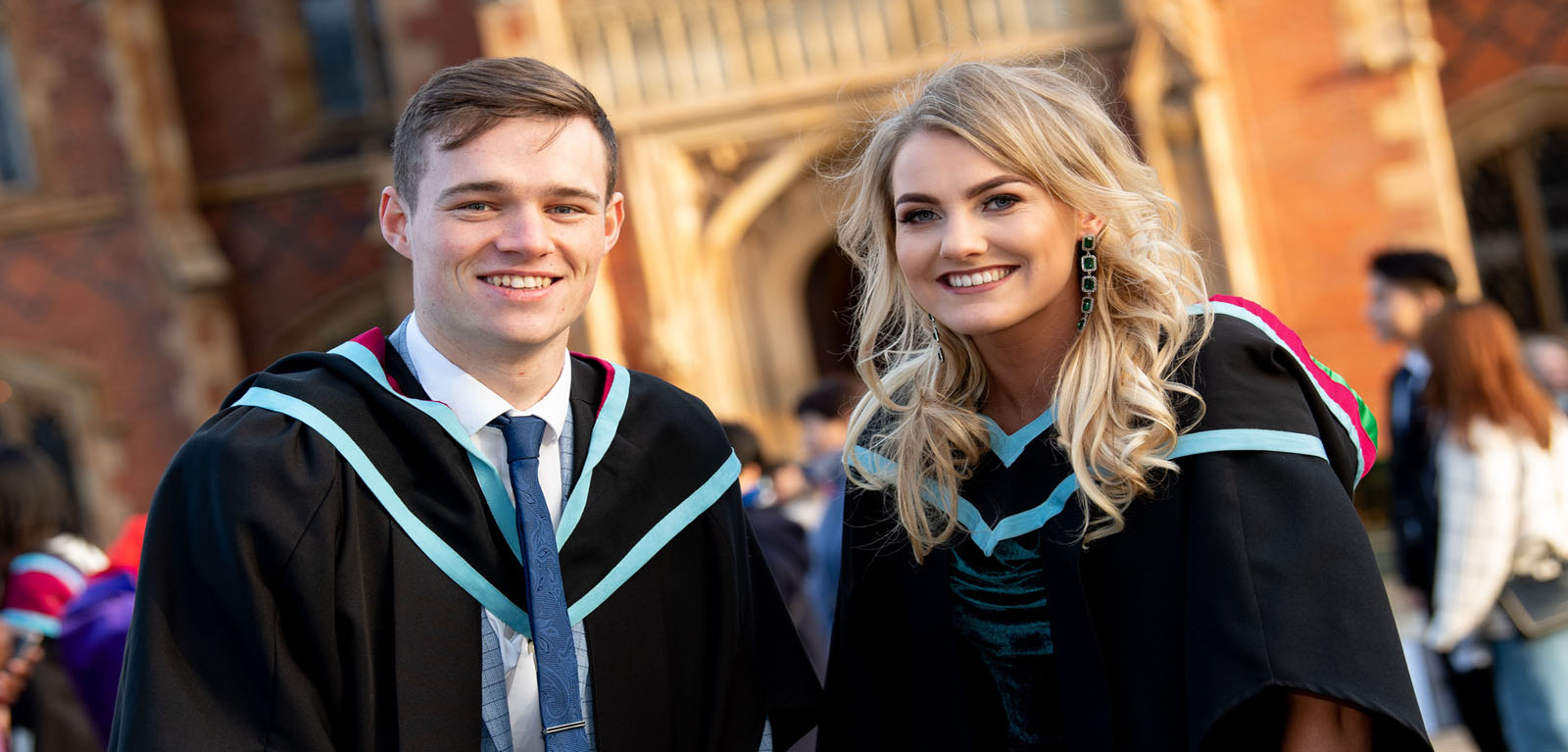 Fellow students Mark and Niamh missed their summer graduation as they travelled to Tanzania in July 2019 to undertake a short-term volunteer programme with 'Friends of Africa', a local charity that supports communities in Sub Saharan Africa by educating and caring for marginalised young people and orphaned children living in poverty.
Before their trip, both Mark and Niamh raised valuable funds for the charity to go towards building much needed classrooms, supplying life-saving medications and creating rehabilitation projects for street children.
Speaking ahead of his graduation, Mark from Omagh, said: "I'm delighted to be graduating today having enjoyed my time here at Queen's where I learnt so much and met many new friends and colleagues. Most of my fellow students graduated on a slightly warmer day in July, but I was happy to be in Tanzania with Friends of Africa.
"Over the five-week programme, I taught literacy and maths to school children aged 7- 18, which was a rewarding and humbling experience."
Mark added: "Since returning from Tanzania, I've started my pre-registration training with Bradley's Pharmacy in Omagh and in the future I hope to work as a community pharmacist in my local area.
"Working in a patient-facing role can be immensely satisfying and you can have a profound impact on the lives of patients."
Speaking ahead of her graduation, Niamh from Ardboe in County Tyrone, said: "I was delighted to have the opportunity to spend time volunteering in Tanzania. The experience will be a huge benefit to me as a pharmacist, as the job entails meeting people from different backgrounds with different needs every day and the importance of taking each individual on their own merit."
Niamh added: "While I'm sad that my time at Queen's has come to an end, I'm excited about the next chapter where I'm doing my pre-registration in a local community pharmacy and I hope to be qualified this time next year."