Three leading Queen's researchers recognised in prestigious mobile industry awards
Three researchers from the Institute of Electronics, Communications and Information Technology (ECIT) at Queen's University Belfast have been shortlisted as finalists in the esteemed Mobile World Scholar Challenge.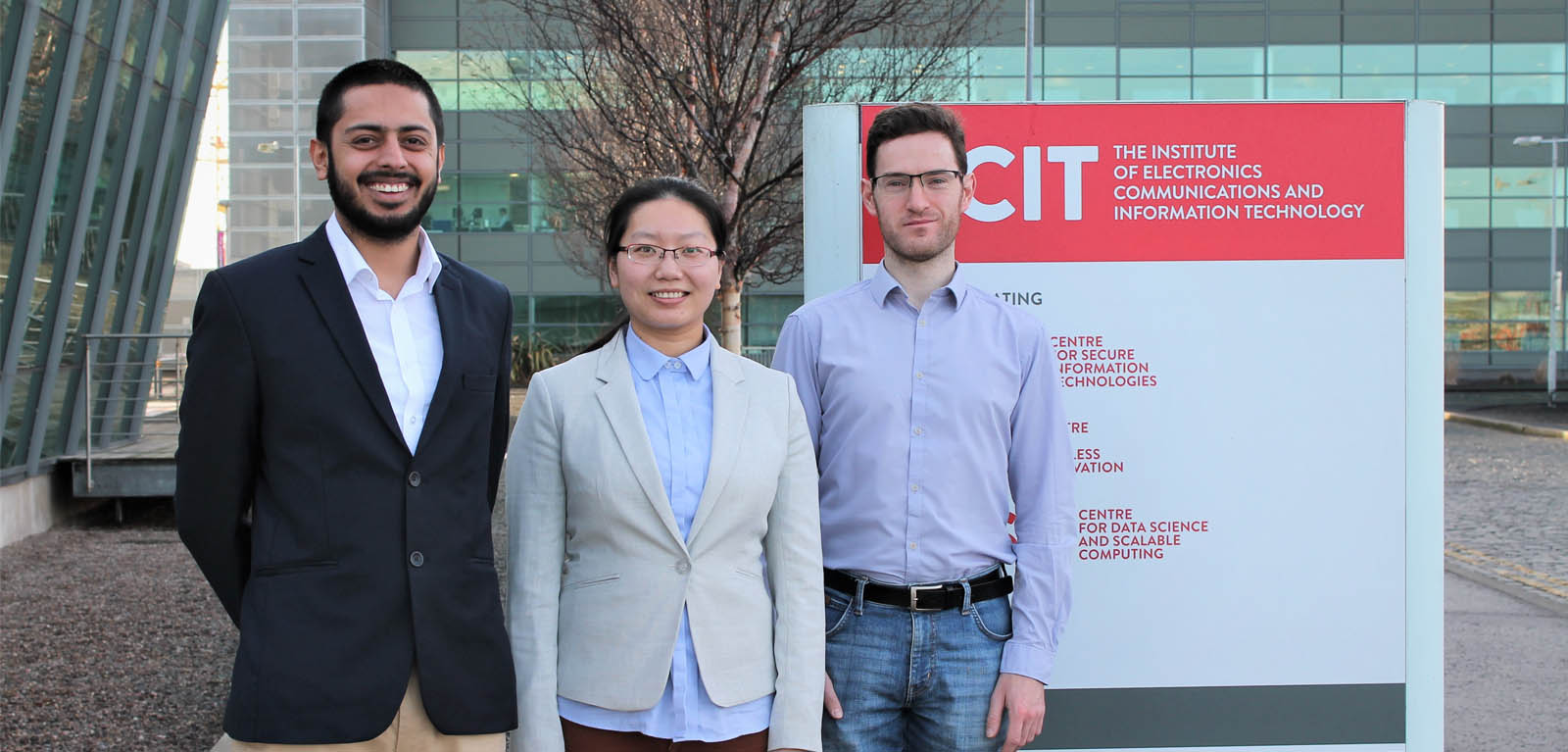 The Mobile World Scholar Challenge is a global competition that showcases the best mobile research taking place in the world.
Dozens of applications from universities around the world were submitted during the two-month application period, and five finalists were chosen by GSMA, the trade body that represents the interests of mobile network operators worldwide.
Researchers from ECIT received an impressive three out of the five finalist places for their research, which represents the best in ground-breaking new technology.
The three finalists from ECIT are Dr Niall McLaughlin, Nan Wang and Muhammad Ali Babar Abbasi. Their research spans a variety of complex subjects within the mobile industry such as; Deep Learning for Mobile Malware Detection, Multi-Access Edge Computing, and 5G Network infrastructure.
Finalist Nan Wang, Postgraduate Research Student at ECIT, said: "It is an honour for my research to be recognised by the esteemed GSMA. My research is focused on Edge Computing and ECIT is leading the way in ensuring the adoption of this new technology.

"I have designed an Edge Computing system and developed a software framework for providing computing services on the system. Through this system multiple traditionally Cloud-hosted applications are able to service users from their adjacent places such as a home router. Consequently, delays experienced by application users are reduced."
The finals of the competition will take place at MWC19 in Barcelona, Spain on 27 February 2019. MWC19 is the largest gathering for the mobile industry in the world, bringing together the latest innovations, leading-edge technology from more than 2,400 companies and over 100,000 delegates.
The event showcases cutting edge ideas poised to impact the mobile world. The Mobile World Scholar Challenge forms part of the event and highlights new and impactful ideas from the academic and research communities across the globe.
Professor Dimitrios Nikolopoulos, Director of ECIT at Queen's University, commented: "I am delighted that our researchers have been recognised for the cutting-edge research that they have produced which will greatly impact the mobile industry on a global scale.

"To be recognised by GSMA, the global community of mobile network operators, is testament to the work that is being carried out across disciplines daily at ECIT. I wish each of our team members the very best of luck for the final and look forward to seeing the impact of their work on the mobile industry."
Media
Media inquiries to Jemma Greenlees at Queen's University Communications Office T; +44 (0)28 9097 3087 E: j.greenlees@qub.ac.uk.