Reduce Plastic Waste in Schools Launched at Queen's
A new competition which seeks to encourage primary schools to develop new ways to manage and recycle their plastic waste has recently launched at Queen's.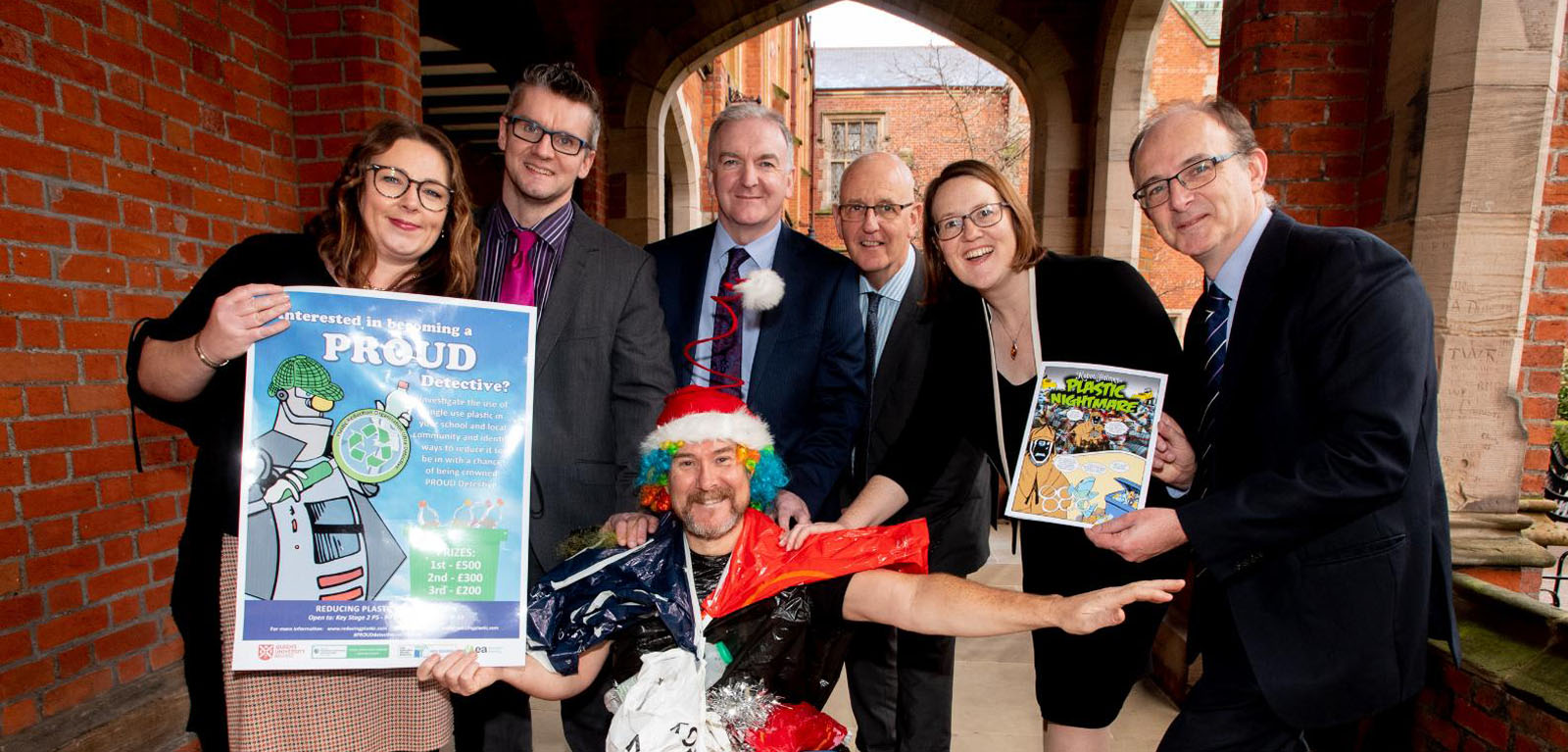 The competiton was launched by the Education Authority (EA) in partnership with the Department of Agriculture, Environment and Rural Affairs (DAERA), Queen's University Belfast, Department of Education (DE) and Eco Schools (KNIB).
Through the competition, Key Stage 2 (P5 to P7) and Key Stage 3 (Year 8 to Year 10) school pupils are invited to investigate the use and disposal of single-use plastics in their school.
Pupils will act as Plastic Reduction Organisation Ultra Detectives within their school, undertaking an investigation in to how waste is produced, its costs and wider impact on the environment. Pupils will have to collate the evidence and report back on how they plan to prevent future environmental crimes in their school.
John Coney, Energy and Environment Officer at the Education Authority said: "We are delighted to be working in partnership with the DE, DAERA, Queen's University Belfast and Eco Schools (KNIB) to launch this year's competition.
"The purpose of the competition is to raise awareness and lead to changing behaviours amongst the school community with regard to plastic waste reduction. I am sure children will enjoy acting as PROUD detectives to investigate and report on plastic waste within their school.
EA maintains an ongoing focus on its environmental responsibilities and the competition allows children and young people to engage in playing their part."
Joanne Clague, Registrar and Chief Operating Officer of Queen's University Belfast, commented: "At Queen's, our academics are pioneering solutions to some of our world's greatest challenges – from transforming waste plastic into a variety of useful products, to helping communities go carbon neutral to delivering interdisciplinary academic training and research that will prepare the next generation of scientists to collaborate with industry and policy-makers to drive positive environmental change.
"We are also committed to educating our students, staff and wider society in all aspects of climate change, and what we all can do to deliver the necessary environmental changes. We are, therefore, delighted to contribute to the Reducing Plastic Waste in Schools Competition, which, through inspiring young minds, will help raise awareness of the problems associated with disposable plastic and the need to work together to build a sustainable future.
"This programme recognises that transformational thinking is required to not only challenge behaviours and perspectives, but shopping habits too. As respecting the environment is one of the core values at the heart of school activities, their contribution, advice and/or support for this competition will be greatly appreciated and mutually beneficial."
This competition will have a wide reach and appeal amongst our younger generation, and will enhance a range of skills as they become 'ultra-detectives'.
Colin Breen, Head of the Single-Use Plastic, Waste Prevention and Waste Recycling Policy Team, DAERA said: "The Department are delighted to be collaborating with the EA, Eco Schools (KNIB), DE and Queens University Belfast on this exciting competition. Plastic pollution is hugely damaging to our environment and every initiative which helps raise awareness, change behaviour and reduce the scourge of plastic litter is a step in the right direction.
The equivalent of a lorry load of plastic ends up in the oceans every minute so we are supporting 'The PROUD Programme' with pride."
Claire Hudson, Single Use Plastic Co-ordinator, Eco Schools (KNIB): "This competition is a great way for schools to really engage with the important issue of plastic waste and for pupils to really get down to the nitty-gritty of what is happening with their school waste.
We are always amazed at the innovative solutions presented by young people to real world problems and would encourage every school to use this competition as part of their Eco-Schools Green Flag actions."
Monetary prizes will be awarded to schools placed 1st (£500), 2nd (£300) and 3rd (£200), sponsored by DAERA, Eco Schools (KNIB), and Queens University Belfast.
Entries must be submitted by the closing date, Friday 17 April 2020. Schools wishing to participate in this competition can find out more at: www.reducingplastic.com, or by emailing info@reducingplastic.com.
Media
Media inquiries to Emma Gallagher at Queen's University Communications Office - Telephone: +44 (0)28 9097 3087 Email: emma.gallagher@qub.ac.uk