Queen's University launches asymptomatic testing programme
Queen's will join a government-backed programme to test significant numbers of asymptomatic students and staff for Covid-19.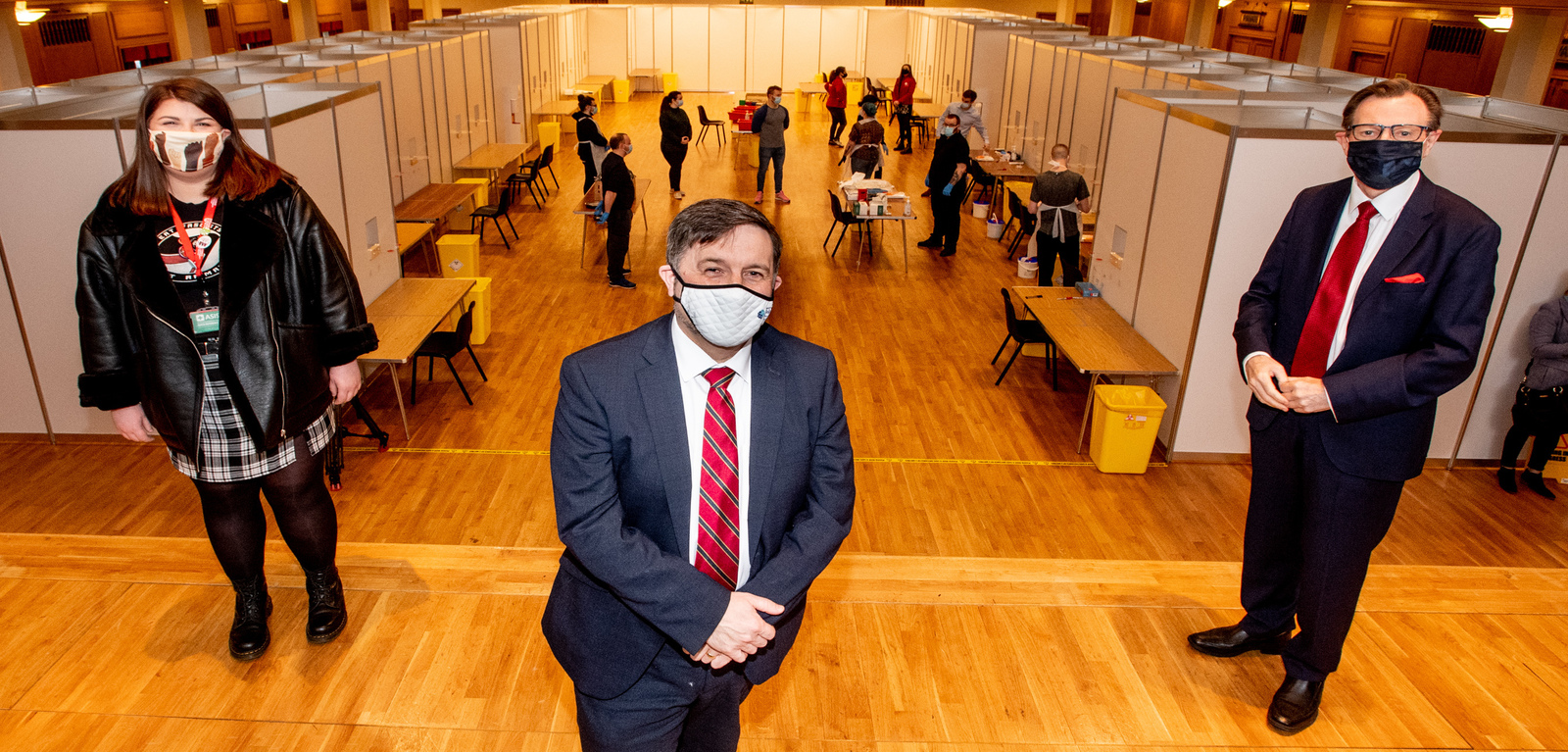 The University is the first place in Northern Ireland to conduct asymptomatic testing using new test devices on a large scale and the third university in the UK to participate in a programme of New Testing Interventions (NTIs) at a population level. The project is being funded through DHSC as a four nation programme.
The tests will be conducted using Lateral Flow Devices that provide results to those tested within an hour. Mass testing is considered vitally important, with NTIs being rolled out across the UK in the coming weeks and months. Universities have been identified as important settings for implementation and wider roll-out of the NTIs. In the short-term, this programme in Queen's will also be used to provide support to many students who intend to return home for the festive season.
Queen's University has invested a significant amount of time and resource to launch this NTI, working in close collaboration with the Department of Health, the Public Health Agency and other stakeholders.
This important NTI has the backing of the Health Minister, Robin Swann.
Minister Swann commented: "I welcome Queen's University's participation in this NTI, which will help us to understand how asymptomatic testing can be implemented and extended more widely in the future, to other parts of Northern Ireland. It is through undertaking NTIs such as this that we can develop fully informed plans for the future, which will benefit everyone in Northern Ireland.

"Providing support to students and their families in the coming weeks is also a very welcome aspect of this NTI. However we must be clear - testing on its own is not a panacea to delivering a 'normal' festive period.

"Everyone must continue to adhere to the current restrictions and public health requirements. We must continue to drive down infection rates and ensure that we enter the festive period with as few new cases every day as possible. So my advice to everyone is - reduce your contacts, keep your distance, wash your hands, wear your face covering and download the StopCOVID NI App."
There is an ambition for this NTI to eventually undertake 6,000 tests per week, with capacity being scaled up in the first few weeks. All students are being invited to participate in the programme from this week with those intending to return home for Christmas particularly encouraged to arrange tests. The University plans to continue providing asymptomatic testing for its community next semester, to help inform wider roll-out plans. This will mean that members of the community who are infected but unaware (as they have no symptoms) will be identified and asked to self-isolate, thereby reducing the risk of transmission at the University.
President and Vice-Chancellor of the University, Professor Ian Greer welcomed the start of the project. "Throughout the pandemic, the University has shown leadership and innovation in meeting this great societal challenge through our research as well as our innovative approaches to teaching. When we were approached to take part in this NTI to help inform the wider efforts, we were keen to be involved. We hope that the programme will help the health authorities to develop the best approach to mass testing, whilst at the same time helping us to drive down instances of the virus in our campus community and keeping it safe for our staff and students."

Queen's University Belfast's Students' Union President, Grian Ní Dhaimhín, encouraged students to be part of the NTI: "We are all in this together and I'd encourage students to take part in this important programme – particularly those returning home for Christmas. This is a great way of being part of the solution to helping society overcome COVID-19."
The asymptomatic testing facility is located in the Whitla Hall on the main Queen's campus and students are required to book in advance. This is the second testing facility to be located on the campus with a testing centre for those with symptoms already established at the Stranmillis Embankment.
Media
For further information, please contact comms.office@qub.ac.uk