Engineer overcomes depression and the death of his father to graduate with First Class Honours
Martin Ryan from Newry is celebrating as he marks his graduation from Queen's University Belfast with a First Class Master's in Mechanical Engineering, despite battling depression and losing his father.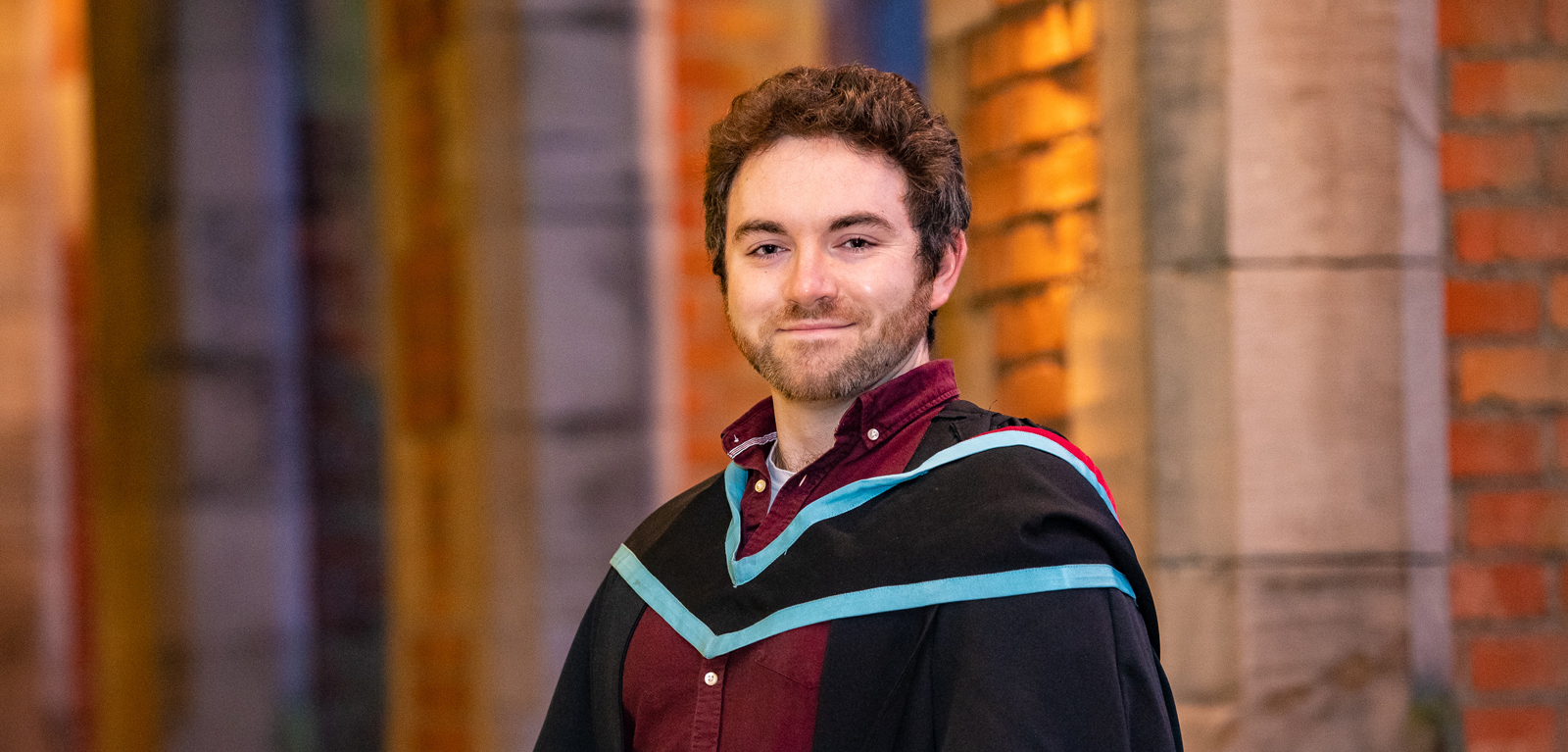 He graduated last year and took part in a virtual ceremony but has now been able to celebrate the milestone in person.
When studying, Martin became depressed and decided to take a year out, taking time to recover and then working with a small start-up company, Gilmore Engineering Services.
Returning to Queen's the following year, he put all his efforts into his studies, gaining a summer placement with RedRock Machinery Limited.
Sadly Martin's father passed away soon after but with the help of counselling and support from his friends and family, he went on to travel to Eckerd College in Florida as part of the StudyUSA program. He also secured an international placement in Hungary, returning home in time for his father's anniversary.
Describing how he found the strength to complete his Master's, Martin says: "I was spurred on by some incredible people who gave me incredible emotional support and academic guidance, so in part I leaned on their past and current aid to not despair whenever I faltered.
"I felt I owed to myself that I would not let a set of personal catastrophes take away from what I wanted to be. There are things in life that will rock you to your very core, it's never easy but ultimately you get to choose how you react to those events and that ultimately makes you into who you are. Of course one always needs to time to recover but I did not want any instance to drag down my potential. We are who we choose to be and I chose not quit."
During his time at Queen's Martin worked on a project analysing blood flow to the eye, providing further insight into diabetes. He says this is his most cherished memory of his time at Queen's: "Even the chance that my project could benefit the understanding of blood flow relating to diabetic patients is greatly fulfilling and it gave me a strong appreciation for my work."
Now working as an Electro Mechanical Design Engineer for TSM in Dundalk, he is making the most of his new skillset but has set his sights on eventually returning to education to pursue a PhD.
Martin's advice for anyone else facing mental health challenges is to ask for help. He says: "Don't be afraid to ask for help, whether it be classmates, peer mentors or lecturers. In my experience everyone needs help now and again, it does not make you weak or stupid.
"Always do your best and reach out when you feel you need to. Plan ahead on deliverable targets within set time frames but with enough wiggle room to address unforeseen problems. Do not spend too much time despairing, spend time learning where you went wrong and diagnose how you will address that going forward."
Media
For media inquiries, please contact comms.office@qub.ac.uk