Northern Ireland leaders reflect on female leadership
The Chief Executives' Club at Queen's University Belfast hosted 'Reflections on female leadership', an in-conversation event with the three women who hold the top political and administrative roles in Northern Ireland.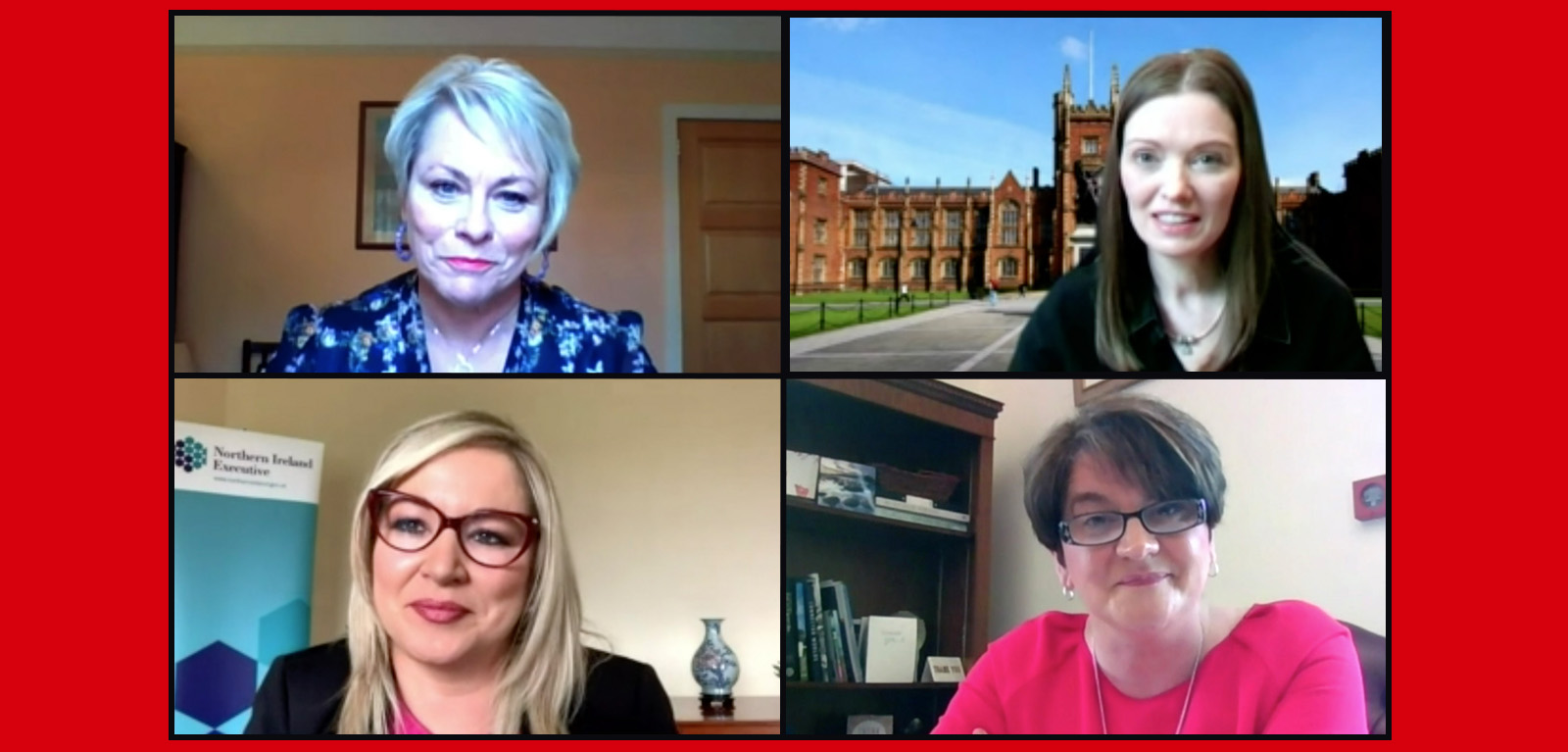 The First Minister of Northern Ireland, Arlene Foster, the deputy First Minister, Michelle O'Neill, and the interim Head of the Northern Ireland Civil Service, Jenny Pyper, shared their leadership journeys and experiences.
The event was chaired by Professor Karen McCloskey, Director of Queen's Gender Initiative and Professor of Physiology at the School of Medicine, Dentistry and Biomedical Sciences, and the panel of leaders welcomed by the President and Vice-Chancellor of Queen's, Professor Ian Greer.
Speaking during the event about females in leadership, First Minister Arlene Foster said: "A few weeks ago I was speaking to a media conference on International Women's Day and I reminded them that I don't seek special privileges because I am a woman, I just want the same opportunities as any man. I don't believe in quotas for women in public life, I believe in a fair crack at the job. I don't want women in jobs because of a mathematical formula, I want them in jobs because they are the best for the role."

The deputy First Minister, Michelle O'Neill commented: "The fact that we're still talking, in 2021, about making sure that 50% of our population are treated as equals, is a real travesty. And it's a sad indictment of society. Gender equality isn't an option; it's a human right. Whether it's healthcare, employment, or equal pay - Women's rights are human rights. But change won't happen unless we work together to make it happen. Unless we all show personal and collective leadership to drive it.

"And we need to remove the barriers to women's participation and progression in all parts of society. That means tackling the root causes of misogyny; to change attitudes and behaviours. That will very much be a focus of the Executive's strategy to tackle all forms of violence against women and girls."

Interim Head of the Northern Ireland Civil Service, Jenny Pyper said: "We have made a lot of progress through our diversity and inclusion work. In terms of women in the Civil Service at senior ranks there have been huge changes, but it is a fact that women in the Northern Ireland Civil Service are still underrepresented at every grade compared to the wider labour force, and we have other work to do beyond just the issue of men and women in the Civil Service.

"I am under contract until the end of July and at the moment we are going through a process to find a permanent replacement and it's been interesting to see the range of people who have come forward. I'm very pleased that more than 50% of the applicants for the Head of the Civil Service have been female. That tells you something in comparison to the range of applications that we have had in the past."
The event is available to watch again here and the Queen's University YouTube page.
ENDS...
Media
Media enquiries to Queen's Communications Office on email: comms.office@qub.ac.uk and Tel: +44 (0)28 9097 3091.