Pioneering Research Programmes
TECHNOLOGY FUTURES | 8 February, 2017
INTELLIGENT SYSTEMS CREATING THE FACTORIES OF THE FUTURE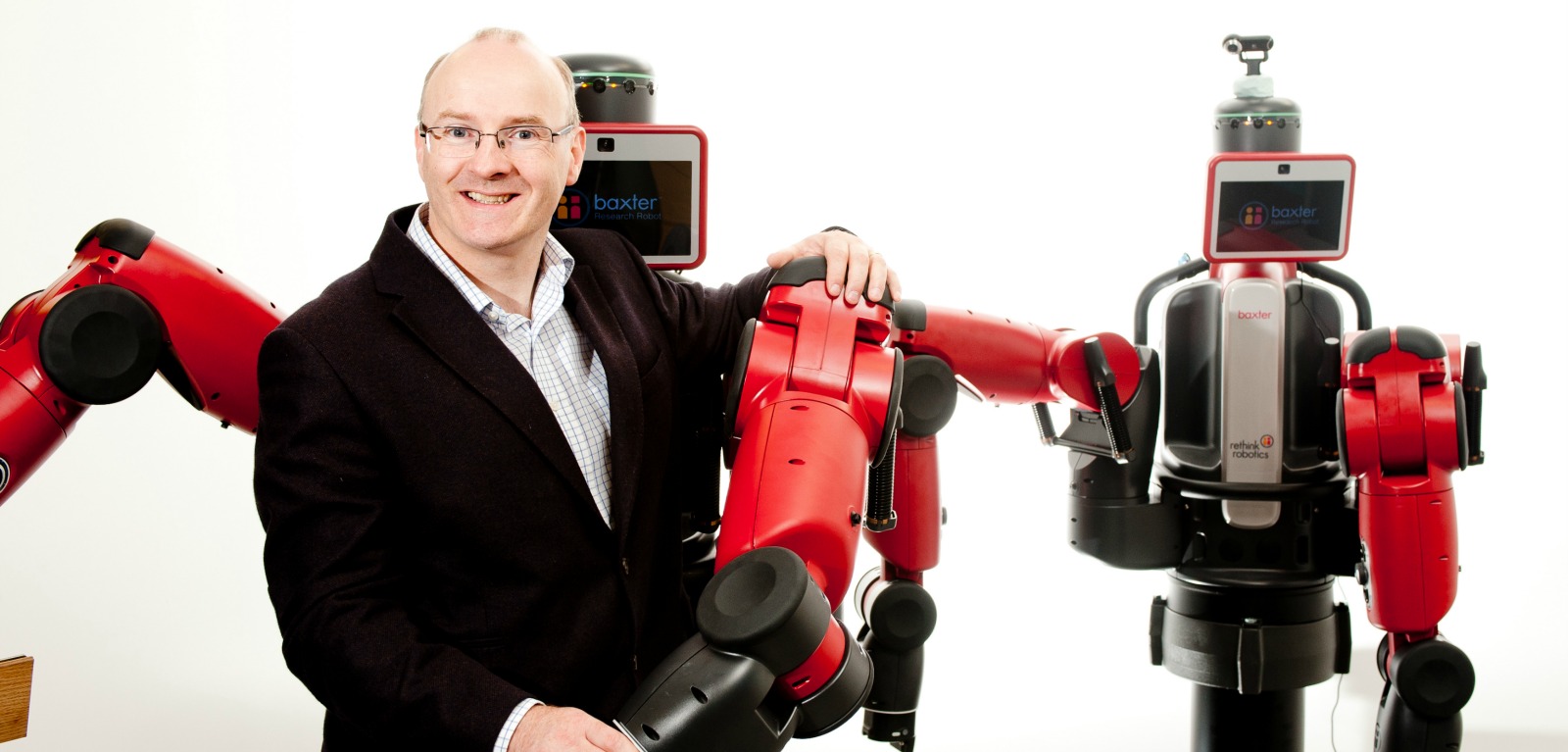 They call it Industry 4.0 – the fourth industrial revolution –
the unique coming-together of several technology innovations that integrate the physical and virtual worlds and will change the global manufacturing sector.
He is leading a Queen's Pioneer Research Programme (PRP)
He is leading a Queen's Pioneer Research Programme (PRP) - Intelligent Autonomous Manufacturing Systems – to address the challenge of designing smart manufacturing systems for tomorrow's world. He says, 'I want to grow this into an internationally recognised Centre of Excellence for Queen's, and make it the go-to place in the field.'
A Queen's graduate with a PhD in control engineering, Seán spent 10 years on the staff
of the National University of Ireland Maynooth, becoming Head of the Department of Electronic Engineering, before returning to Queen's where he is now Director of EPIC, the Energy, Power and Intelligent Control research cluster in the School of Electronics, Electrical Engineering and Computer Science.
He says, 'There was a national initiative in the Republic around advanced manufacturing and manufacturing competitiveness. The Irish Centre for Manufacturing Researchwas established and I was involved in it
with my research team from its inception. It operated on an all-Ireland basis with industrial collaborators including Bombardier and Seagate as well as Intel,Pfizer, Johnson & Johnson – all large multinational players.

'The essential model was industry coming together to de ne a research agenda of common interest with academics involved.
I became one of the academic leads with research on the theme of virtual metrology and predictive maintenance, a forerunner to the idea of using data in manufacturing – Industry 4.0.'
The programme he leads at Queen's has three themes – virtual sensing, prognostics and virtual factory simulations; flexible automation; and autonomous and intelligent decision- making – and it brings together academics from the EPIC cluster and colleagues from the School of Mechanical and Aerospace Engineering, as well as the Schools of Psychology and Maths and Physics. 'It's very much a multidisciplinary endeavour. The origin of the PRP was the realisation that there was good synergy between Mechanical and Aerospace Engineering, with their expertise in digital manufacturing and factory modelling, and the data analytics and intelligent systems expertise in my group. We saw the opportunity to come together to be at the leading edge of this new wave of innovation.'
There has been a huge growth and convergence of technologies in terms of sensing, cyber physical systems and the Internet of Things
Seán says, 'This has led to a huge amount
of data being generated by manufacturing processes and indeed the complete manufacturing supply chain. The challenge is
– how do you combine the available data into valuable information on which you can make decisions and how do you develop automation systems that can act on that information?
'We want to turn that data into actionable information, determining what we should do on the factory floor, what changes should be made to improve process performance and product quality, reduce energy consumption and waste, and ultimately minimise the cost of manufacturing.'
At the heart of this is robotics. 'Currently, robots are fixed structures customised to
a particular task and there's a lot of work involved if you want to change them to do something else. Our ambition is a robot
that would basically have the adaptability
of a person – able to take on different tasks during the course of the day. We're trying to develop fiexibility, adding more intelligence to the robots, so that they can adapt quickly to new situations and interact safely with human operators.'
In August 2016, Seán and his colleagues organised a week-long international conference at Queen's on 'Control' with strong industrial participation. It included workshops on 'Shaping a Low Carbon Energy Future' and 'Industry 4.0: Putting Theory into Practice'. Among the companies represented were Kuka, one of the world's leading robot manufacturers, and Seagate, a global leader in data storage.
Seán says, 'This is the kind of industrial engagement we want to build on. It's about getting the visibility that will give us external recognition and, more importantly, the external awareness that if companies have problems, they can come to us. I want Queen's to be a recognised centre of competence in Industry 4.0, nationally and internationally.'
Media inquiries
---
Read more from our experts in I-AMS