Pioneering Research Programmes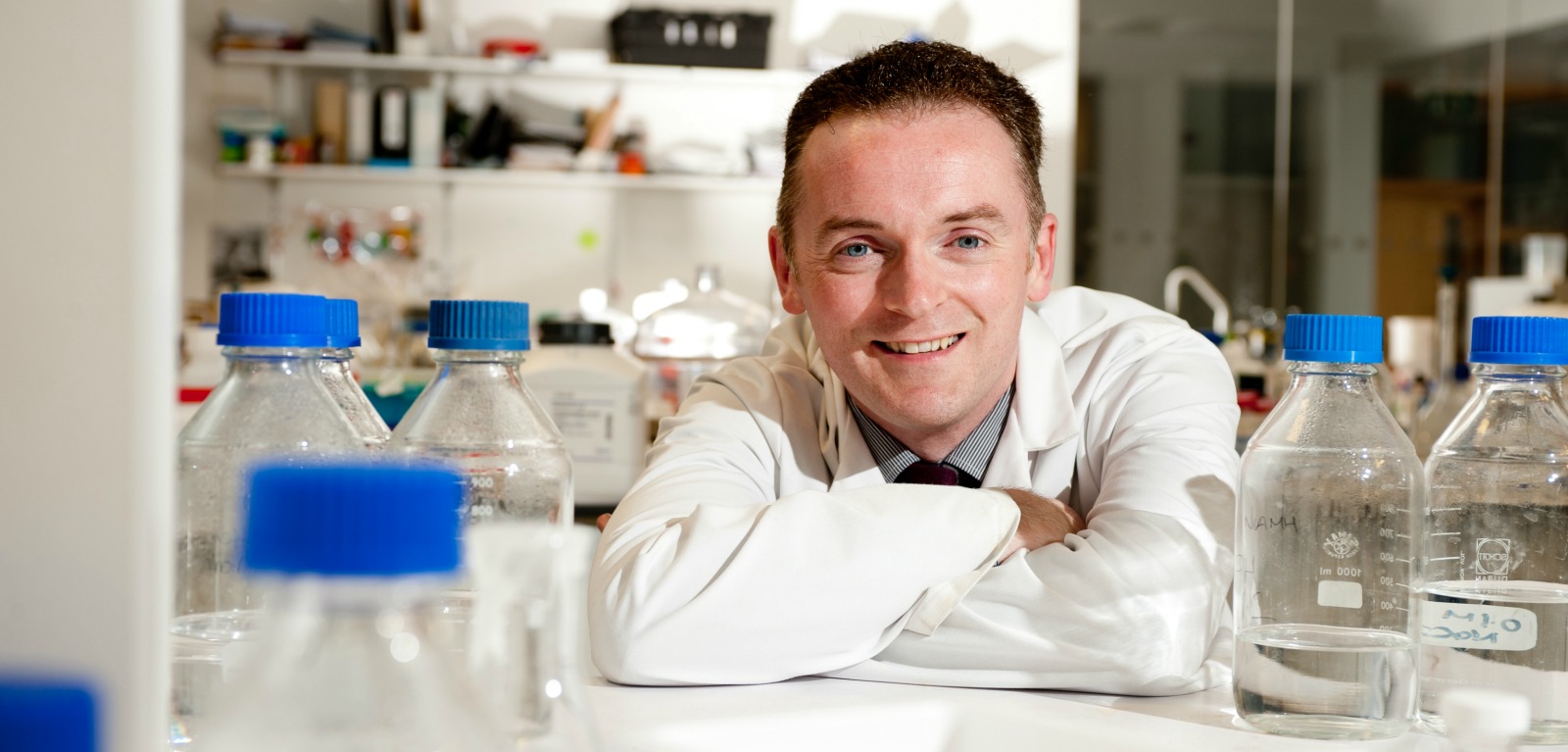 LEADING THE WAY TO NEW HORIZONS IN HEALTHCARE
Professor Ryan Donnelly's name is synonymous with tiny objects that make a huge impact – microneedles. These minute projections in a patch take the sting out of injections.
In the world of healthcare innovation,
Professor Ryan Donnelly's has now secured a contract manufacturer who is willing and able to manufacture his microneedles for the market and he is currently working with a number of leading international pharmaceutical and biosensors companies on specific product developments. Ryan, who holds the Chair in Pharmaceutical Technology at the School of Pharmacy at Queen's, is leading a Pioneer Research Programme (PRP) – Materials and Advanced Technologies for Healthcare – which is bringing a range of researchers together in an exciting collaboration.
Ryan says, 'We've been working for years with Schools and Institutes right across Queen's and beyond – with researchers in Engineering and Chemistry, for instance – but if we were going to develop a Pioneer Research Programme that would grow and address global challenges and perhaps in time lead to a Global Research Institute speci cally focused on this area, then we needed to collaborate with people from different disciplines in a more focused way.'
There are three Grand Challenge areas in the programme; Smarter Materials, led by Professor Steven Bell from the School of Chemistry and Chemical Engineering, Professor Colin McCoy from the School of Pharmacy and Professor Fraser Buchanan from the School of Mechanical and Aerospace Engineering; Developing Future Therapies, led by Professors Chris Scott, Brendan Gilmore and Gavin Andrews from the School of Pharmacy and Dr Adrien Kissenpfennig from the School of Medicine, Dentistry and Biomedical Sciences; and Optimising Treatment and Community Health, led by Professors Michael Tunney and Carmel Hughes from the School of Pharmacy.
Ryan says, 'In drug delivery, taking the needle out of the equation for vaccination is one of the grand challenges for global health. Also, 60% of newly-discovered drug molecules fail to reach the market because they're too water-insoluble.
'A lot of these compounds are just sitting around on shelves even though they held great promise. So that's a strong theme – to improve delivery through enhanced formulation and manufacture.'
Prevention of infection is also a major strand.
'The big pharma companies have moved their focus away from antibiotic discovery. We haven't had new antibiotics hitting the market since the 80s so resistance develops. Not only do we need to discover new antibiotics but we have to prevent the infection of in-dwelling medical devices, which is a major problem, and by working together we think we can make a big impact.'
Ryan sees new developments in materials science playing a significant role – not only biomaterials that will resist infection but materials designed from the nanoscale. And there is the impact of nanomedicine in the treatment of
HIV – targeting drugs to the lymphatic system, reducing infectivity 'and also having the potential to achieve a cure for the virus.'
Then there is tissue engineering. 'People are living longer, they may need replacement joints or organs. So here we see Biological Sciences and Engineering coming together to make replacement body parts that are going to function properly and resist infection.
'People within one discipline are less likely to make the step change that will be required to address these challenges. You need to take an interdisciplinary approach.
'We want to publish in the very best journals but we also want to increase our interaction with industry, making university discoveries that will reach the patient sooner, and we want to interact with healthcare providers and government organisations to influence healthcare policy.
'This programme is about developing a holistic 'molecule-to-patient' strategy. It's about having a major impact in the care of all patients, from the very young to the very old, to improve their lives and their health outcomes.
'Ultimately, we want to ensure that our science affects the care of patients and makes a major contribution to the Health Service here and across the world. This PRP is unique as it covers the spectrum from fundamental scientific research to products and interventions which are wanted by healthcare practitioners and policymakers and needed by patients.'
---
Read more from our experts in Materials and Advanced Technologies for Heathcare