Queen's welcomes inaugural Norman Houston Scholarship Student
Queen's University was delighted to welcome its first 'Norman Houston – Study Northern Ireland – Award' recipient to Belfast this semester.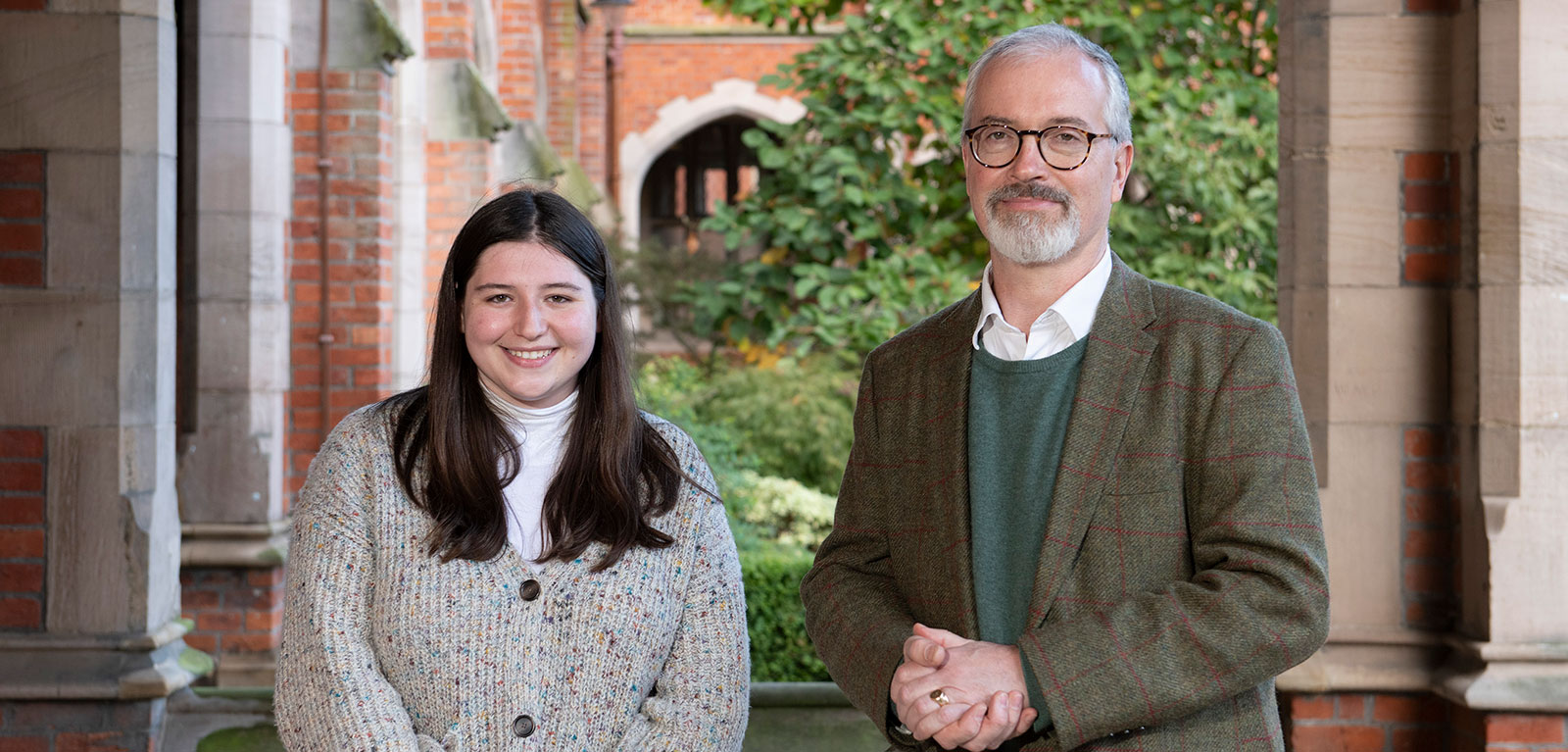 Isabelle Fenton, a visiting student from Randolph College Virginia, arrived in September to undertake studies in the School of Arts, English and Languages.
The award was created in 2021, in memory of honorary graduate and former Northern Ireland Bureau Director, Norman Houston OBE. Providing a full-tuition and accommodation package for a semester at Queen's, the scholarship was designed to widen participation in international education opportunities.
Professor Richard English, chair of the North America Strategy stated: 'It's wonderful to welcome Isabelle Fenton to study here at Queen's University Belfast, and it's wonderful also to recognize the great contribution that Noman Houston made in terms of relations between the USA and Northern Ireland. Norman was committed to everyone benefiting from opportunities for cultural exchange between two places that he loved. This Scholarship fittingly reflects our gratitude to him for all of his contributions, and our keenness that people should continue to have such great opportunities for international education.'
Isabelle, who is originally from Green River, Wyoming, said:
'I'm incredibly humbled to receive the Norman Houston Award and beyond grateful for everyone who has made this opportunity possible. It is truly the honor of a lifetime.'
Isabelle majors in English at her home university in Pennsylvania and was particularly drawn to Queen's for its strength in literature. She hopes to return in future to undertake a Master's programme in Northern Ireland.
Note
Applications for the Norman Houston award will reopen in Spring 2023 for students wishing to study with Queen's in academic year 2023-2024. Full guidance on the application process can be found here: https://www.qub.ac.uk/International/International-students/Studyabroad/StudyAbroad/norman-houston-award/