Chaplains and Religious Representatives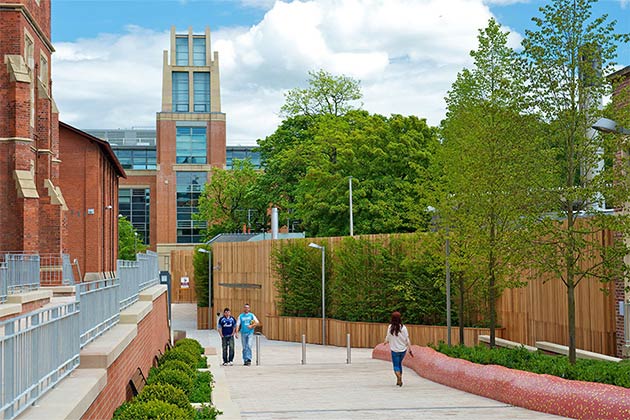 Support at Queen's
Chaplains and Religious Representatives
Chaplains and other religious representatives are appointed by the University to represent and serve students and staff. The chaplaincy centres provide a focus for weekday or Sabbath worship, a range of social events and activities, groups for prayer or study, in addition to pastoral care and counselling.

There are prayer facilities in the Student's Union Quiet Room which opens Monday - Saturday 8.30am - 9pm and Sunday 12pm - 9pm.
Currently, 13 faiths and denominations are represented at Queen's:
Baptist
Brethren
Catholic
Church Of Ireland (Anglican)
Congregational
Evangelical Presbyterian
Free Presbyterian
Humanist
Methodist
Non-Subscribing Presbyterian
Presbyterian
Quakers (Religious Society of Friends)
Reformed Presbyterian
Belfast also has a Hindu Temple, located in the city's Indian Community Centre, and a mosque, in the Islamic Centre in Wellington Park, a few minutes' walk from the University.
Queen's Chaplaincy Centres
There are four Chaplaincy Centres, all located adjacent to one another in Elmwood Avenue, opposite the Students' Union and close to the main University buildings. Each has a full-time Chaplain and other staff.
Several centres provide student accommodation
Students take a leading role in planning and preparing chaplaincy activities
Chaplains give a high priority to meeting students in halls and other accommodation
Provide counselling in a wide range of areas that relate to student life
Students are welcome to make contact with their religious representatives at any time.
Denomination

Address

Contact details

Baptist Chaplaincy
The Baptist Centre,
19 Hillsborough Road,
Moira, BT67 0HG

Mr Matthew Campbell
028 9261 9267

Brethren Chaplaincy
Chaplain's Office,
c/o Cresent Church,
6 University Road,
Belfast, BT7 1NH

Mr Stephen Rogers
07729 366784
mr.stevie.rogers@gmail.com

Catholic Chaplaincy
The Catholic Chaplaincy,
28 Elmwood Avenue,
Belfast, BT9 6AY
Rev Dominic McGrattan
028 9066 9737
catholicchaplaincy@qub.ac.uk
www.qubcatholic.org
Church of Ireland (Anglican)
The Church of Ireland Centre,
22 Elmwood Avenue,
Belfast, BT9 6AY
028 9066 7754
028 9066 1640
Congregational Chaplaincy
2 Redburn Court,
Old Holywood Road
Holywood, BT18 9SH

Rev Dr Colin Meneely
028 9076 8039
07712 032687
c.meneely@btopenworld.com

Evangelical Presbyterian Chaplaincy
33 Onslow Gardens,
Belfast, BT6 0AQ
Rev Gareth Burke
028 9045 0900
07803 282 489
gnburke@yahoo.co.uk
Free Presbyterian Chaplaincy

Tyndale Free Presbyterian Church
236a Donegall Avenue
Belfast
BT12 6LU

Mr Paul Foster
07837 864320
028 9210 7761
mrpaulfoster@hotmail.co.uk

Humanist
8 School Road
Newtownbreda
BT8 6BT

Ms Mary Lou McShane
07962 906236
marylou.mcshane@humanistceremonies.org.uk

Methodist Chaplaincy
24 Elmwood Avenue,
Belfast, BT9 6AY
028 9038 1443
028 9066 7754
Non-Subscribing Presbyterian Chaplaincy
Church Office
5 Elmwood Avenue
Belfast
BT9 6AZ
Rev Stephen Reain-Adair
07870 161942
revsreainadair@outlook.com
Presbyterian Chaplaincy

12 Elmwood Avenue
Belfast, BT9 6AY

Derryvolgie Hall,
49A Derryvolgie Avenue,
Belfast, BT9 6FP

Rev David Gray
028 9066 9090
07812 915428

office@pciqub.org
djgray@pciqub.org

Reformed Presbyterian Chaplaincy
37 Old Holywood Road,
Belfast, BT4 2HJ

Rev David McKay
028 9076 0589
07745160567
wdjmckay@btinternet.com