Institutional visit to China
Queen's University delegation visit to China
The Vice-Chancellor led a delegation to China in November which had strong representation from MHLS. Following a meeting of the Presidents' Forum of the UK-China Consortium on Engineering Education and Research in Nanjing, the next stop was Shenzhen, where Colin McCoy, Dean of Internationalisation in MHLS, joined the delegation.
Shenzhen is home to Queen's University Belfast's longest-standing international partnership – with Shenzhen University – and the Vice-Chancellor and Professor Wang Hui, Vice President of Shenzhen University, led a celebration of 20 years partnership, and discussed widening of our Joint Foundation Programme, which has just introduced a Life Sciences stream to attract students to MHLS.
Shenzhen was also the venue for the launch of the China Alumni Association, and was a huge success. More than 160 alumni and 20 Queen's staff attended, together with key partner Universities in China, industry representatives including Huawei, key agents and Invest NI. Coverage of the event has already received 70,000 views on various social media platforms.
Finally, the delegation moved to Shenyang to visit local government representatives and CQC – our joint college with China Medical University (CMU) – where over 370 undergraduate students are taking our BSc programmes in Pharmaceutical Sciences and Pharmaceutical Biotechnology. President Wen of CMU welcomed the Vice-Chancellor personally on his first visit to Shenyang, and MHLS then led a full-day conversion event, showcasing opportunities for Masters and PhD study at Queen's to over 150 attendees, including students of CQC and CMU. Gordon Brown and Kiera Bradley from the MHLS Student Recruitment Hub admirably choreographed Colin, as well as Directors of Internationalisation Helen McCarthy and David Grieve and CQC Vice Dean Gavin Andrews and applications for PG study have already arrived with us since the event.
Nikki Kernaghan from Research and Enterprise also facilitated a mini research symposium, coordinated by Min Zhao, and Colin explored opportunities for joint postgraduate courses with the Dean of CMU's Graduate School, and confirmed a dedicated summer school for CMU students to come to Belfast in 2019.

Vice-Chancellor with the QUB delegation and CQC staff in Shenyang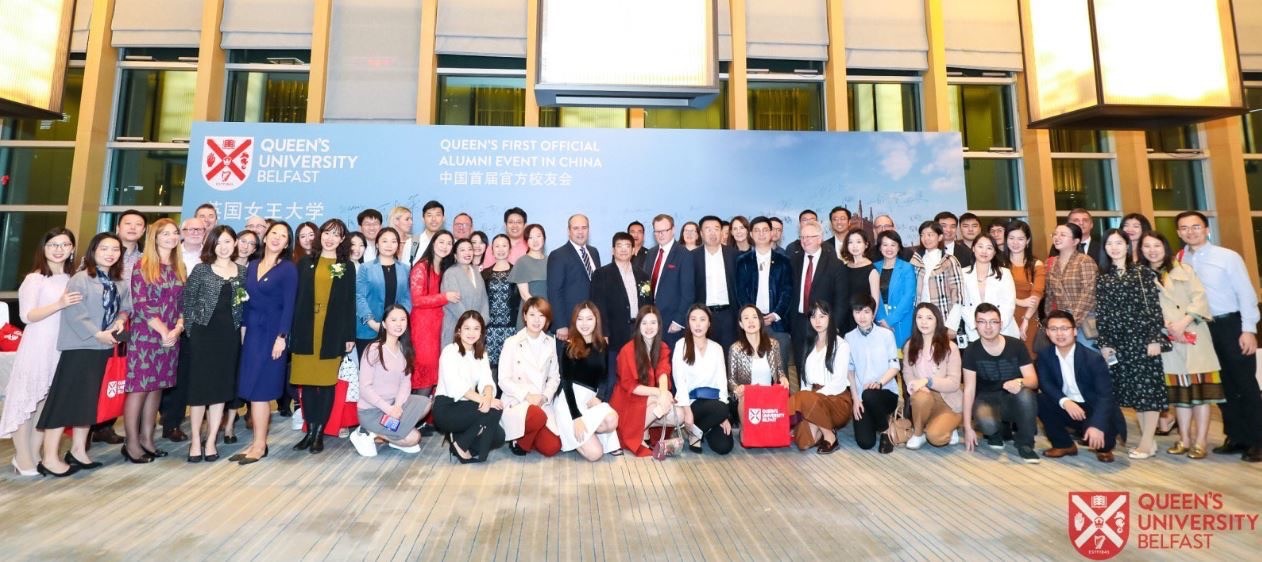 Launch of the China Alumni Association in Shenzhen