The School of Biological Sciences - Athena SWAN Event
Career talk by distinguished guest, Professor Clare Collins, University of Newcastle, NSW, Australia:
From allied health clinician to research leader. A hitch-hikers guide to surviving then thriving in academia.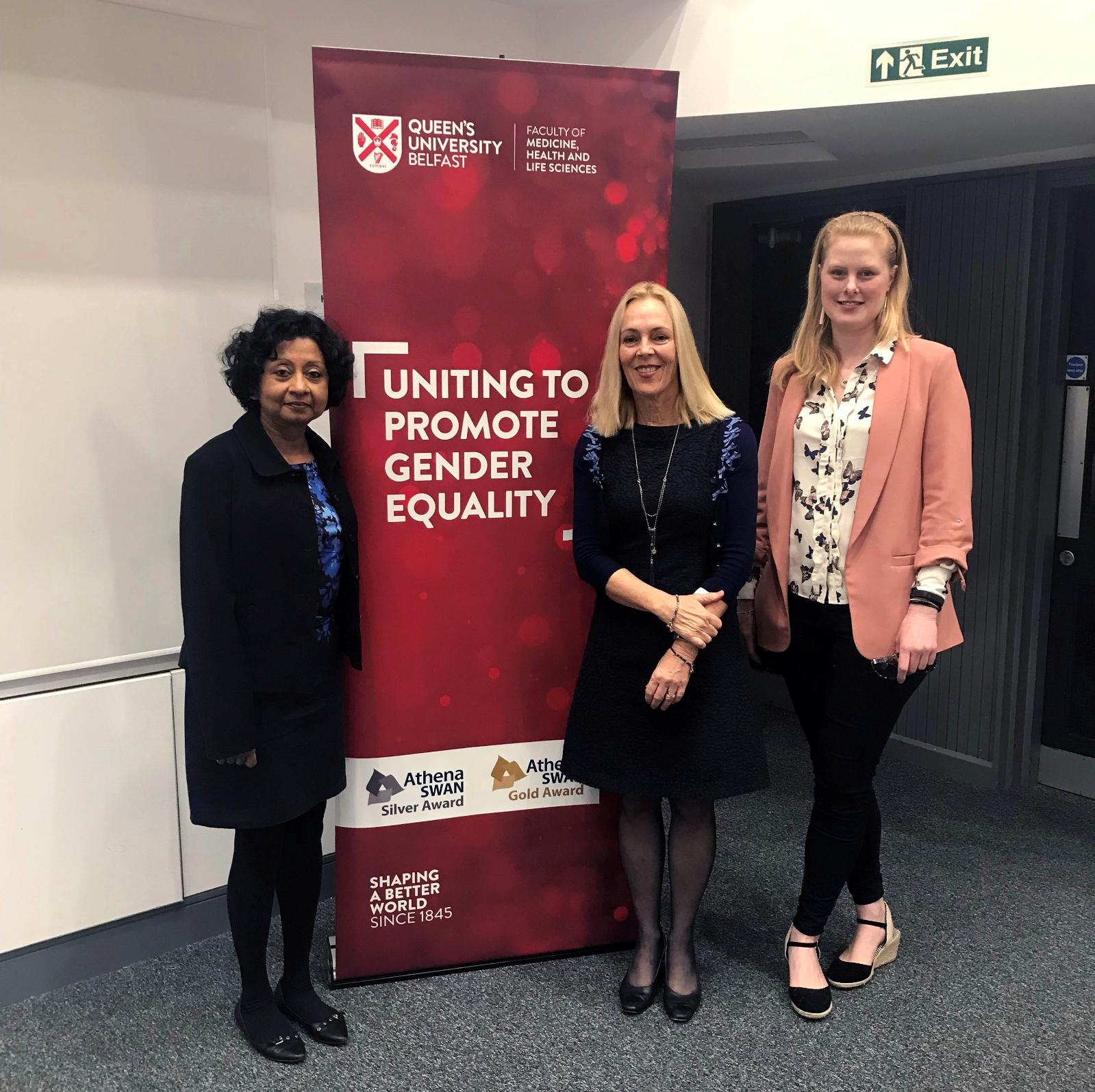 Above: SWAN Champions Pofessor Moira Dean (L) and Dr Edel Hyland (R) from Athena SWAN Gold Award holder, School of Biological Sciences with Professor Clare Collins (C), University of Newcastle, NSW, Australia to Queen's University on Tuesday 28 May 2019 for this Athena SWAN Seminar. 
Athena SWAN Gold holder, School of Biological Sciences were delighted to welcome Professor Clare Collins, University of Newcastle, NSW, Australia to Queen's University on Tuesday 28 May 2019. In this Athena SWAN Event, Professor Collins delivered an insightful and inspiring Presentation on her life and Career to date.
Clare Collins is a Professor of Nutrition and Dietetics in the School of Health Sciences, Faculty of Health and Medicine at the University of Newcastle, NSW, Australia. Professor Collins holds a prestigious NHMRC Senior Research Fellowship. She is currently Director of Research for the School of Health Sciences and is Deputy Director of the Priority Research Centre for Physical Activity and Nutrition.
As the most successful research dietitian in Australia, she has been awarded over $21 million dollars in research grants, has published over 300 manuscripts and supervised 26 Research Higher Degree candidates to completion.
In 2017 Professor Collins was awarded Hunter Medical Research Institute, Researcher of the Year. Her research is conducted in collaboration with the Hunter Medical Research Institute's (HMRI) Cardiovascular Program. HMRI is a partnership between the University, the Hunter New England Local Health District and the community.
A few words from Professor Collins:
"When I graduated from Nutrition and Dietetics 35 years ago, my dream had come true. As a clinical dietitian I was ready to help people change their health and well-being by optimising nutrition. Navigating the path from newbie member of my profession was filled with twists and turns in employment type, hours, location and speciality, combined with lots of continuing professional development.


The years flew by, mixed with varying amounts of 'busyness' and the sleep deprivation that comes with family life. Then, the questions started! Does what I do clinically really matter? What if it does not? The answer – do some research and find out. The result – discovering just how much nutrition does matter and that there were some big evidence-practice gaps.


Addressing those gaps has taken me on a journey. Important skills developed in navigating the paths and facilitating the conduct of high quality research have included evidence evaluation, innovation in methods and approaches, use of and development of new technologies, entrepreneurialism and media communication. Key things that help prepare you for the research journey are having a map, guidebook and compass (or throwing them out and using your smartphone in lieu).


Along the journey it is worth taking the time to mentor and guide colleagues. Paying it forward means before you know it you are looking back with pride as the team grows and becomes a beacon for others to follow on their own journey from clinician to research leader."
A recording of Professor Collins' Career Talk at Queen's University on 28 May can be viewed by Queen's University Staff and Students below. Please login using your QUB credentials.
Media