Stress-free student living
Forget Dublin's rental squeeze: you won't face a scramble for a safe, affordable place to live in Belfast.
Student accommodation in the leafy Queen's Quarter typically comes in under €365 (£326*) a month, with rent prices in the city around 59% cheaper than Dublin**.
In our friendly, culturally-energised city, just two hours north of Dublin, you'll also pay less for the fun stuff including travel, takeaways and entertainment.
*Exchange rate source: www.xe.com (06/4/20)
**
Daft.ie rental price report Q1 2019
MORE FOR YOUR MONEY
Belfast can be almost €2,000 per year cheaper to live than Dublin, with the biggest savings to be made on phone and utility bills which average 80% and 50% less, respectively.*
*Numbeo, November 2019. Calculated using Cost of Living Plus Rent Index. Based on renting in both cities, assuming net earnings. Basic bills for 85m2 Apartment, Prepaid Mobile Tariff (No Discounts or Plans)
A RENTER'S MARKET
Queen's has 3,500 central student rooms available, while private rental accommodation is easily accessible and more affordable than in other student cities in the UK* and Ireland.
*Belfast has the lowest student rent in the UK (NatWest Student Living Index, 2020).
Belfast versus Dublin cost comparison
See how Queen's compares with Dublin universities in key costs, including accommodation, travel expenses and tuition fees.
As a guide we estimate you should allow a sum in the region of €6,400 – €8700 (£5,500-£7,500) to cover your expenses for one academic year.
www.xe.com, November 2021
2021/22 Overall cost comparisons

Costs

Trinity College Dublin
University College Dublin

Yearly cost of Accommodation

[1]
€5,607 (£4,750) - Willow Walk
€6,135 - Pearse Street
€6,853.24 - Begrove

Average Monthly Rent

[2]
€297 (£251.50)
€620
€620

Tuition Fees (MSc Management)

€8,551 (£7,250)
€14,950
€15,000

Tuition Fees (MA History)

€7,608 (£6,450)
€7,430
€7,315

Tuition Fees (Msc Mechanical Engineering)

€7,608 (£6,450)
€7,923
€8,085

Student Grant

€3,500 postgraduate fee contribution (if household income €64,700)
€3,500 postgraduate fee contribution (if household income €64,700)
€3,500 postgraduate fee contribution (if household income €64,700)

Postgraduate Tuition Fee Loan NI

€6,490 (£5,500)
N/A
N/A

Average Weekly Travel Costs

[3]
€17.69 (£15.00)
€20.00
€20.00
Total Cost (€)[4]
€14,158
€21,085
€21,853.24
Notes
[1] Based on Ensuite accommodation for 36 weeks at Trinity / 38 weeks at Queen's and UCD
[2] Average rental cost for students living in Belfast, Dublin city centre single bed accommodation
[3] Based on Weekly travel pass by bus
[4] University accommodation (Queen's Mount Charles) per year (38 weeks Queen's and UCD/ 36 weeks Trinity) + tuition fee MSc Management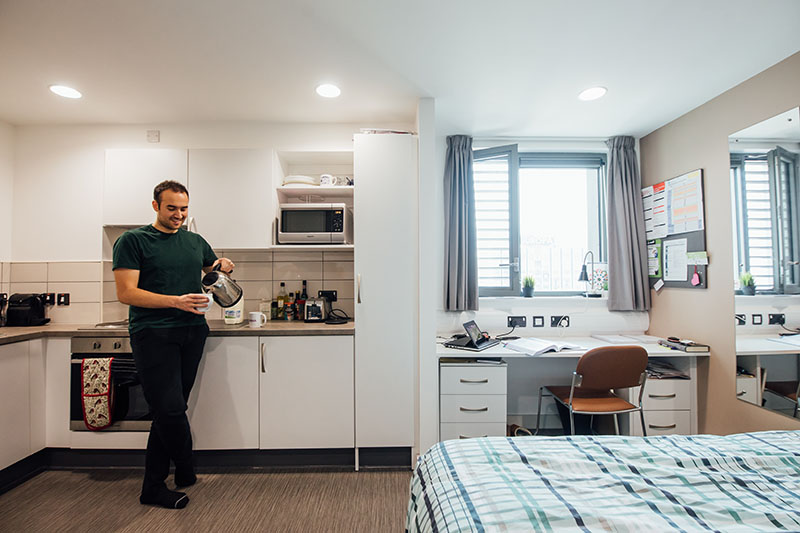 Affordable Accommodation
"I live in Mount Charles, which is only a 5-minute walk from campus and caters for postgraduate students. Compared to the cost of living in the Republic of Ireland, I couldn't get over how affordable accommodation is at Queen's."
Rebecca McGettigan, Donegal, MA History
Typical living expenses
A promo-night cinema ticket will cost you €1.90 less than in Dublin, and an incredible €3.95 less for a standard student ticket*.
A kebab meal will set you back €1.83** more in Dublin than in Belfast.
Read more: See how Belfast's prices compare to other university towns: Read more: Cost of Living comparison between Belfast and Dublin
*Odeon websites **NI: Istanbul Kebab and Pizza Belfast ROI: Instanbul Kebab House (Medium Kebab, Chips and Drink on Justeat)
Travel and Transport
A YLink discount card costs just £8 (€9.21) and will save you a third on bus and rail services within Northern Ireland, plus up to 50 per cent off Enterprise train service between Dublin and Belfast.
You'll also get 15 per cent off the cross-border bus service so getting home for a visit is quick, simple and affordable.
Over 24? Save 1/3 on rail fares and up to 50 per cent off Enterprise fares to Dublin. As a student, your average weekly travel cost is over €6 cheaper than in Dublin.
More details