KN Cheung SK Chin InterSim Centre
Simulated training for the next generation of healthcare professionals
The KN Cheung SK Chin InterSim Centre, which was built thanks to the generosity of our alumni and friends, opened to welcome visitors and students in August 2021. Five years in the making, we are so proud to have this cutting-edge training facility available for Queen's Medical, Pharmacy, Dentistry, and Nursing and Midwifery students. This incredible resource will support us in our aim to promote excellence in education of healthcare professionals through an inter-professional simulation-based approach that drives safe, effective and collaborative care now and in the future.

The Centre is named the KN Cheung SK Chin InterSim Centre, in celebration of the parents of our lead donor who is a Queen's medical graduate. The Centre is a huge step forward and wonderful news for the future growth of the University and we are indebted to every supporter involved, for helping us to turn this vision into a reality.
Recent updates
Teaching is now well underway in the Centre. Since the outset of this project our vision for InterSim has been to make it a truly interdisciplinary centre and after just a few months of teaching this has already become a reality, with InterSim welcoming students from a variety of disciplines including Medicine, Nursing, Pharmacy, Midwifery and Clinical Psychology. We have procured a wide range of technical and medical equipment, including specialist manikins used to simulate a variety of healthcare scenarios. Beyond that, we are also working closely with our pool of simulated patients to equip our students with the necessary behavioural and communication skills to be able to deal sensitively and compassionately with patients when in real clinical practice.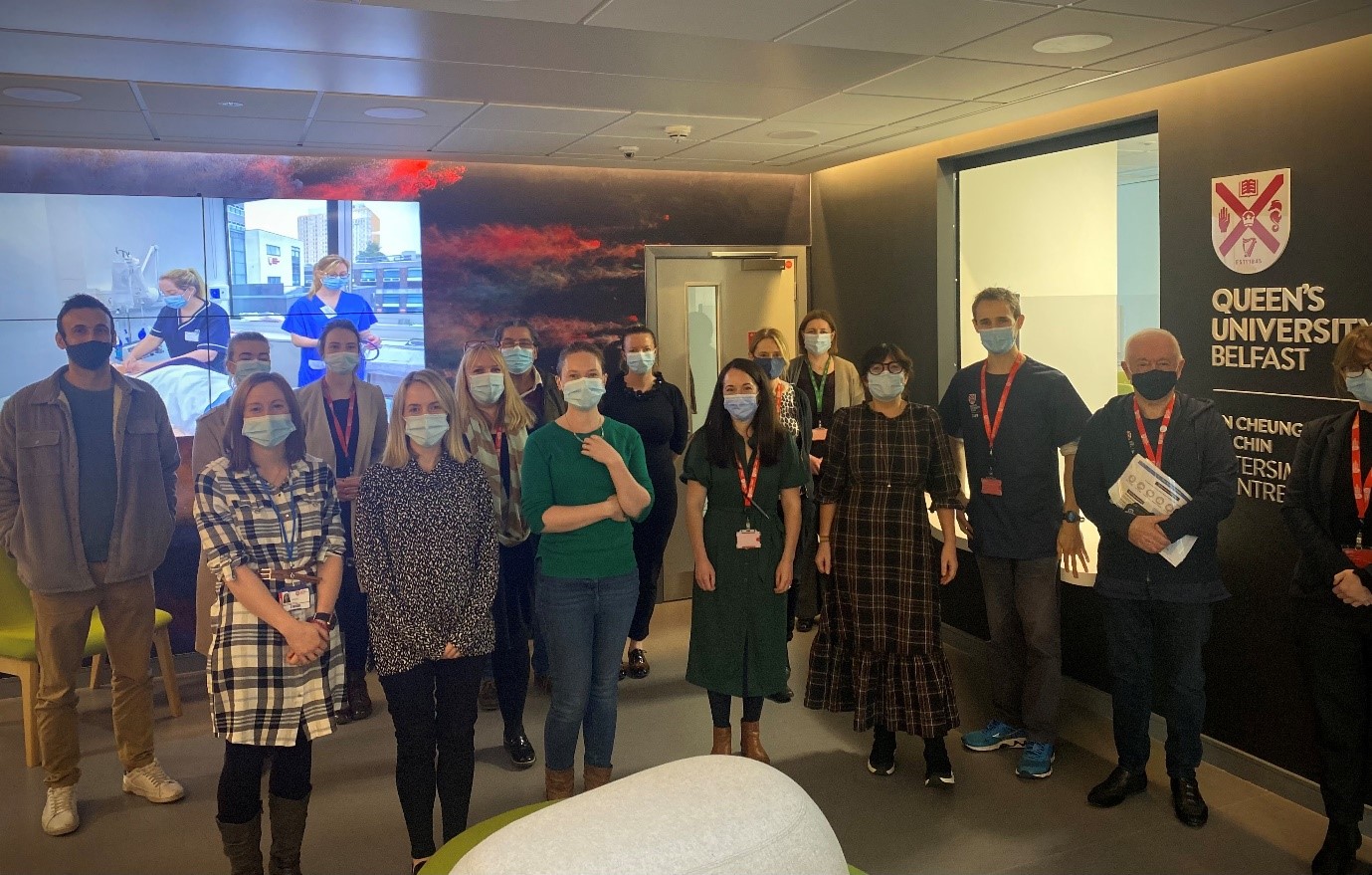 InterSim's first 'debriefing course'
Importantly, we have also hosted our first trainers 'debriefing courses'. Lecturers from a range of disciplines trained together in the skills of effectively debriefing students after a simulation to optimise their learning. This was very well received by staff and there is already a waiting list for the next course!
We have also hosted a number of external courses including a NHS Deceased Organ Donation course. As a result of this course 90% of local senior Intensive Care registrars were trained in the necessary technical and communication skills to navigate the difficult circumstances of deceased organ donation. The Centre was also used as a filming location for a major upcoming television drama – watch out for us on a screen near you soon!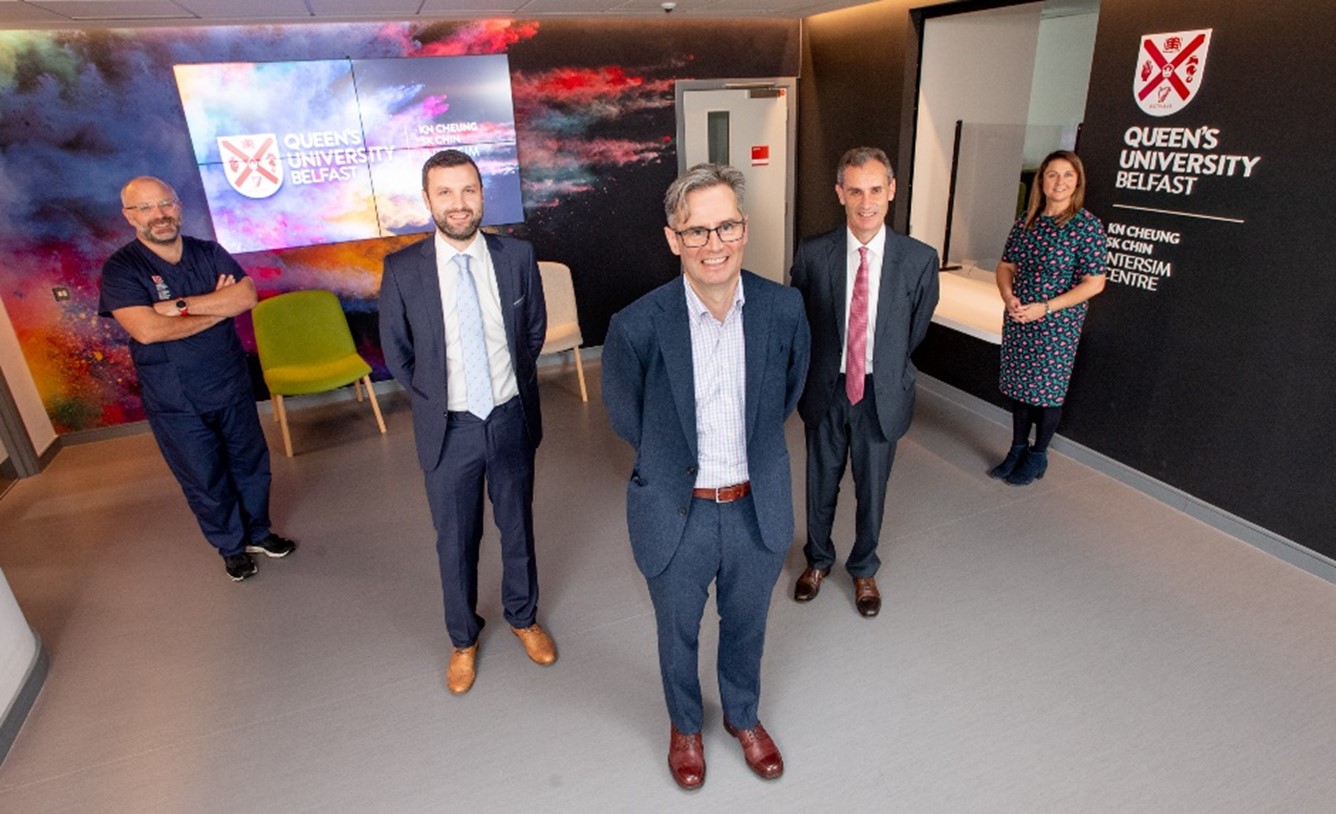 A visit from The John Wilson Memorial Trust, sponsors of one of our Learning Conversation Suites
Over the past few months we have had the pleasure of welcoming some of the key donors who supported InterSim. This included Gordons Chemist, John Wilson Memorial Trust and Ulster Garden Villages who were able to have a tour of the Centre and see how their donation has contributed to making the simulation centre a reality. We are planning further visits and tours as restrictions and teaching allow.
Simulation during COVID-19
The COVID-19 pandemic has reinforced the importance of simulated training. Our colleagues went above and beyond to adapt their teaching in order to prepare our final year Medics and other Healthcare Professionals for frontline duties as they graduated early to support the NHS.
Beyond lockdowns, the InterSim Centre has been crucial in allowing final year students to catch up on missed clinical training due to the pandemic – opening for teaching in February 2021 for 235 final-year medical students. You can read more about our students' experiences with this here. Now with the new InterSim Centre fully open, this enhanced teaching can continue to grow and benefit all our students this academic year by allowing them to enhance their clinical skills, in a safe environment, before transferring them into clinical practice.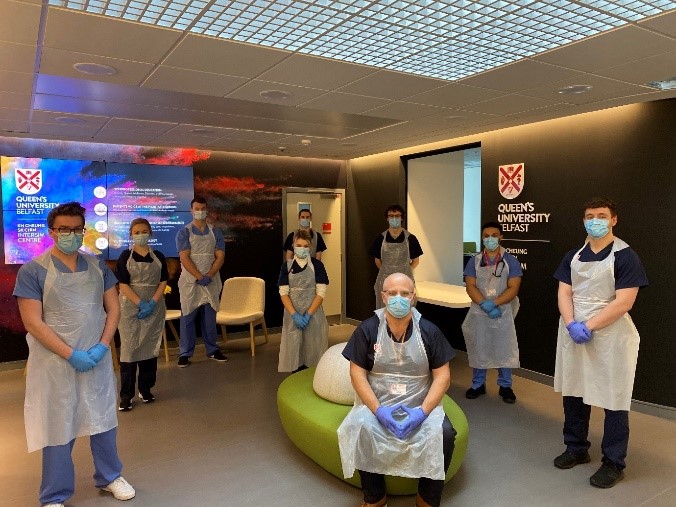 Feel free to contact us to register your interest, and we look forward to keeping you updated on key milestones throughout the project.
For more information on our new centre, please contact Teresa Sloan:
Email: t.sloan@qub.ac.uk | Telephone +44(0) 28 9097 5394