A series of 30 minute online guided mindfulness sessions for Queen's staff and students with Inspire Lead Mindfulness Practitioner, Frank Liddy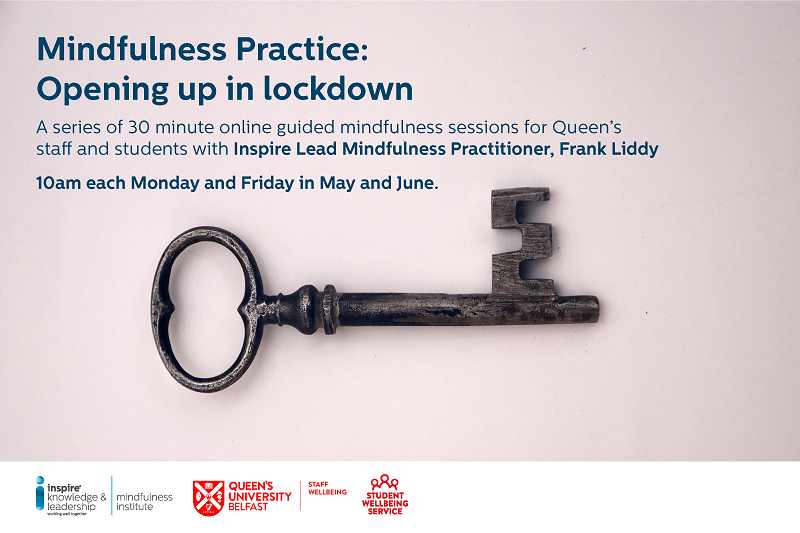 May 11, 2020 (Weekly - until June 29, 2020)
https://us02web.zoom.us/j/85494730016
---
10am each Monday and Friday in May and June 2020.
With the inevitable challenges of our changing world, we can be left feeling overwhelmed; operating on autopilot we can find ourselves caught up in the never-ending current of thoughts, feelings, worries, pressures and responsibilities. Coming back to and focusing on the present moment can help us to meet these stresses with clarity and confidence.

Discover how mindfulness practice can help us to build self-capacity and resilience, better equipping us to manage our lockdown challenges.
These fully interactive sessions are tailored to you and your wellbeing - ask Frank questions to find your themes and ideas at the forefront of the following session.
No advanced sign-up or registration is required! Just log-in shortly before 10:00am on the Monday or Friday:
Monday sessions - https://us02web.zoom.us/j/85494730016
Friday sessions - https://us02web.zoom.us/j/83707798159
If you have any questions about these sessions, please contact us at StudentWellbeing@qub.ac.uk
MAY DATES

Date

Time

Monday 11 May 2020

Staff and Students

10am to 10.30am

Friday 15 May 2020

Staff and Students

10am to 10.30am

Monday 18 May 2020

Staff and students

10am to 10.30am

Friday 22 May 2020

Staff and students

10am to 10.30am

Monday 25 May 2020

Staff and students

10am to 10.30am

Friday 29 May 2020

Staff and students

10am to 10.30am
JUNE DATES

Date

Time

Monday 1 June 2020

Staff and Students

10am to 10.30am

Friday 5 June 2020

Staff and Students

10am to 10.30am

Monday 8 June 2020

Staff and students

10am to 10.30am

Friday 12 June 2020

Staff and students

10am to 10.30am

Monday 15 June 2020

Staff and students

10am to 10.30am

Friday 19 June 2020

Staff and students

10am to 10.30am

Monday 22 June 2020

Staff and students

10am to 10.30am

Friday 26 June 2020

Staff and students

10am to 10.30am

Monday 29 June 2020

Staff and students

10am to 10.30am
Department

People and Culture