Super dad David celebrates graduating from Queen's with his biggest supporters
David Baker will today (Friday 28 June) celebrate his graduation from the School of History, Anthropology, Philosophy and Politics at Queen's University Belfast.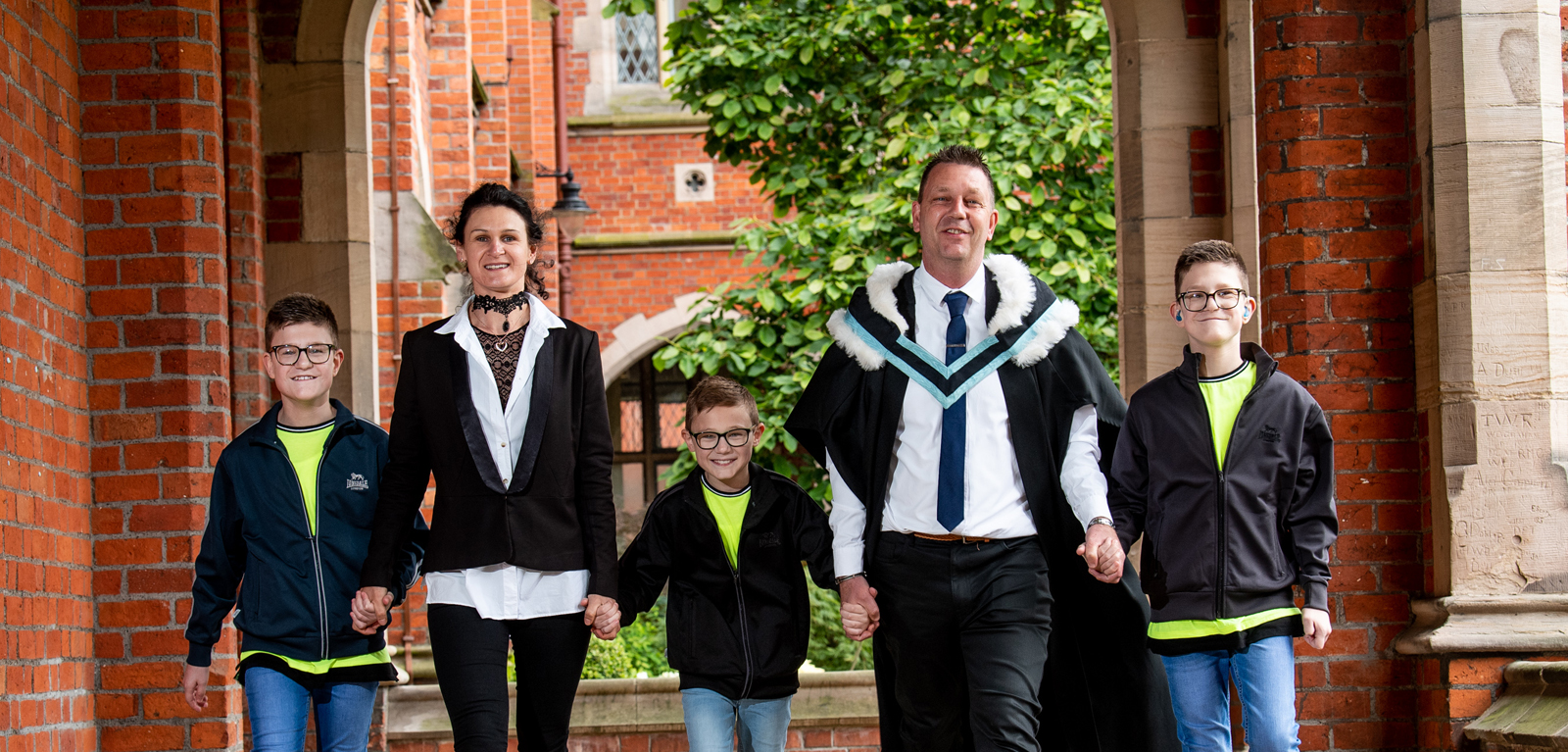 Dad to three boys (twins Scott and Michael, aged 12 and Jake, aged eight), David will graduate with a 2:1 in (BA) Joint Hons in History and Sociology.
Originally from England and now living in Bangor, David gave up his studies when his identical twin sons Scott and Michael were born at 25 weeks to help care for Scott, who was born with multiple disabilities including deafness, problems with his sight, heart, hip and high functioning autism.
"My kids and partner are my inspiration for going to university. Scott was born with multiple disabilities, we didn't think he would make it past age five and that he would have to go to a special school. However, he has defied the odds and is thriving at a mainstream secondary school and getting As and Bs," David said.
"I wanted to show the boys that if you work hard you can achieve anything. I did a two-year access course to get to Queen's. I remember I came home from my first day at university and told my partner how much I loved it, but never thought I would see the three year course out. My boys kept me going when the going got tough. Seeing me study has inspired them and now they all have their sights set on coming to Queen's too.
"I'm so delighted to have my family coming to my graduation ceremony to cheer me on as I walk across the stage. It will be an incredibly proud moment as this degree isn't just mine, it's theirs too. My elderly parents who are in their eighties will also be making the journey over from England so it is going to be a really special day."
As well as studying and looking after his children during his degree, David volunteered and delivered talks with a number of different charities including the National Deaf Children's Society; PANDA: A North Down charity for deaf children; and Tiny Life, where he was a family support volunteer.
After graduating, David will return to Queen's to complete his Master's in Autism Spectrum Disorders in September.
Media
Media enquiries to comms.office@qub.ac.uk or Tel: 028 9097 3091