Have you reviewed our entry requirements?
The NI Executive has introduced a COVID status certification scheme, which the University is required to operate from Monday 29 November 2021.
For Winter Graduation 2021 and Graduate Celebration Events taking place from Monday 6 to Friday 17 December 2021, the University will be required to ask for proof of COVID status from all graduands/graduates and their guests.
We are unable to admit to the Whitla Hall or garden parties any graduand/graduate or guest who does not provide proof of COVID status.
To review our entry requirements, please check our FAQs.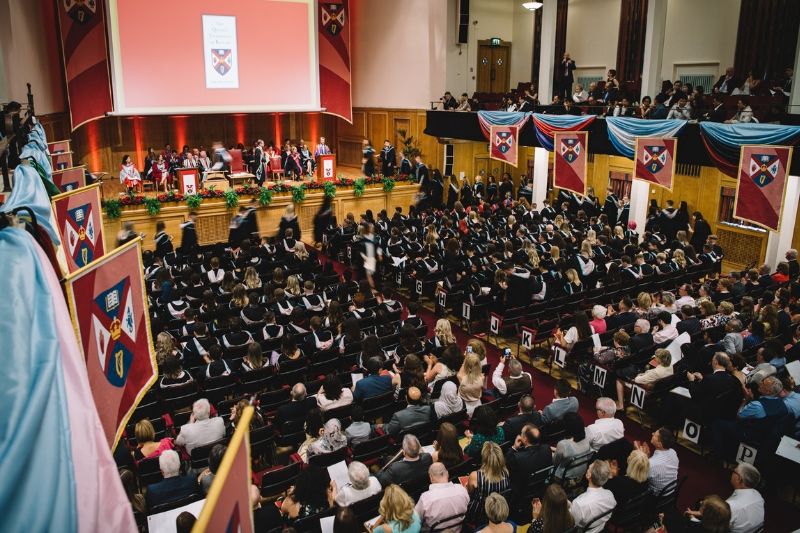 Whitla Hall, 6 & 13 - 17 December 2021
Graduate Celebration Events
We are planning a series of in-person Graduate Celebration events at the Whitla Hall on 6 and 13 - 17 December 2021 for graduates of 2020 and Summer 2021 who graduated virtually.
At these events you will have the opportunity to wear your gown, get photographs taken and celebrate with friends, family and loved ones, just like you would at a traditional Graduation ceremony.

Whitla Hall, 8 - 10 December 2021
Winter Graduation 2021
Graduating for the first time?
Winter Graduation 2021 will take place from 8 - 10 December.
You will receive an email inviting you to register on Qsis when your School has published your final degree results.
Watch the Graduation Live Streams
All the Winter Graduation ceremonies and Celebration Events will be live streamed on the Queen's YouTube channel.
They will appear there live as the ceremonies start.