Switching on to the the Energy Transition: The 19th Annual Sir Bernard Crossland Lecture
"Edison's electric light did not come from the continuous improvement of candles."
The Chief Executives' Club at Queen's, the Faculty of Engineering and Physical Sciences at Queen's University and Engineers Ireland hosted the 19th Annual Sir Bernard Crossland Lecture on Tuesday 18th February 2020, in Riddel Hall to an capacity audience of 220 eager guests. The University was delighted to host Marguerite Sayers, Executive Director of Customer Relations at ESB and current-President of Engineers Ireland this year as the guest speaker to address the audience on 'Switching on to the Energy Transition'.
Professor Mark Price, Pro-Vice-Chancellor for the Faculty of Engineering and Physical Sciences hosted the evening, welcoming guests who included Mr Jonatahn Hegan MBE (Chair of the Sir Bernard Crossland Lecture Organising Committee), Mr Anthony McCloy (Chairman, Engineers Ireland Northern Region), Mr Alan Watts (Catalyst Inc.), Mr Peter Quinn (past-President, Engineers Ireland) and Mr Jim Brown (President, Irish Academy of Engineering). Professor Price emphasised the links between the research which is done at Queen's University and how ESB through NIE play a huge role in this and also paid tribute to Sir Bernard Crossland who once held the same position he holds now. Professor Price noted that Ms Sayers had taken time in the afternoon prior to the lecture to meet with current NI student to host an 'unplugged' session allowing them to ask about her educations, career, and current role in industry.
You can download Marguerites presentation here.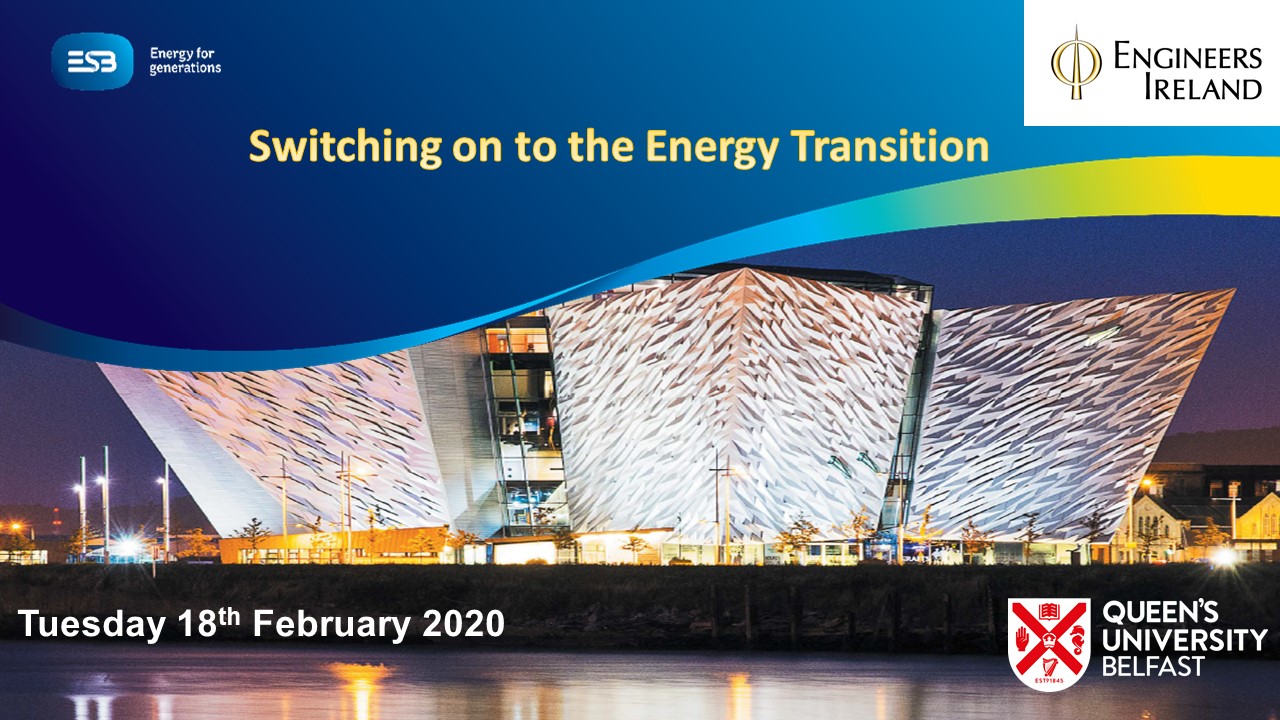 If you are interested in joining the Chief Exectuives' Club and attend events such as today, please see here.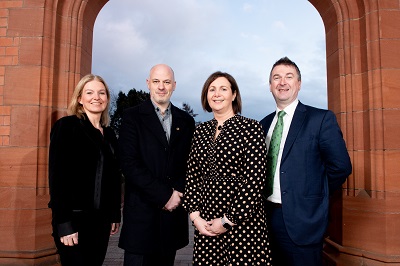 Claire McAlinden, Queen's University Belfast; Anthony McCloy, Engineers Ireland; Marguerite Sayers, ESB; and Professor Mark Price, Queen's University Belfast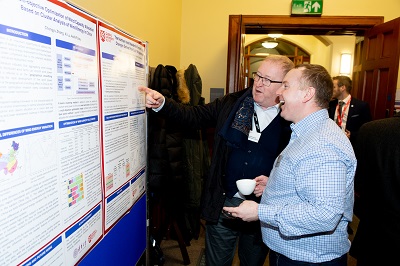 PhD research posters from the School of Electronics, Electrical Engineering and Computer Science were on display at the reception prior to the 19th Annual Sir Bernard Crossland Lecture
Professor Mark Price, Pro-Vice-Chancellor for the Faculty of Engineering and Physical Sciences introducing the 2020 Sir Bernard Crossland Lecture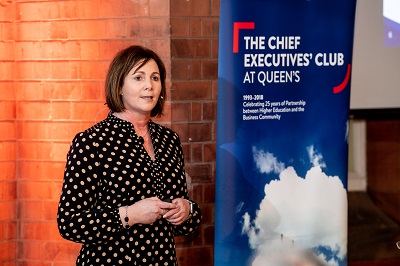 Ms Marguerite Sayers, Executive Director of Customer Solutions at ESB and President of Engineers Ireland presenting the Sir Bernard Crossland Lecture