Breakfast Lecture with John Bratton - Author, Specialist in Employment Relations and Sociology of Work and Visiting Professor at Edinburgh Napier University & Strathclyde University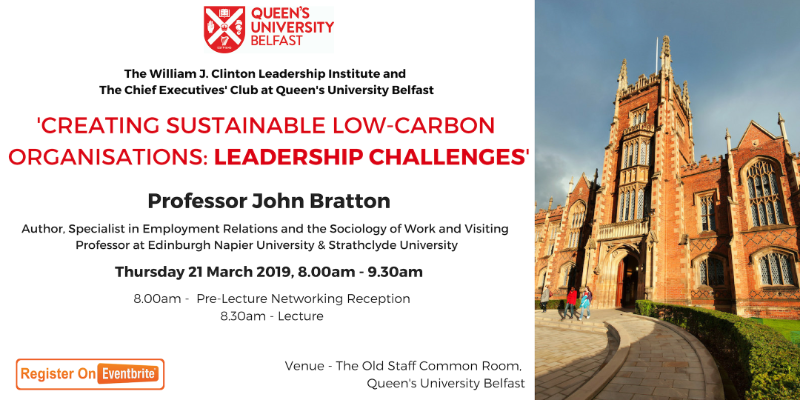 Old Staff Common Room, Queen's University Belfast
---
The William J. Clinton Leadership Institute and The Chief Executives' Club at Queen's University are hosting a breakfast lecture titled 'Creating Sustainable Low-Carbon Organisations: Leadership Challenges' with Dr John Bratton.
8.00am - Pre-Lecture Networking Breakfast
8.30am - Lecture
9.30am - Close
Dr John Bratton is Visiting Professor at Edinburgh Napier University and Strathclyde University, Glasgow. Over a thirty-year career in business schools he has taught a wide range of HRM and organizational behaviour courses, including leadership, in England, Canada and Finland.
His research interests traverse the sociology of work, and, in addition to journal articles and chapters for edited books, he is author of Japanization at Work: Managerial Studies in the 1990s; co-author of Workplace Learning: A Critical Introduction (2004); co-author of Organizational Leadership (2005); co-author of Human Resource Management: Theory and Practice (2017), now in its sixth edition; and author of Work and Organizational Behaviour (2015), now in its third edition.