Excellence from Technology: The Rolls-Royce Trent Engine
The 18th Annual Sir Bernard Crossland Lecture hosted by Queen's University Belfast and Engineers Ireland, in association with The Institution of Engineering and Technology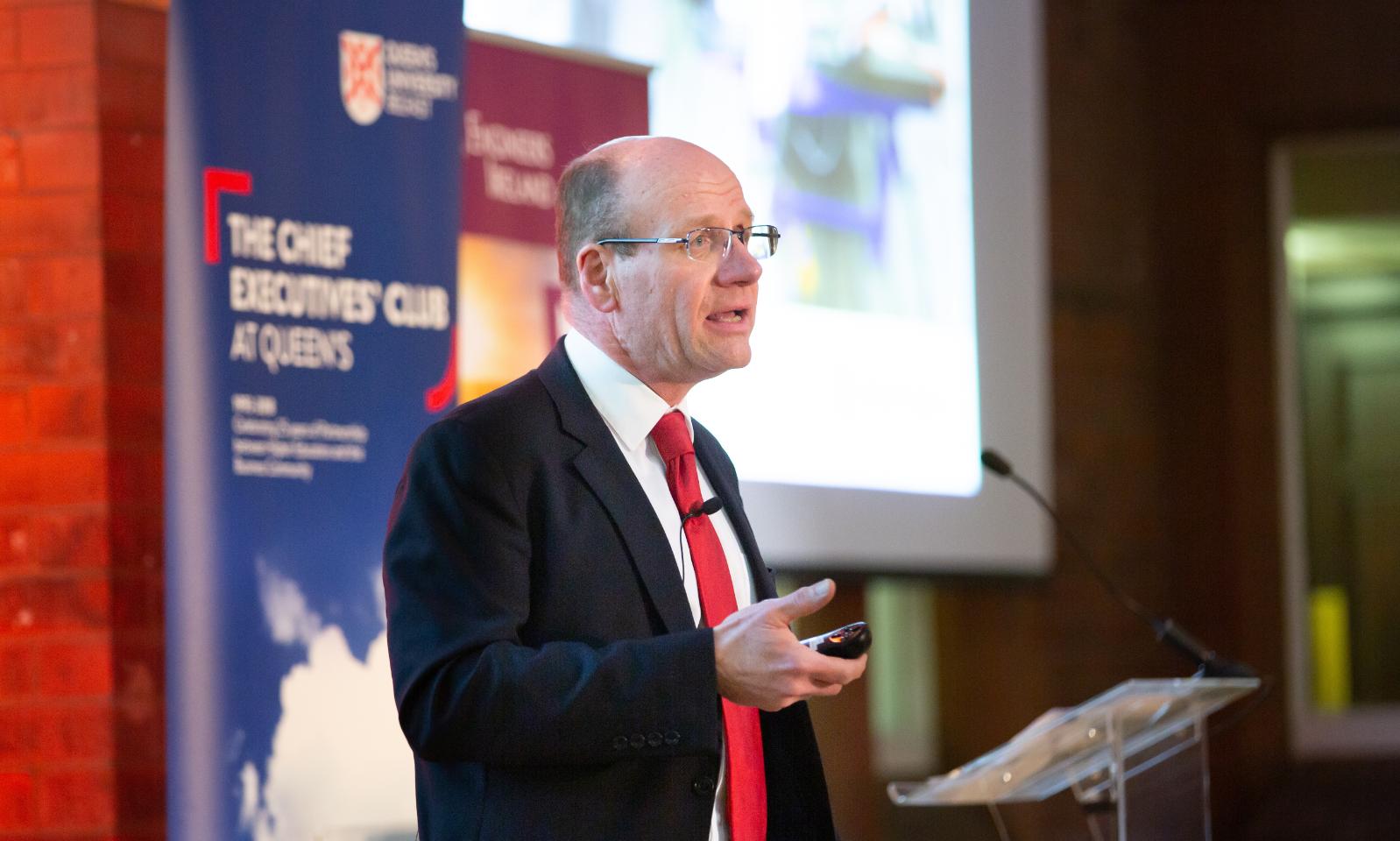 The Chief Executives' Club at Queen's, the Faculty of Engineering and Physical Sciences and Engineers Ireland hosted the 18th Annual Sir Bernard Crossland Lecture on Tuesday 19th february 2019, in Riddel Hall to an audience of 200 guests. The University was delighted to host Professor Frank Kirkland, Chief Designer, Civil Aerospace at Rolls-Royce this year as the guest speaker to address the audience on 'Excellence from Technology: The Rolls-Royce Trent Engine'.
Professor Mark Price, Pro-Vice-Chancellor for the Faculty of Engineering and Physical Sciences hosted the evening, welcoming guests who included Mr Jonatahn Hegan (Chair of the Sir Bernard Crossland Lecture Organising Committee), Dr Robert Eadie (Chairman, Engineers Ireland Northern Region), Mr Alan Watts (Catalyst Inc.), Mr Peter Quinn (President, Engineers Ireland) and Ms Mary-Anne Bartlett, Sir Bernard's daughter. Professor Price emphasised the links between the research which is done at Queen's University and how Rolls-Royce play a big part in this and also paid tribute to Sir Bernard Crossland who once held the same position he holds now.
Professor Kirkland took time in the afternoon to host an unplugged session with Northern Ireland University students to discuss his own education, career developments and pass on some wisdom. His presentation in Riddel Hall was based on how Rolls-Royce have intelligently innovated and improved the Trent Engine since it's inception in 1995, and how it has met the challenges of modern technology.
You can download a version of Professor Kirkland's presentation here.
If you are interested in joining the Chief Exectuives' Club and attend events such as today, please see here.