Clare Bailey MLA mixes personal and political in AE22 Leader's Lecture
Queen's University's AE22 Leaders' Lecture series saw Clare Bailey, Leader of the Green Party in Northern Ireland, set out her vision for politics, on Thursday, 3 March.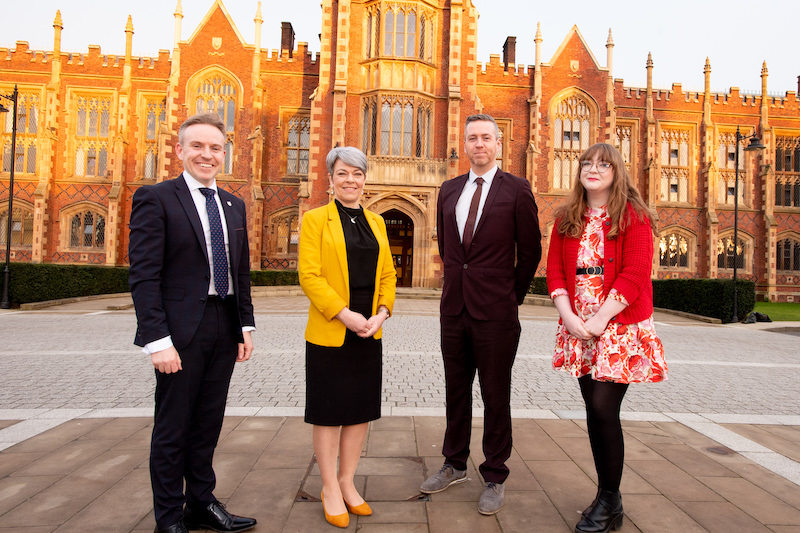 Ms Bailey took the audience from her experiences of growing up partly in a working class area of Northern Ireland and partly in the Netherlands, before entering Lagan College, NI's first ever planned Integrated School, in 1981, and then moving to London to work.
This gave her a strong sense of issues of economic class, but also of diversity and community, just as the peace talks were getting under way in Northern Ireland. Her political consciousness developed through "DIY activism", says Bailey; formal politics was alien to her, but the possibiities opened by peace were exciting.
Since the signing of the Good Friday Agreement, endorsed by the people of Northern Ireland, there have been many developments that were driven by politicians, and not put to the people. Meanwhile, challenges of segragation, poverty, disadvantage, institutional racism and environmental degradation remain.
"In short, I see that we have had a political process over a peace process", said Bailey; "and 24 years since it all began, I feel that we need to pause, take stock, and reaffrim our commitment to the people's Agreement".
Following her address, Clare Bailey responded to questions from the live audience and from those watching online, in a Q&A session deftly moderated by Ryan Feeney, Director of Public Engagement at Queen's.
Watch the recording of the full event here:
This series will take place on campus, in the Great Hall and the Larmor Lecture Theatre, as well as being made available on our website.