Commons Speaker delivers lecture at Queen's University Belfast
The Right Honourable John Bercow, MP, Speaker of the House of Commons, delivered a lecture at Queen's University on 6 June urging students to play a more active role in politics.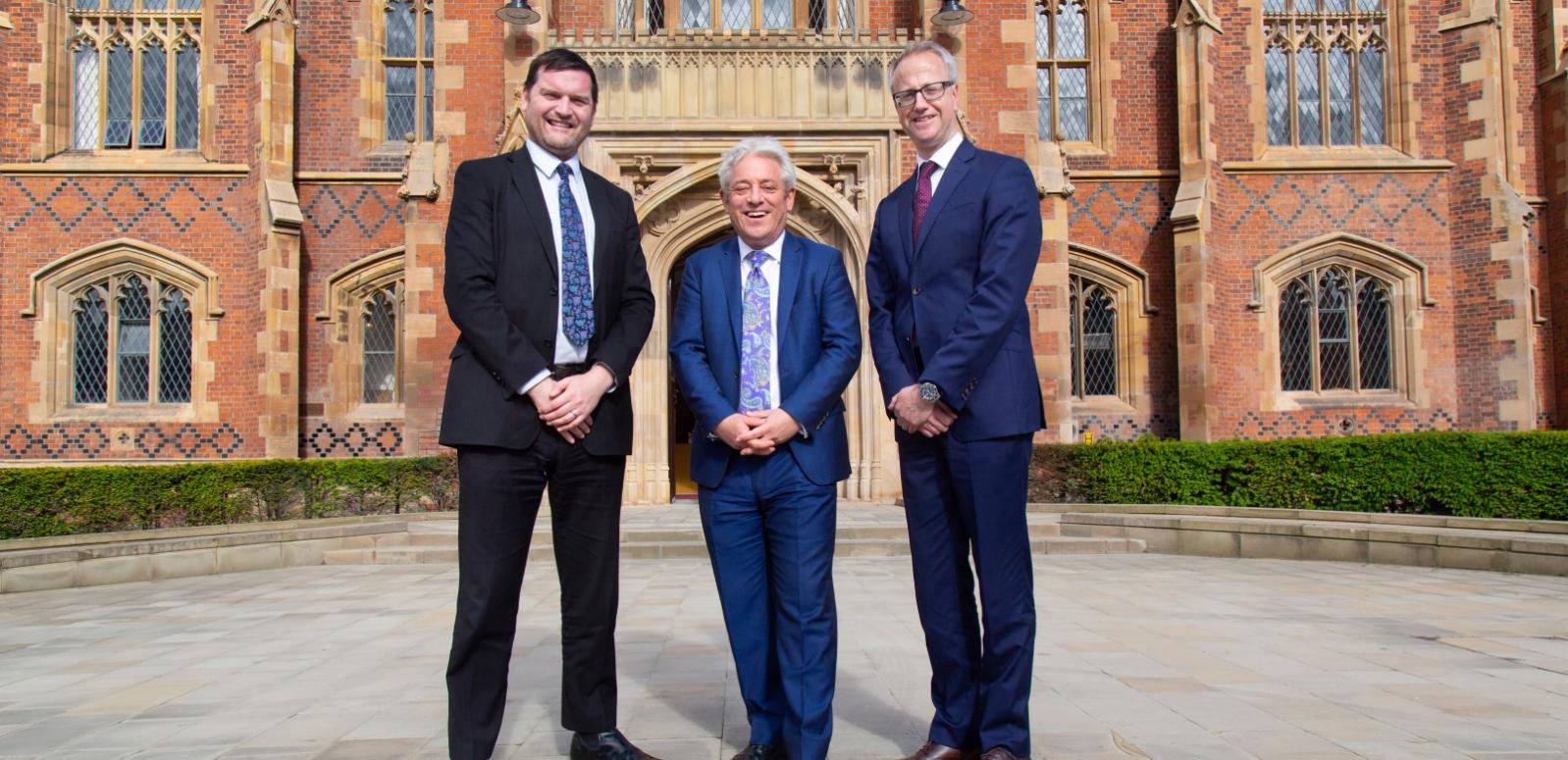 During a lecture entitled "How Parliament Works: A view from the Chair", John Bercow (pictured above, centre, with Mr Alistair Stewart, left, and Professor Alister Miskimmon) said arguments over Brexit, the October 31 deadline for leaving the EU, and the Northern Ireland backstop had renewed interest in parliamentary processes and the role of MPs.
He urged anyone interested in a career in politics to get the best education they can, pursue a career, join a political party or pressure group - before even considering standing for Parliament.
"Wherever you go, whether it be down the pub, at the dinner table, standing at the school gate or in conversation with colleagues by the water cooler, there is no doubt people are talking about Brexit, politics and Parliament," he said.
"My office has noticed a sharp increase in correspondence because people are suddenly more interested in Parliament as a result of the Brexit debates the closer we get to the deadline for leaving the EU.
"Whichever side of the argument you are on, this can only be a good thing that people are expressing their opinions and want to be part of the debate – and I urge you – students of Queen's University – to join the conversation."
Since his election as Speaker in 2009, Mr Bercow has sought to champion the rights of backbenchers, and has granted an unprecedented 623 Urgent Questions from MPs – more than any other Speaker – to bring ministers to account on the pressing issues of the day.
His attempts to modernise Parliament, include the removal of a pistol shooting gallery and the creation of a workplace nursery for the use of MPs and staff.
He is a passionate supporter of LGBT rights – and has spearheaded efforts to make Parliament more diverse and representative of the nation, with the appointment of the first Serjeant at Arms, Commons chaplain and senior lawyer from black, Asian and ethnic minority backgrounds (BAME).
He was one of the founders of the Speaker's parliamentary placement scheme, giving young people a chance to shadow and work for MPs - and spearheaded the opening of a Parliamentary Education Centre, which is set to attract one million school children in 10 years.
He was also the first Speaker to allow the UK Youth Parliament to debate in the House of Commons chamber - an annual event he also chairs.
But with almost 10 years in top office, Mr Bercow says he is most proud of his outreach work – visiting hundreds of schools, universities and community groups across the UK – to broaden the appeal of Parliament.
"One of the best bits about this job, as an ambassador for Parliament, is talking to young people – our future MPs and lawmakers – about how it works and what we do," he said.
Professor Alister Miskimmon, Head of the School of History, Anthropology, Philosophy and Politics, said: "Queen's University was delighted to host Mr Bercow who gave a fascinating insight in to the role of the Speaker. Mr Bercow presented a compelling case for the centrality of parliament in our democracy."